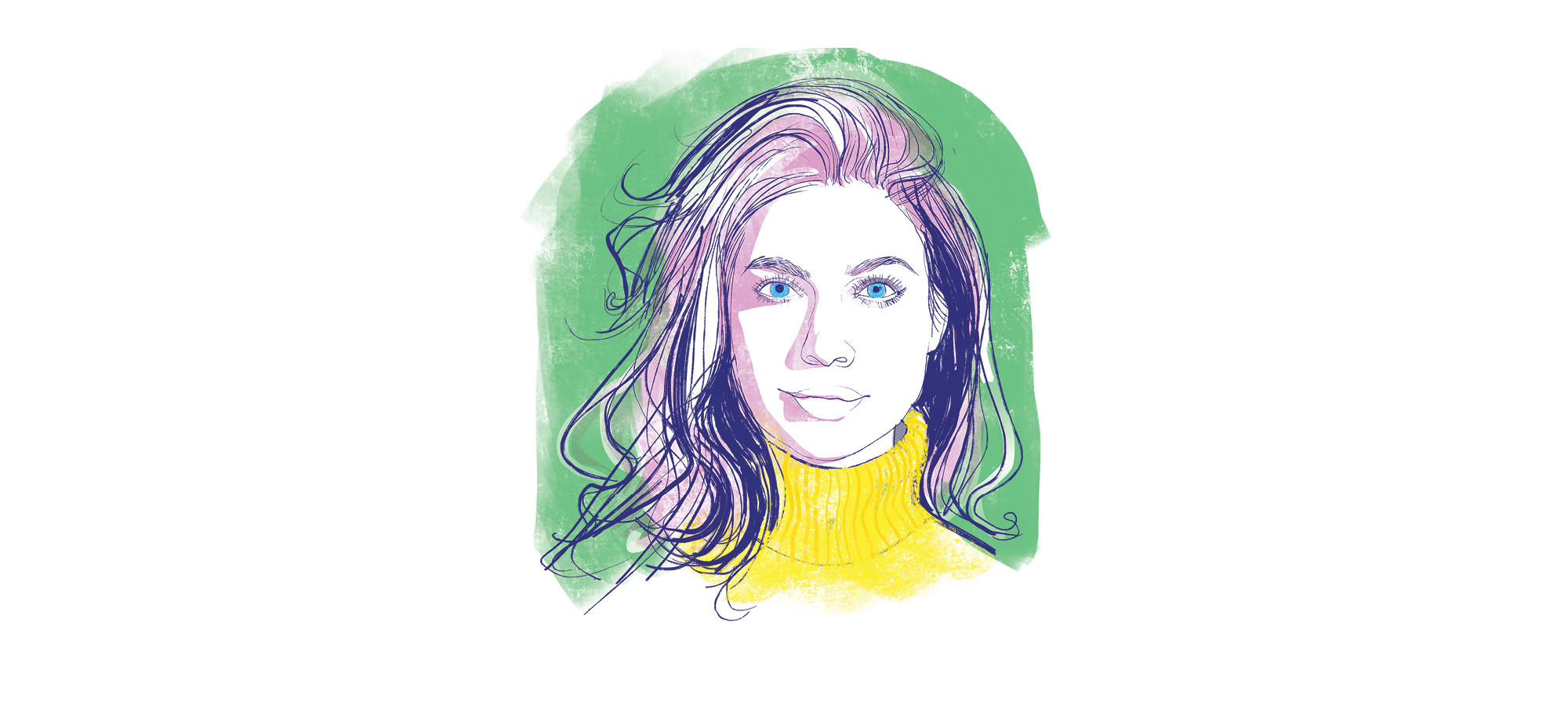 Chill factor
Actor Katlyn Carlson's (AB'05) journey to Broadway.
In 2015 actor Katlyn Carlson, AB'05, got an email from her agent about an audition for a new musical. The message described high school queen bee Chloe Valentine as "self-absorbed, crass, sexy, manipulative, and hilarious in her disregard for others." Carlson's reaction? "Sign me up."
She didn't know she was embarking on a project that would make her (as best she knows) the first person from her hometown of Eureka, Missouri, to perform on Broadway. Be More Chill follows a teenager who implants a supercomputer in his brain to gain popularity. It went from a small New Jersey production to an off-Broadway run and then a Broadway production that closed in August 2019. Along the way, the original cast album became a surprise hit, attracting a passionate online fan base.
Carlson, who played the lead in the film Holly Star (2018), told the Magazine about life on Broadway. Her comments have been edited and condensed.
---
Why were audiences so passionate about Be More Chill?
It has a pretty simple message about being true to yourself, recognizing that who you are is enough, and that outside influences, and sometimes the voices in your own head, are not steering you in the right direction. You have to love yourself.
I think that people, especially teenagers, were able to see a lot of themselves in any number of the characters.
How did it feel to be the subject of a such an intense fandom?
We were not ready for the insanity that crashed over us. We had a few fans who were asking for autographs in the original production, but then off Broadway, it was absolute pandemonium. We felt like the Beatles.
It escalated when we went to Broadway. We had to move the stage door from the back of the theater to the front, because the backstage door was on a narrower street, and there wasn't enough room for cars when hundreds of people were waiting.
How did you keep things fresh for yourself on Broadway?
The Broadway experience was so challenging. Physically, mentally, vocally—every possible aspect was so much harder than the previous two iterations. Trying to stay ahead of your own inevitable exhaustion and injury, in itself, kept things fresh by necessity. Like, if I'm not on my game, I could step the wrong way, roll my ankle, and be out of the show.
But the audiences were such a gift. They just loved the show so much and no matter how exhausted you were, it was impossible to not feel that energy and love radiating back at you. It was like falling back in love with the character and the show, every night.
Did you ever consider going to an acting conservatory?
I had totally fallen in love with theater in high school, but I knew I wanted a liberal arts education. The U of C felt like a perfect fit for my academic goals, and I admired the student-run theater program. It didn't feel right at that point to abandon everything else and do a conservatory program.
I felt like I had found a good balance at school, and I was able to start doing theater professionally by the time I graduated, so it all worked out.
Have you had any weird day jobs alongside acting?
I worked at one of the last manual-set bowling alleys in Chicago, scoring games by hand because people don't know how to do that anymore. I was a terrible waitress a few times.
When I got to New York, I fell into a godsend of a day job—definitely one of the weirdest things I've ever done, which was fit modeling. I was a human mannequin. I would just try on clothes for designers, for hours. They and the design technicians would come in and make corrections to the garments. At different stages of production, I would give input on how the clothes fit. So I was a mannequin who could talk. That paid well and was very, very strange.