Closing up SHoP
The Southside Hub of Production's future is up in the air when it closes its 56th and Woodlawn location July 31.
A bright yellow piñata, dangling from the tree outside Fenn House, greeted guests Saturday evening as they arrived for the Southside Hub of Production's closing party. The suspended object, in a bit of self-aware humor, bore a strong resemblance to Fenn House itself. A multipurpose art space,
SHoP
has been the site of numerous community-building projects and events over the past year. SHoP is the latest iteration of the Opportunity Shop, a nomadic, independent artists' project conceived by SHoP creative director Laura Shaeffer in 2009. Over the course of its time at Fenn House, the donation-supported, volunteer-run organization has, among other efforts, hosted weekly open potlucks, provided space for Chinese dance and tai chi, run an assisted woodworking shop, and curated art exhibitions. One of the goals of the project, according to Shaeffer, is to bridge gaps in the community through exchange—whether of food, art, or simply conversation. At the end of July, the organization's one-year lease from the First Unitarian Church of Chicago is set to expire, possibly bringing SHoP back to its nomadic roots. But a recent turn of events has given Shaeffer reason for optimism: There is a potential buyer for the house who may continue leasing the space to SHoP. Shaeffer is quick to note, though, that it's not a done deal. "Getting a mortgage in this time is tough for everyone," Shaeffer acknowledges. For now, SHoP has asked the Unitarian Church for an extension until negotiations are resolved. Whether in a new location or the same, SHoP will undergo a reimagining stage that will reflect on the past year's successes and failures. Those who have been involved with SHoP, Shaeffer says, "will hopefully walk away from this year having made meaningful and lasting collaborative connections and relationships." Many of those connections gathered for Saturday's event, which featured performances by acoustic bands Zamin and the Happy Maladies, as well as DJ Curtis Spins, food from local caterers, and friends. It marked the closing of SHoP's current exhibition, "
On Making Things Matter: Strategies for Preservation
," a show with over 30 artists contributing work to its themes of leaving, memory, and documenting experiences. Guests were free to roam the house and discover—or rediscover—the small treasures found within its many rooms and hallways. Already packed half an hour into the event, SHoP was quickly filled not only with faces familiar and new but also with memories almost too numerous to be contained in a single night. The Happy Maladies, SHoP first-timers, opened the evening. The Cincinnati quartet's acoustic melodies kept a diverse crowd rapt in the intimate living room. Even as the sunlight faded, gradually leaving the band and the audience in darkness, the music went on unabated. Afterward, front man Eddy Kwon expressed his gratitude at being able to perform there. "We feel really lucky because this is a beautiful space. … Anytime we can play in a beautiful wooden room with high ceilings, it's heaven." Kwon and his bandmates hopped onto Saturday's show after Kwon's friend Josh Fink, Zamin's bassist, recommended the place. Zamin, a Chicago quintet, was performing for its fifth, and potentially last, show at Fenn House to an appreciative crowd. "We love SHoP greatly," Fink says. "We love the community. We love that each time we come and play we meet absolutely new and interesting people. Every time."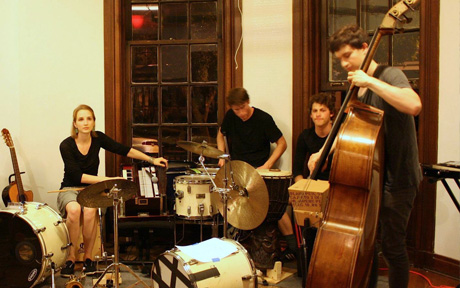 After a night saturated with warm repartee, laughter, and nostalgia, guests gradually trickled out, but not without lingering outside for the last act: the breaking of the piñata. An excited group of neighborhood kids lined up and took turns giving it a good swing as their parents watched on. The piñata, unusually resilient, held up for half an hour before finally falling to the ground and rupturing, scattering candy across the lawn.