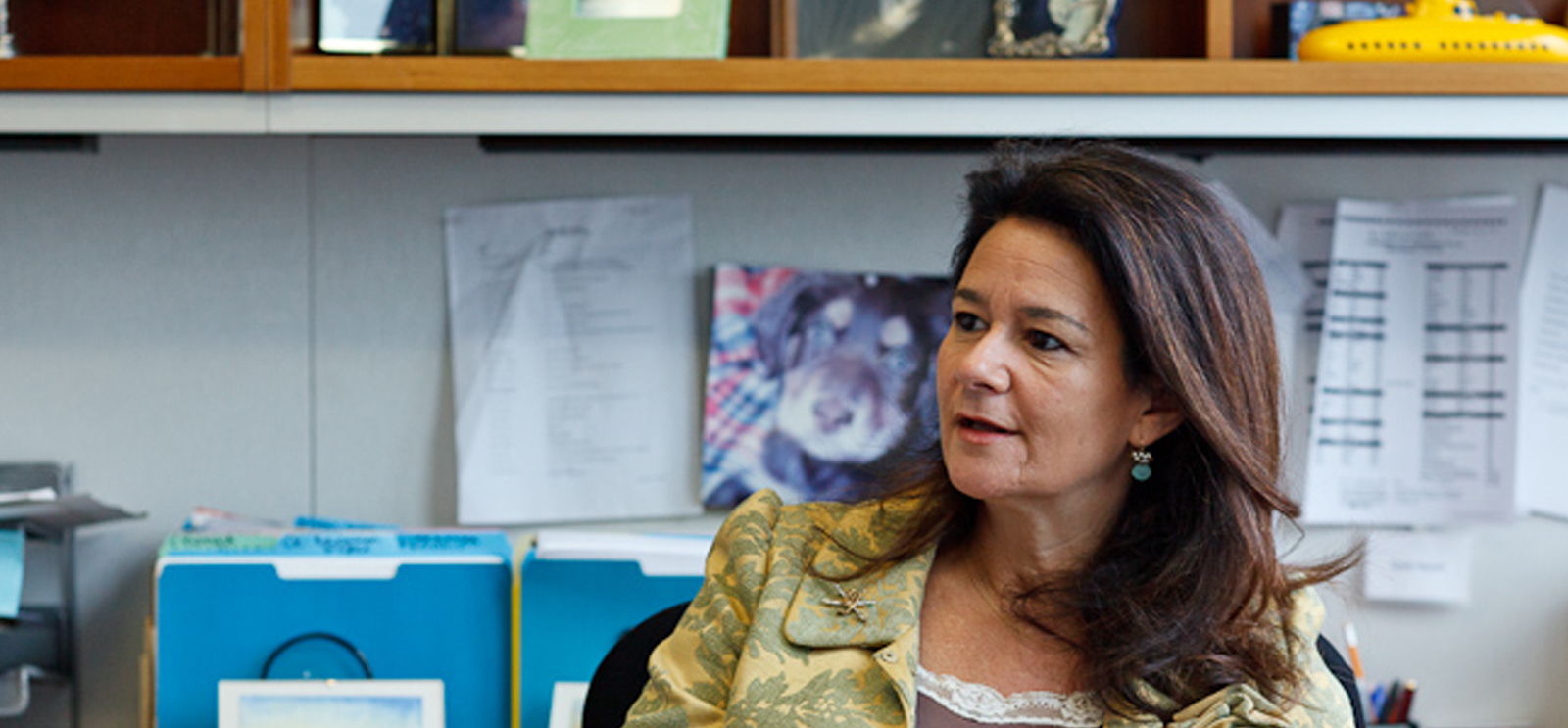 Editorial authority
Fresh off simultaneous No. 1 New York Times best sellers, editor Gretchen Young continues to find new authors with big stories to tell.
Gretchen Young, AB'84, AM'84, could be the only real-life book editor to appear on a daytime soap opera. In a 2008 episode of All My Children, in a bit part for which she didn't have to dig too deep, she played the editor of character Kendall Hart's memoirs—a book actually released as if written by Hart (and actually edited by Young). She had one line in the episode, praising the fictional writer.
"Gretchen did fine with her line," rhymed New York magazine's Vulture blog, yet, the writer observed, she looked "somewhat embarrassed" on set. Young is comfortable working with celebrities but in behind-the-scenes roles, helping them to shape their memoirs or choose poems to include in a collection. Celebrities, politicians, and media personalities make up many of her clients; she finds people with a good (and marketable) story to tell and works closely with them to fashion those stories into a book.

Gretchen Young and Tracey Ullman. (Photo courtesy Gretchen Young)
As vice president and executive editor of Manhattan-based general-interest publisher Hyperion Books and editorial director of ABC Synergy—the arm of Disney-ABC Television Group that produces books tied to the company's television shows and movies—Young works with a wide range of clients and subjects. In addition to ghostwritten fictional memoirs, she's edited a book about fitness and health by Extreme Makeover: Weight Loss Edition trainer Chris Powell; mystery novels by CNN talk-show host Nancy Grace; comedy and opinion best sellers by George Carlin; and poetry anthologies with Caroline Kennedy.
Young has been Kennedy's editor for a decade, and the two are prolific. Starting in 2002 with Profiles in Courage for Our Time, 15 essays about men and women who have received the John F. Kennedy Library's Profile in Courage Award, Young and Kennedy have put out six books together. The most recent, Jacqueline Kennedy: Historic Conversations on Life with John F. Kennedy, published in September, debuted at No. 1 on the New York Times best-seller list. The book—eight-and-a-half hours of transcribed, previously unheard interviews Jacqueline did with historian Arthur Schlesinger four months after her husband's assassination—was packaged with eight compact discs. Readers can hear Jacqueline's voice (she pronounced her name jahk-LEEN), the ice cubes clinking in her glass, and planes overhead as she talks with Schlesinger about what the president thought of Dwight Eisenhower ("not much") and his relationship with her parents ("he always called my father 'Mr. Bouvier'").

George Carlin and Gretchen Young. (Photo courtesy Gretchen Young)
"So now, at long last, it is her turn to speak," writes historian Michael Beschloss in the oral history's introduction. Commemorating the 50th anniversary of JFK's presidency, the tapes, which Caroline Kennedy first listened to after her mother's 1994 death, reflect a poised, witty woman with strong opinions about her husband's colleagues and the people passing through their lives. Her breathy voice, interrupted only briefly by questions from Schlesinger or from young Caroline or John passing through the room, reveals unknown details about her husband's short presidency. One day in October 1963, about a month before JFK's death, he woke up from a nap looking "very worried," Jacqueline recalls:"I said something and he said, 'This has been one of the worst days of my life. Ten things have gone wrong and it's only two-thirty.' … Anyway, one I can remember was that some little raid on Cuba had failed."
"After my father's death," Caroline Kennedy wrote in the book's foreword, "my mother resolved to do everything she could to make sure that the record of his administration was preserved." For that reason, even though her mother likely would have made revisions to the transcript if she had read them now, Kennedy left the tapes' content unedited.

Gretchen Young (right) with Don Cheadle and John Prendergast. (Photo courtesy Gretchen Young)
Piggybacking on Jacqueline Kennedy's success, Young and Kennedy are working on another book: transcripts and CDs of JFK's Oval Office tapes. They're not newly released, like the Jacqueline recordings; the JFK Library had declassified them steadily since 1993, the final hours in late January. In total there are more than 248 hours of recorded meeting conversations and 12 hours of Dictabelt telephone conversations. With the crude technology of the time, Young says, it's a challenge to find the best quality recordings and clean them up, like they did with the Jacqueline tapes. "These tapes capture the unscripted brilliance of a great leader in action," Young says. "Journalists, historians, and biographers are amazing—they do deep, tremendous work on their subject—but there's nothing like the raw history. You can't argue with it. It's what actually occurred, without the filter of someone else's perspective."
Young spends most days in meetings about deadlines at Hyperion's Midtown office, making offers for new books, or having lunch with literary agents. "The editing of the manuscripts doesn't happen in the office," she says. It happens at her home in New York's Turtle Bay neighborhood, after work or on weekends, "in a quiet spot somewhere."
Because Hyperion is a small publishing house, with six editors and three assistant editors, Young is involved from the minute she receives a book proposal to its publication, including design, marketing, and publicity. "We have to be our own cheerleaders for books that we acquire all the way through the publishing process," she says. Although the written page is an important part of her job, Young calls herself more of a project manager. On any given day, she says, she might discuss a cover or interior design or meet with writers' PR teams. "The editor can't ever let go to some degree."

Joe Torre and Gretchen Young. (Photo courtesy Gretchen Young)
On a Wednesday in early January, Young and two members of Hyperion's publicity team called Georgia congressman John Lewis's communications director, Brenda Jones, in Washington, DC. The group was starting to plan a publicity schedule for Lewis's book, Across That Bridge: Life Lessons and a Vision for Change, set to come out May 15. Typically, Young says, there are a few events before publication, but the big push comes about two weeks after a book's release.
"Are there any media, anchors, journalists, reporters, or particular shows that have been after the congressman for an interview?" Young wondered. Yes, Jones said: "Brian Williams loves Congressman Lewis." She also suggested Katie Couric, who is launching a show on ABC in the fall.
Not all editors choose to be as engaged in publicity as Young is. "Gretchen's a really creative, involved editor," executive director of publicity Marie Coolman says. "She's passionate about her writers' projects, and she's flexible, and she's very collaborative. She's always been very good at moving the project forward, figuring out a way to work something out if there's any issue. Which is a good life skill in general, and particularly as an editor."
Indeed, in fall 2011 Young had two different books at No. 1 on the New York Times best-seller list. With Jacqueline Kennedy's oral history leading the nonfiction list, the fiction list was topped by Heat Rises, a novel tied to the TV show Castle, about a mystery novelist named Richard Castle who shadows a detective for inspiration. The ghostwritten thriller was supposedly written by the fictional character. "We put those books out there as if Richard Castle exists as a flesh-and-blood author." Heat Rises had real-life blurbs from crime writer Michael Connelly and thriller novelist James Patterson.
Young and the Hyperion team also experiment with digital storytelling, including enhanced e-books, which add videos, images, and music to the reading experience. Apple cited the interactive Jacqueline Kennedy as the No. 1 enhanced e-book of the year. In addition to the transcript and the tapes, "we added archival footage, music, a video introduction by Caroline, a video introduction and video conclusion by Michael Beschloss, home movies of the Kennedys with one of their favorite songs, 'September Song,' in the background—we tried to make it as multimedia as possible."
Young's boss, Ellen Archer, embraces e-books and other new publishing technologies. The president and CEO of Hyperion was interviewed by Digital Book World in early January, predicting that Hyperion would derive 50–60 percent of its revenues from e-books by 2015. The company looks to acquire authors competent in social as well as traditional media, she said, so that their personal marketing drives sales. The goal is to have a large base of authors whom Archer calls "media-genic."
Young cites journalist Alexandra Robbins as a "digitally savvy" example. The author of The Geeks Shall Inherit the Earth (2011), Robbins "gets social media." Her nonfiction book follows seven members of what Robbins calls the "cafeteria fringe," trying to navigate the murky social waters of middle and high school. Active on Twitter and Facebook, Robbins has a fan base beyond the book, from her four previous books on youth culture, two of which have been New York Times best sellers, and from her many TV and lecture appearances. The Hyperion marketing team capitalized on that fan base when creating the book's promotional video, with formerly "geeky" adults asserting pride in their nerdiness. Thanks to her devotees, Robbins won the Goodreads Choice Award for Best Nonfiction of 2011, competing against some big names, including David Brooks, AB'83; Richard Dawkins; and Jon Krakauer.
Ultimately, when it comes to social-media promotion and different ways to tell a story, Young says, "the sky's the limit." The format doesn't much matter to Young, but she still loves the physical book. She and her husband, John Baxter, who runs a bondholder communications company and has written two novels of his own (not published by Hyperion), collect first editions. "We love early editions of significant works, but we also collect unspectacular books with striking dust jackets," Young says. In the late '80s they started their collection at an auction, buying a first edition of The Bridge of San Luis Rey. "We didn't have a penny to our name, but we spent $110 on it."
Young's office is filled with her writers' books, including 2011 memoirs by comedian Whoopi Goldberg and actress Marlo Thomas and journalist Thomas French's Zoo Story (2010), following six years of research at Tampa, Florida's Lowry Park Zoo. Her husband's artwork—he also paints—sits on her desk, as does the art of their 13-year-old daughter, Greer, a student at the Chapin School, a private girls' school on Manhattan's Upper East Side and Young's alma mater. One of Greer's pencil drawings shows the New York skyline view from Young's office, with the Empire State Building shooting up from smaller high-rises and a smattering of mushroom-shaped water towers. Young's favorite skyscraper, the Chrysler Building, is barely in view.
A Manhattan native, Young says that her family thought she'd end up going to Columbia University, where her father and brother went. Applying to the University of Chicago on the suggestion of her college adviser, she entered an accelerated bachelor's/master's program in Spanish, earning both degrees by age 21. After finding out she'd passed her oral and written exams, she remembers, "I called my parents collect" from a phone nearby. "I feel like that was the smartest I've ever been." The University "is so intense, so intellectually alive. I didn't realize that was in me until I was there."
Moving back to New York, she got a job at Good Morning America, where she'd worked over the summer while in the College. After several years in television, she decided to move to a publishing house. Even working in TV, she says, "I always had a book in my hand, and I was always the one running down the hallway reading." An entry-level job at Harper Collins ultimately led to an editorial position, and in 1996 she started at Hyperion, then just five years old.
Early on she booked big writers—comedian Tracey Ullman and rocker David Lee Roth, for example. One of her first books, ESPN SportsCentury (1999),which traced the 100-year evolution of American sports, was a New York Times best seller. "When you're a new house, it's all about new authors," she says. "In order to make a splash and let people know you exist, you want to get out the big books with the biggest numbers."
For someone who works with celebrities regularly, "I'm not jaded," she says. Some people make Young as excited as when she first started in publishing. A two-page handwritten letter from To Kill a Mockingbird author Harper Lee is among her "most treasured possessions." She had written to Lee after reading her 2006 essay in O Magazine about "the shrinking popularity of traditional methods of expression in the wireless age," Young says. "It reminded me of the rich literary euphoria I experienced when reading To Kill a Mockingbird for the first time. I was so thrilled that the famously reclusive Lee could still write like an angel on a topic of relevance that I immediately resolved to compose an old-fashioned letter of appreciation in her honor." She sent it to Lee's publisher and expected to never hear back. Lee answered about a month later. "She had responded to my gesture with a warmth and eloquence that took my breath away."
It's Young's willingness to try anything and contact anyone that has gotten her so many successful writers. Sometimes it works. After seeing Congressman Lewis speak and reading his op-eds, Young thought about bringing him on as an author. Lewis, 72, was a Student Nonviolent Coordinating Committee leader and in 1965 helped lead marchers across the Edmund Pettus Bridge in Selma, Alabama. When Barack Obama became president, he signed a photograph for Lewis with the words, "Because of you, John." Says Young, "That just made me think, there's a book here."
Sometimes her assertiveness doesn't result in a book contract, at least not right away. After seeing an interview with a Hollywood legend, Young contacted his agent. "He's just got the most amazing stories—and more importantly, he really knows how to tell them." A couple weeks after sending the letter, she heard from the agent, saying that the award-winning actor/director would be in town and could meet with her. "I usually don't get that nervous—but I was." They spent an hour last summer in Hyperion's offices, talking about possible ideas for a book, but nothing has come out of it yet.
Any chance—contacting authors or suggesting new ideas—no matter the outcome, is worth taking, she says. For Young, the important thing is finding a story: "I want to be part of making those stories and telling those stories. I want to keep readers reading."