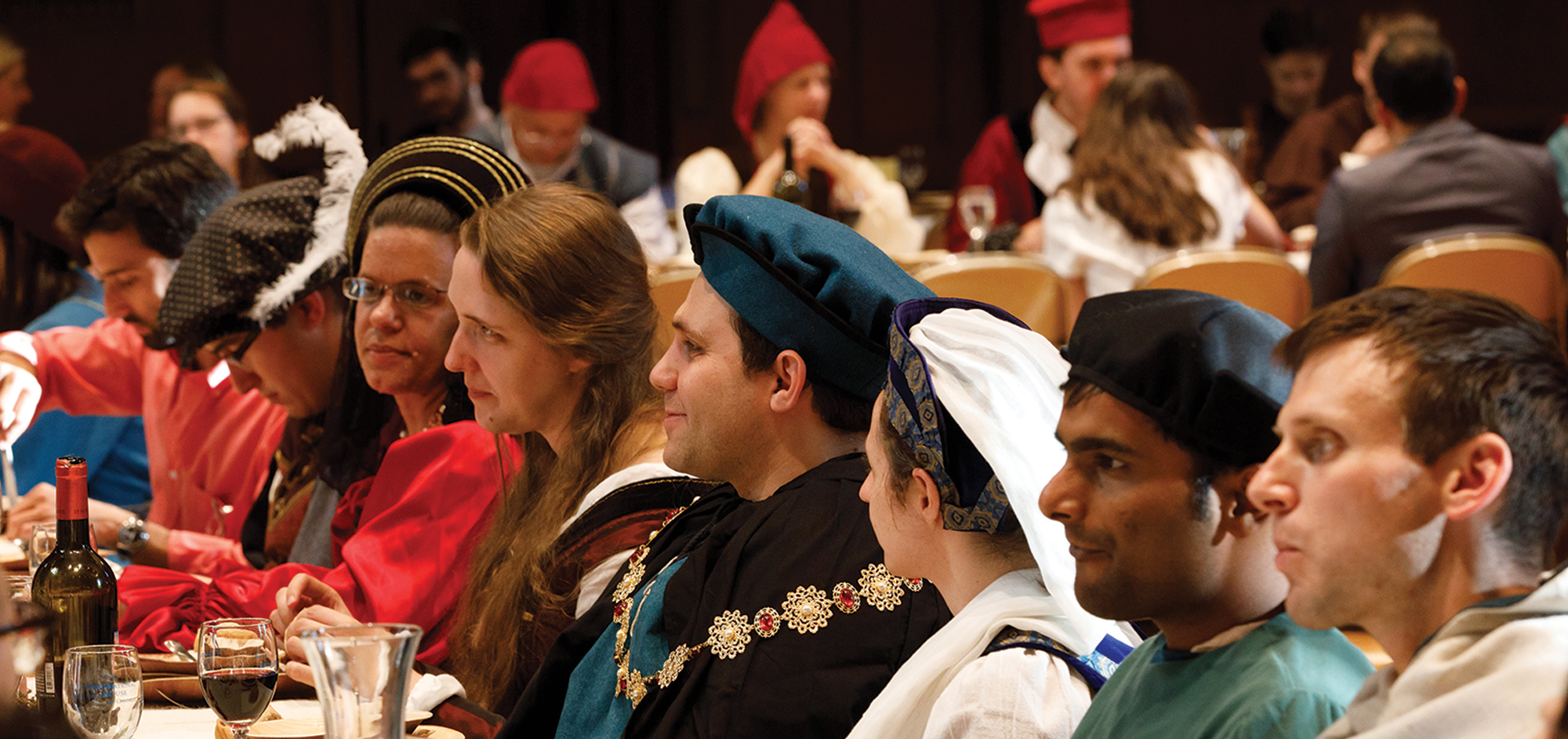 Renaissance cooking
How do you make gnocchi without potatoes?
Last June more than 130 students, faculty, staff, alumni, and community members gathered at International House for a Renaissance banquet, organized by Daniele Macuglia, AM'10, PhD'17, and history associate professor Ada Palmer. The guests wore period costumes, feasted on period food (see banquet fare), and listened to lectures on Renaissance cuisine as well as live performances of polyphonic music.
The banquet recipes were adapted from Opera dell'arte del cucinare by Bartolomeo Scappi (1500–1577), who served as chef to two popes. Published in 1570, Scappi's cookbook—which includes the earliest known illustration of a fork—collects 1,000 recipes from Renaissance Italian cuisine, before it was transformed by such New World additions as the tomato and the potato. The book was first translated into English in 2008.
---
Banquet fare
Bread, olives, cheese, nuts, and figs
Prima portata:
Zuppaccia alla preboggion
(onion soup with parsley, cheese, and chard)
Seconda portata:
Coscette finocchiate
(chicken thighs with fennel, crushed almonds, parsley, cinnamon, and nutmeg)
Vegetarian:
Gnocchetti rivoli bianchi
(gnocchi cooked in butter sauce with fresh sage)
Frutta e formaggi:
Frutta a volantà
(apples, pears, grapes, figs, and cheeses)
Porta finale:
Sformatino croccante di canella
(crunchy cinnamon cake served with honey)
---
Gnocchi recipe, 1570
Several ways to make and cook macaroni for a day in Lent.
Get a pound of fine flour and a pound of grated bread that has been put through a fine sieve, and make up a dough with boiling water and olive oil mixed with a little saffron. On a table make the dough so it is not too firm, but well mixed together. When it is warmed up make the gnocchi—that is, macaroni—on the cheese grater and put them to cook in lightly salted boiling water. When they are done, take them out and put them into an earthenware or wooden vessel, putting on them a garlic sauce made with ground walnuts, cloves of garlic, pepper, and breadcrumb that has been moistened in hot water. Mix everything together and serve it garnished with pepper and cinnamon.
If, however, you want to make macaroni spread out with a rolling pin, make the dough a little firmer and let the sheet of it sit on a table a short while. Cut it with a pastry wheel into rectangular strips or some other way, however you like. Cook them in salted water and serve them like the ones above. Anyone who wants to can also cover them with green sauce.
(From Opera dell'arte del cucinare)
---
Gnocchi recipe, 2018
Ingredients
2 12 oz packages potato gnocchi
2 tbsp fresh sage leaves, chopped
1 clove garlic, minced
1/4 c butter
1/4 c Parmesan cheese, grated
1/4 tsp salt
1/4 tsp fresh-ground black pepper
 
Directions
Cook gnocchi according to package directions.
Melt butter in a skillet.
Add garlic and sauté until soft and golden brown.
Stir in the sage and salt, then add cooked gnocchi.
Toss gently with the Parmesan cheese and the pepper.
Sprinkle with additional Parmesan to serve.
(Adapted from allrecipes.com)