Story of the century
Marion Elisberg Simon, AB'39, shares nearly 100 years of memories.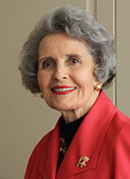 Last year, at age 94, Marion Elisberg Simon, AB'39 (right), published a memoir,
The Show Must Go On: My Dance with Chicago
. The book portrays a lost Chicago, a city where dance troupes performed at movie theaters and the University of Chicago had beauty queens: Simon was Miss University of Chicago in 1939. Below are excerpts from Simon's book, which is available at the University of Chicago Bookstore and on
Amazon
.  
Budding Rockettes
When Simon was seven, her mother enrolled her in dance classes.
[My mother's] high standards led me to study under Muriel Abbott, the premier dancing teacher in Chicago. By way of an audition, I had to rehearse for and perform in the title role of a junior production of Little Miss Muffet. I survived my trial and began studying dance and acrobatics under Mame Abbott's rigorous tutelage.
The dancing came quite naturally, but the acrobatics training scared me. Away from the studio, I practiced walking on my hands down my mother's very long hallway, and I used a mattress to practice the aerials.
In the months before the stock market crashed, my family moved into a spacious apartment on the third floor of a three-floor red brick building at 5529 Hyde Park Boulevard. When the stock market crashed, thankfully, we didn't feel it to the degree that so many others did. We continued to have a maid who came in to help with the house and even a telephone in the hallway (though it was a pay phone). Later in life I became aware that my father had lost a good deal of money in the stock market, but during the time, I don't ever remember feeling that we suffered.
Two months after the crash, and with nearly half of Chicago out of work, I was lucky enough to go to work for what was then the handsome sum of $45 per week. I was eleven years old, and after my success in her classes, I had been invited to become a dancer in Muriel Abbott's Professional Revue. Over Christmas break, the troupe, composed of eleven- to thirteen-year-old budding Rockettes, was hired to do three live shows a day as intermission entertainment between movies at theaters ranging from the Chicago Theatre downtown, to the Tivoli Theatre in the Woodlawn neighborhood south of the city, to the Marlboro and Granada theaters on the North Side.
Our job as tap dancers and acrobats was to distract people from their fears and pains with a smile and a dance. Building on my beginnings with Mame Abbott, I continued what I think was probably the best education of my life. It became clearer and clearer to me that the show must go on, no matter what.
Once, as if out of one of the movies at the theater, someone in the audience threw a banana peel on stage. I slipped on it but got right back up and kept performing, hardly missing a beat.
On New Year's Eve 1929, the entire production was arrested for violating child labor laws because we were up past our bedtimes and performing as the clock struck midnight. The other young dancers and I were detained by the police for an hour and a half and then released. We couldn't believe it—and neither could our parents—but it was part of the fun. I loved it all and wanted to go on dancing forever.
By the time I was a freshman at Hyde Park High School, the Abbott Dancers had moved into Chicago's prestigious Empire Room in the beautiful Palmer House Hotel. Young women now, we were local celebrities, as the troupe was gaining both a national and international reputation. The older girls in the group were even taken to South America.
Suddenly, out of the blue, my father told me that my career on the stage was over. "That's it" were the exact words he used. He explained that he didn't mind my dancing as a child but felt that it wasn't right for a young lady. Because of his experience in the clothing business, he had worked with models and knew more about the seedy underbelly of show business than I did. I had no choice but to obey his wishes. Unfortunately, in those days, you believed what your father said and did what he told you to do. Even now, one of my biggest regrets is that I wasn't able to pursue a career in entertainment.
Excluded
Experiencing prejudice as a student.
I was only just 17 when I started at the University of Chicago, because I had been put ahead in grammar school. Although I wanted to go east, my parents insisted that I live at home and attend the University of Chicago because it was $100 per quarter and the country remained in the grips of the Depression.
In college, I experienced anti-Semitism for the first time. Although it was extremely subtle and largely unspoken, Jews were excluded from the girls' social clubs. I accepted the discrimination as simply "the way it was." The girls who had to bar me from their clubs were otherwise nice girls who also accepted my exclusion as status quo. We were all raised well and didn't question, let alone challenge, the customs handed down to us. Perhaps today I am more sensitive and empathic toward others as a result of this experience.
Discovered at Schwab's
On a visit to California with her mother, Simon met a young man at the hotel pool.
He was tall and handsome and already looked like a movie star. His name also happened to be Marion, and it didn't take long before we began a summer romance.
One day we went for sodas at Schwab's Pharmacy. Hollywood legend holds that in 1936, Lana Turner was "discovered" sitting on a fountain stool at Schwab's. Marion and I were blissfully unaware that at the time, Schwab's was the place for actors and wannabes. We just wanted some chocolate sodas.
A gal came up to us and asked whether we were interested in the movies. Before we knew it, we were each invited to meet the famous producer Joseph Schenck on the studio lot of Twentieth Century Fox. After a few minutes of conversation, he told me that I didn't need a screen test and handed me a contract. He told me to sign it and send it back.
I was beside myself with joy, but it didn't last. When I told my father, he said, "Absolutely not." Mother concurred. Once again, I said, "OK."
My friend Marion received the same contract offer from Mr. Schenck, which he immediately signed and returned. I was happy for him and spent the rest of the summer helping him get rid of his Texas accent. Eventually, he changed his name from Marion Goodman to Don Castle and was cast in the Andy Hardy movies with Mickey Rooney and Judy Garland. He wrote me long, beautiful letters for years.