Studs' Place, revisited
More than 60 years after Studs Terkel's television show was cancelled, Paul Durica "broadcasts" a new episode.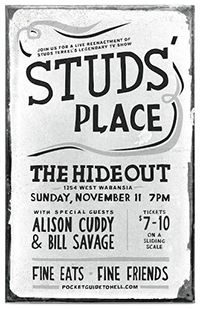 The final episode of the sitcom
Studs' Place
, starring Studs Terkel, PhB'32, JD'34 (1912-2008), was broadcast in 1951. This year, as part of the yearlong celebration of the centenary of Terkel's birth, Paul Durica, AM'06, decided to make a new episode. Durica is a grad student in English, an instructor in the creative writing program, and Chicago's unofficial mad historian in residence. Anyone can come up with a loony idea—
"I know! Let's reenact the Haymarket riots!"
—but only Durica would actually persuade a small crowd of Chicagoans to dress up in period costume and beat on each other with foam nightsticks. And so it was that last month, a standing-room-only crowd gathered in the back room of the Hideout, 1354 W. Wabansia, to watch a new episode of Studs' Place. To simulate the effect of a live broadcast, the episode was performed in the front bar and projected in the back. Before the show began, the audience was asked not to get a drink or use the bathroom, for fear of walking into the set and ruining the effect. Everyone followed the rules. Like the original
Studs' Place
, the new episode featured gentle, slow-paced humor and stock character types, and the actors improvised the dialogue based on a one-page scenario—but unlike the original, the story was set in 2012. The scenario, created by Durica: could the Hideout be the original Studs' Place?
Video
Studs' Place, a new episode of Studs Terkel's old TV show, performed for a live audience at the Hideout on November 11, 2012.