Three poems
An excerpt from Maureen McLane's This Blue.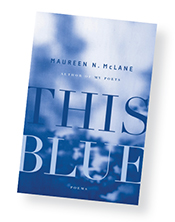 The poems in Maureen McLane's newest collection, This Blue, released in April, are slippery and allusive, searching and sometimes political. Three are excerpted here: In "Replay / Repeat" the ancient world and the contemporary one seem to exist almost simultaneously, the same and different all at once, both less knowable than at first they may seem. The final line of "Summer Beer with Endangered Glacier" gives This Blue its title, and echoes of Wallace Stevens, including his famous line, "Let be be finale of seem," waft through the poem's spare wordplay, which inescapably also calls to mind the book's second epigraph: "Species Means Guilt." (The first epigraph is Stevens: "Thinkers without final thoughts / In an always incipient cosmos.") Finally, "A Situation" is the book's opening poem, rooting things firmly in this "terran life" (the title of another poem from This Blue), which seems not so firm after all, as McLane mines strangeness from the ordinary and finds mutability within (and beyond) what seems eternal: seasons, stars, names.
Replay / Repeat
Amazing they still do it, kids— climb trees they've eyed for years in the park, their bicycles braced against granite hewn hauled & heaved into a miniature New Hampshire Stonehenge ...
Your white-pined mind fringed with Frisbees saucering the summer into a common past—look, it's here! two red discs! & the goldplated trophies everyone gets for team effort.
Human beings always run in groups. Sure there's a solitary walker, can't bother him, iPod breaking his brain into convolutions you'll never get the hang of.
Go skateboard yourself. My maneuvers are old- school, yes, but so's school & summer & children & these fuckedup resilient trees which tell time like the Druids by the same old same old sun.
Summer Beer with Endangered Glacier
My one eye does not match the other
Corrective lenses regulate whatever
needs require. Seeing? I was being
being seen. Let be be finale.
Let our virtues tally up against
the obvious. If we don't believe
ourselves custodial why all
the hoobla- hoo, hulla- balloo?
Passivist mon semblable ma soeur
soi-même blow through this blue
A Situation
Everything bending elsewhere, summer longer, winter mud & the maples escaping for norther zones ...
Take it up Old Adam— every day the world exists to be named.
Here's a chair, a table, grass. A cricket hums my Japanese name.
Skyscrapers are stars. Rocks. Those were swell, seasons. So strange, that heaven, that hell.
Poems excerpted from This Blue: Poems by Maureen N. McLane, published in April 2014 by Farrar, Straus, and Giroux LLC. Copyright ©2014 by Maureen N. McLane. All Rights Reserved.