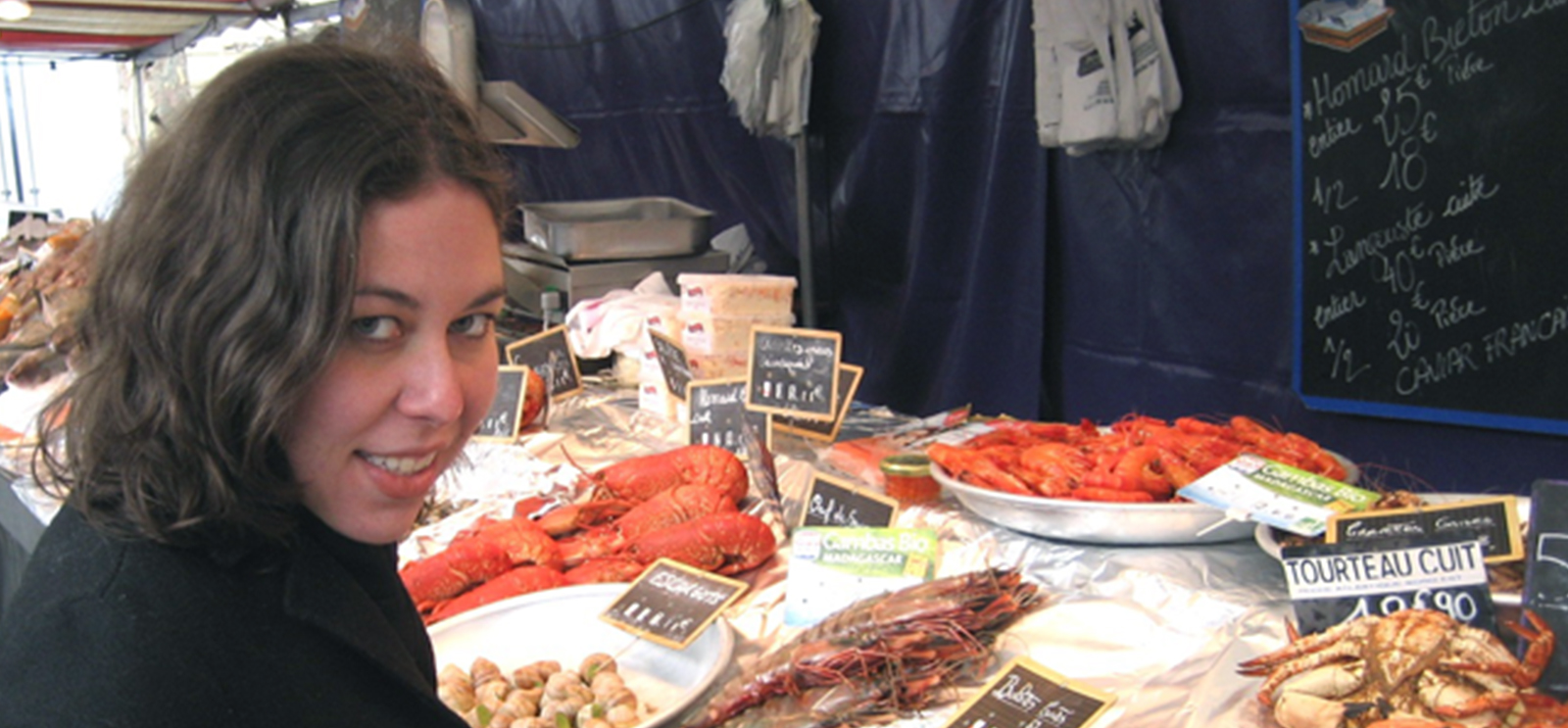 Well done
Lauren Shockey, AB'06, burned out on restaurant life, but not before a global exploration of cuisines.
In the fall of 2009, Lauren Shockey was more than halfway through her year of apprenticing in four high-end restaurants. She was at her third stop, living in Tel Aviv, Israel, chopping herbs and cleaning grouper at Daniel Zach's Carmella Bistro. She had come a long way from her first stage (pronounced "stazj")—essentially, an unpaid internship—at New York City's wd-50, chef Wylie Dufresne's molecular-gastronomy restaurant. There she'd been called out for bad knife form while chopping millimeter-wide cubes of lemon confit and stared down by Dufresne as she clumsily tried to swoosh parsley sauce onto a plate. At Carmella she had earned a post running the appetizer station from 3:00 to 11:30 p.m.
But by then Shockey, author of Four Kitchens: My Life Behind the Burner in New York, Hanoi, Tel Aviv, and Paris (Grand Central Publishing, 2011), wasn't sure that working in a hot, crowded, hierarchical restaurant was her calling. Even if she eventually got a kitchen job, working 12-plus-hour days, the starting pay seemed disproportionate to the physical labor.
At Carmella, she'd proven herself as a solid prep cook, but the mostly male chefs patronized her. Weeks into her time there, a cook lectured her about filling the containers of ingredients up to "the very top." "I refrained from saying, 'Look, buddy, I'm not getting paid, but I know that all the containers need to be filled,'" Shockey writes. "I could tell that he thought I was just a silly girl who liked to play around in the kitchen."
Even as a teenager, Shockey considered herself a good cook, if an amateur. After Chicago, she attended the French Culinary Institute and then started a master's program in food studies at New York University. But she wanted more of a real-world education. Living off her savings, Shockey applied for stage positions in her hometown of New York City as well as in France; Vietnam, whose food culture she'd fallen in love with in New York; and Israel, because, as a secular Jew, she hoped the experience would "nourish" her, "professionally and spiritually."
In contrast to New York, Paris, and Hanoi, Tel Aviv "is still finding its food culture," she explains. "Looking at the restaurant menus in Tel Aviv, they are a little bit behind the times." At Carmella, for example, dessert options included chocolate cake and tiramisu, and there was a goat cheese and beet salad. "These are all dishes that are good, but in New York, it'd be like, OK, that's 1998." At the same time, Israel has begun to look to farms and markets to bring native foods, such as pomegranates and figs, to the menu.
After plucking the leaves from pounds of Brussels sprouts at wd-50, shelling kilos of crabs at Paris's Senderens, and working with strong personalities, Shockey learned the behind-the-scenes mechanics of the four kitchens. "Even if culinary school teaches you a million different ways to chop carrots," she writes, "it's not going to matter unless you're chopping the carrots exactly how the restaurant wants their carrots chopped."
She learned what could only be learned in the kitchen: "You have to be quick on your feet, and you have to have eyes in the back of your head, five sets of arms," she says. As part of a team, "if you're responsible for the appetizers, you have to coordinate with people responsible for the entrees" so the meal will be timed perfectly.
The year taught her about diverse cuisines, knowledge she has used as a food writer since returning to New York, where she is a Village Voice critic.
And, after slaving over restaurant stoves, she decided she prefers cooking at home, where she can see her friends and family enjoy the food. Her favorite cooking experience from her apprenticeships took place outside a restaurant. In Tel Aviv she prepared dinner for Rosh Hashanah: "I had really great conversations with some of the friends I made," Shockey says. "It was a group of eight of us just talking about the meaning of the holiday."