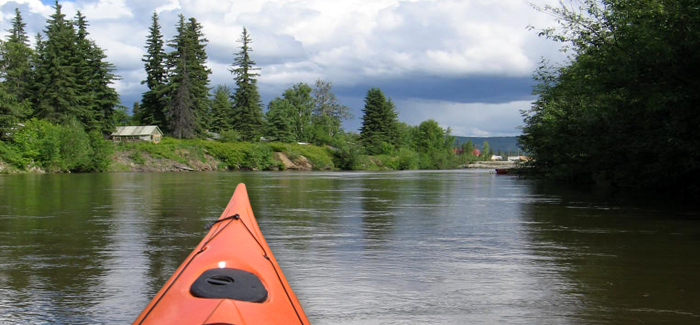 Finding humility on the last frontier
Dorothee E. Kocks, AB'78, found dignity in humility after her career dropped out from under her.
In Alaska, deep in the wild, a corporate retreat center perches on one of the last great salmon rivers, surrounded by woods and accessible only by seaplane. In the summer of 2009, I worked there as a cook's helper, aka kitchen bitch.
My last job had been editor in chief of a glossy magazine. It folded, and a couple weeks later, my husband got a pink slip as well. We'd celebrated my 50th birthday with a tango party not long before. Bewildered, our professional lives decimated, we accepted jobs together at a guest lodge on the last frontier.
People came by invitation only. No one paid. One week, executives and lobbyists and maybe a senator would arrive, friends of the telecommunications company that owned the resort. The next week, the plane brought rank-and-file employees. They dropped from the sky, far away from their jobs as customer-service agents or sales staff or line workers along utility poles. The cabins offered plush beds, stocked liquor cabinets. Cuban cigars.
Three of us worked seven days a week to feed everyone. At 5:30 in the morning, I chopped fruit, mixed scone batter, kept the porridge from sticking, and fried meats. Fourteen hours later, I wheeled the dessert cart around in an apron. With a PhD and decades sitting behind a desk, I was in no shape for this.
My legs shook. My pride did too. The chef and dishwasher had to take up the slack when I couldn't do my part. Shame spilled through me, both at being brought so low and for being so spoiled. By e-mail, the news came that an agent had rejected my novel. Meanwhile, my husband helped guests with their gear and then flew off in the red seaplane with beer and sandwiches for day trips.
As my body strengthened, I kayaked. I had two hours off in the afternoon. I needed to sit, so I went out in an orange plastic boat and paddled away from the generators' grrrrr. I stared at the river's crosscurrents, feeling vacant.
Then the salmon arrived, two by two by 20,000, and on that day I lifted the paddle out of the water. I rocked on their backs. Salmon reach the peak of their fertility as they near death. They spawn as their skin wrinkles and sheds. I tried to let nature bolster my nerve at aging and heal the injury of being discarded. But what I really needed was help letting go of the fantasy of control.
The lessons would come indoors as well. From behind the kitchen's invisible curtain, I overheard board members scheme ways for the company to survive the recession. On the hall telephone, a guide who'd planned to retire several seasons before muffled his anguish at not being able to go home to a sick relative.
One night, some staff furtively harvested salmon for their winter freezers using nets. They did not have net permits and someone saw them. A photo e-mailed to the fish and game department put the lodge at risk. Behind the scenes, the cultural contrast between stocking food for winter and sport fishing grated. Much of the fishing on this river was catch and release, and one employee said throwing back into the water what you'd caught was "playing with your food."
This was a conserved wilderness, a living museum of nature, but also a preserved vision of wealth—muscular, sure of itself, as if bears and bear markets both could be kept outside. It reminded me of a nobleman's hall, with fine food set out on long tables, wine flowing.
Midseason, when we'd worked two months without a day off, a new chef arrived. Black bearded, spinning a knife in one hand, turning the wheel of his well-stocked iPod in the other, Dave treated the kitchen like a playground. He made steak with chimichurri sauce. He spun sugar into a trout's shape to decorate chocolate mousse. Even for staff lunches, he seasoned mayonnaise with wild blueberries.
In his other life, he cooked for rock stars who had to wring passion and emotion out of songs they'd played so many times before. Dave understood tired, stressed people. His playfulness was intentional, skilled. He made happiness look simple.
Dave and I kayaked together one day. Rain approached. The droplets hit the river in a thousand tiny splashes. Far away. Nearer. Nearer still. Then it touched us: cool, the gentlest of massages. My skin prickled underneath my rubber slicker.
The world on the river presented a paradox. Individual prowess mattered a great deal. And it didn't matter at all. We were all sitting in little rubber boats. Philosophers talk about the umbra of immensity, the emotional impact of standing small before large forces. Here, nature and the economy alike loomed as presences that we try, and succeed, and fail to rein in.
Dave taught me that any one person can summon good feeling and share it with others. I watched him make a daily practice of the gift of food, and it helped me to get over myself. Humility feels different from shame. It thrums with dignity. Wheeling the dessert cart was no longer a gauntlet.
My plummet from the professional class would be arrested within a year. A publisher took my novel and edited it with infinite care; I got an academic job. I cherish these privileges more poignantly now. My job seems secure, but I could get laid off again. I feel more at ease with my vulnerability. When it strikes, I ask myself to remember to lift the paddle. To rock on the back of this world, and hold wonder. Hold it close. Then give it away.
As a kitchen bitch in Alaska, I understood that my efforts to be compassionate and generous have always been more important than the content of my work. I also realized that I don't want to miss anything, not even the part where my skin wrinkles and death comes near, nearer.
Dorothee E. Kocks, AB'78, is the author of the historical novel The Glass Harmonica: A Sensualist's Tale (Rosa Mira Books, 2011). A companion illustrated history of the first American sexual revolution, Such Were My Temptations: Bawdy Americans, 1760–1830, is available on her website, Beware the Timid Life. Other works include Dream a Little: Land and Social Justice in Modern America (University of California Press, 2000).