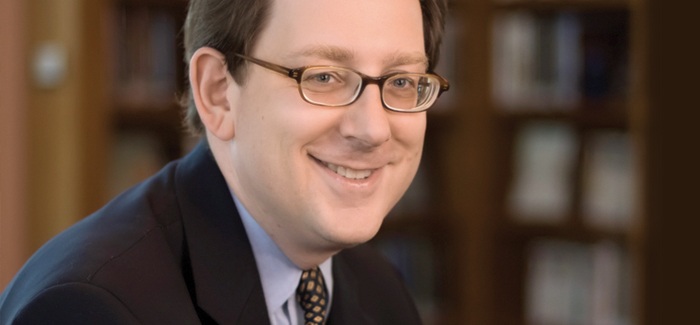 Legal leadership
Dean Michael H. Schill outlines the breadth of opportunities incorporated into the Law School's traditional curriculum to train leaders across fields.
The past several years have seen significant change for the legal profession and for American law schools. The fallout from the Great Recession substantially reduced the demand for new lawyers and, in some instances, led to dislocation for seasoned attorneys as well. The number of applicants to law schools declined by more than 38 percent from 2010 to 2013. Many law schools responded by slashing the size of their entering classes, reducing faculty hiring, and, in some cases, radically altering their curricula to focus on skills that they perceived would have value in the marketplace.
I am pleased to report that the University of Chicago Law School has not experienced these types of pressures. The entering credentials of our classes have hit record levels; the number of applications, while decreasing modestly for a few years, has started to grow again; and our 97 percent employment rate is among the top two or three in the nation. Nevertheless, we are not resting on our laurels. Over the past several years we have carefully rethought our curricular and cocurricular programs in an effort to prepare our students for challenging and fulfilling careers.
One thing that will never change at the Law School is our brand: we have always been known for our rigorous analytical education, for our relentless commitment to ideas, and for producing the best-trained legal professionals in the nation. All of that will remain as we add opportunities for students to gain additional core competencies that will prepare them to become leaders in a wider variety of professions.
Lawyers have always been leaders in the United States, dominating Congress and our nation's statehouses. Lawyers also run many of our great civic and nonprofit organizations. Historically, we have also been an important force in the corporate boardroom. The reason for this is that legal training—logically breaking down problems into component parts, analyzing the pros, cons, and risks of every alternative, and then recommending a course of action—is ideal for almost any endeavor.
At Chicago, we want to increase the proficiency of our students in areas that we haven't focused on before: training that will enable them to excel in any profession they choose. For example, we need to work with students on what our business school calls their action skills: self-awareness, teamwork, professionalism, writing, financial literacy, and more. All students need this training, no matter what field they intend to enter—the head of a nonprofit, the managing partner of a law firm, the director of a government agency, and a CEO need these skills equally.
This fall we are launching the Kapnick Leadership and Professionalism Initiative to meet that need. Through the generosity of Scott, MBA'85, JD'85, and Kathleen Kapnick, JD'84, we are working with Chicago Booth to introduce a Law School–specific version of Booth's famous Leadership Effectiveness and Development program. Each incoming first-year in the Class of 2017 will arrive several weeks before classes for an off-site retreat with team-building exercises and leadership challenges. They will learn about their own leadership styles and effectiveness in team situations and then return to campus for intensive modules on personality and leadership, relationship building, and public speaking.
Once we have built this strong foundation, we will offer a set of intensive options for students based on their chosen career paths. For those who want to gain business skills, we have just launched the Doctoroff Business Leadership Program, which offers hard-core business classes to all law students and mentorship, internship, and enrichment activities to a cohort who wishes to earn a special business leadership certificate. For those looking for experience in public service, we will offer experiential clinics, funding to support summer and permanent work, and a robust pro bono initiative. For those who want to work in the international arena, we have created an array of courses and international job opportunities along with immersion projects in foreign countries.
In many ways the Law School is just as our alumni remember, no matter how long ago they graduated. Our students still have extraordinary credentials—better than ever before. Our faculty is still filled with world-class scholars who care a great deal about teaching. Classrooms are still largely run by the Socratic method, the Bigelow program still offers the best first-year writing training in the country, and the traditional "think like a lawyer" curriculum is still thriving. Layered over our extraordinary traditional analytical framework is now a legal education for the new paradigm, one that will make University of Chicago Law School graduates ready for any leadership role they choose.
To read about many of these initiatives, visit the Law School alumni magazine.