At Tree House Humane Society, Raissa Allaire is top cat
Connecting human and feline communities in Chicago.
Dogs may be man's best friend, but when it comes to companion animals, cats win the popularity contest: more than 94 million feline friends can be found in US homes (second only to freshwater fish).
For ailurophiles looking for a companion or two, Tree House Humane Society has been a destination for almost 50 years. Founded in 1971 in Chicago's Uptown neighborhood, the shelter is run today by Raissa Allaire, AB'97, AM'02, its executive director since May 2018.
Prior to Allaire's arrival, Tree House experienced a few years of turmoil, including leadership changes and disagreements over the shelter's mission and values—while also raising $7 million to construct a new eco-friendly shelter, which opened in 2017 in Chicago's West Ridge neighborhood. During her first few months, Allaire went on a listening tour and shadowed staff members so that she could learn how the organization functioned. "I talked to everyone. I talked to staff, I talked to board members, former board members, supporters of Tree House, people who were not happy with Tree House." That gave her a better picture of what the organization meant to the community and what it should do better.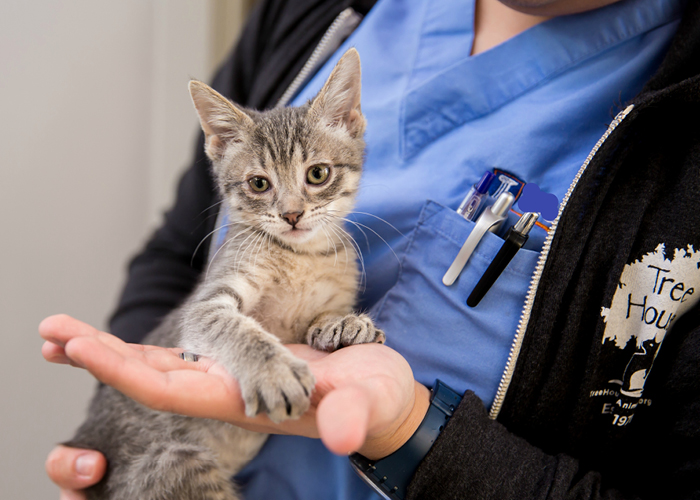 Allaire joined Tree House after almost 12 years at the Center for Economic Progress, a move prompted in no small part by her family's adoption of two cats from the Oak Park Animal Care League in 2016. About a year after bringing Sulley and Sal home, she learned about a feral cat colony under a neighbor's care. The discovery was eye-opening; the more she learned, the more she realized that animal welfare is a complex issue that goes well beyond pet adoptions. When she saw the Tree House position, it seemed like a great opportunity to merge her nonprofit management skills with her newfound passion.
Running a cat shelter, she's found, isn't just about the cats—it's also about the community. "As I've been in this seat for a year, I've seen a lot of intersections between animal welfare and poverty, animal welfare and mental health. So it's been kind of interesting to apply some of what I've learned in the social impact space to Tree House," Allaire says.
Under her direction, Tree House has expanded its outreach, forging more collaborations with other organizations, such as senior centers, and opening a cat café to bring Chicagoans into the shelter. (For more on the café, see "Make a Date for Coffee … with a Cat.") It has also emphasized its Community Cats and Cats at Work Programs, which include a trap-neuter-return strategy to maintain neighborhood colonies and to place colonies with businesses and residential areas for rodent control. Work is also proceeding on a low-income cat and dog clinic, which Tree House hopes to open in 2021.
Some of this work may end up on the big screen. Shortly after Allaire arrived at Tree House, she was contacted by the Scrappers Film Group, run by Brian Ashby, AB'06; Ben Kolak, AB'06; and David Schalliol, AM'04, PhD'15. They want to make a documentary that examines urban issues in Chicago through the lens of the city's outdoor cats. It's still in the earliest stages, but the aim, Kolak says, is to "follow some of the cat colonies longitudinally for a few years to really get a sense of neighborhood change." The fragility of the cats that live on the streets of Chicago "has a real tie-in and is packed with other social issues" reflected in the city's human populations.
Some may contend the cats won't appreciate the staff's hard work, but Allaire disagrees: "I think they get a bad rap sometimes." In spite of their reputation for aloofness, she's seen the joy and comfort they can bring. Their detractors, she believes, just haven't had enough experience with cats or haven't met the right one.
---