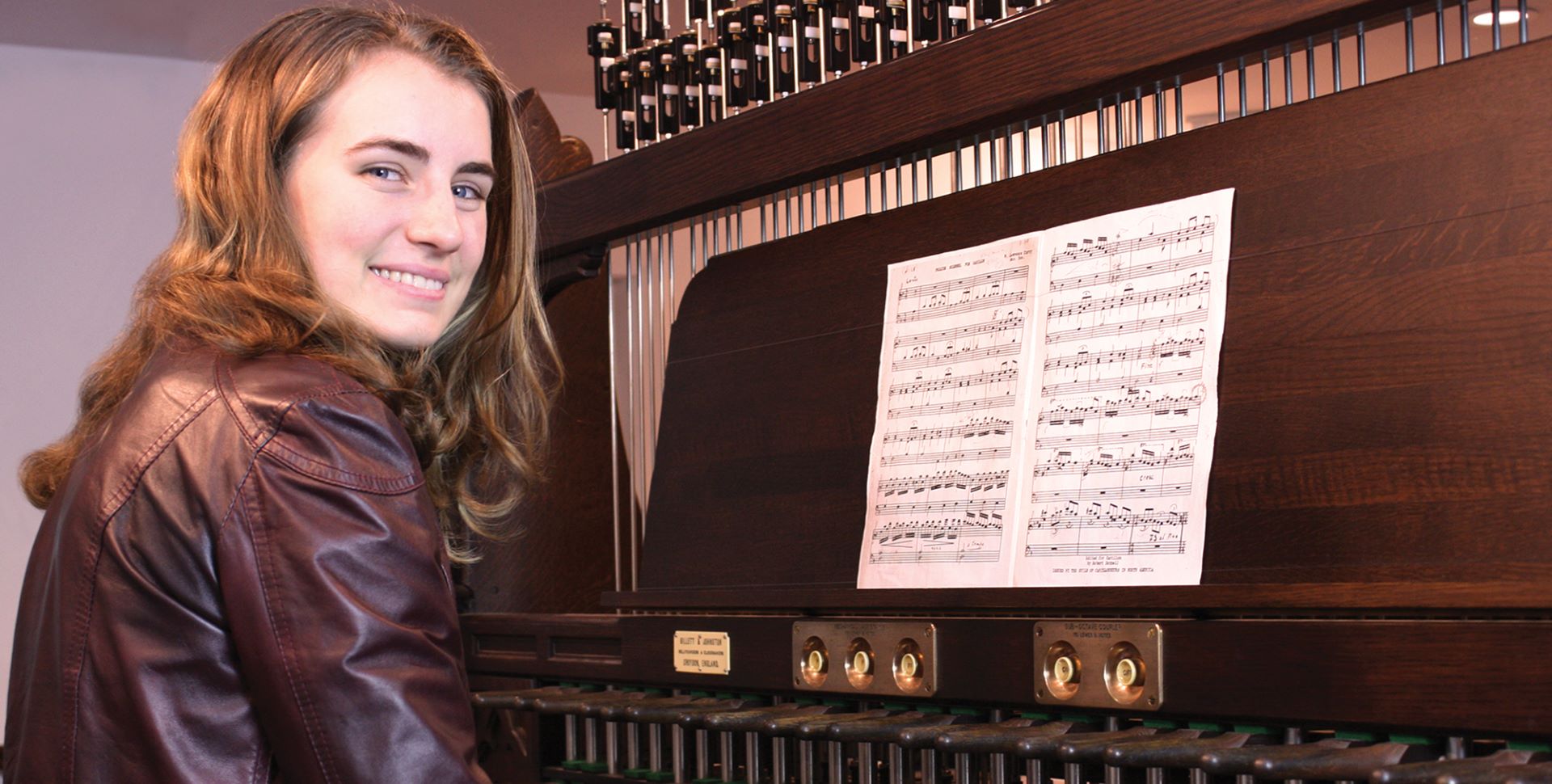 Carillon my wayward song
There'll be peace when you are done.
If you're going to play the carillon, you need to think about your shoes. The 100-ton, 72-bell instrument at the top of Rockefeller Chapel has 31 foot pedals and 71 batons, which you strike with your fists. The batons operate the smaller bells, the pedals the larger ones.
"Most people don't play music with their feet," says Michael Petruzzelli, Class of 2019, president of the UChicago Guild of Student Carillonneurs. Getting used to it takes time. He wears slip-on canvas shoes, which he calls his "carillon shoes," because they have thinner soles to better feel the pedals.
Petruzzelli is one of 20 students—mostly undergrads, along with students from the School of Social Service Administration, the Law School, and the Division of the Humanities—who each play a 30-minute weekly concert on the University carillon, one of the world's largest. Before each concert, guild members lead tours of the bell tower for anyone who's interested.
As students graduate, spots open up. "Because no students arrive at the University knowing how to play the carillon," says University carillonneur Joey Brink, "we have to start teaching from the very basics." Brink performs for major university events, plays a daily recital, and supervises the guild.
The competition for those open spots has grown. While Petruzzelli was one of seven students who auditioned his first year, audition manager Elma Ling Hoffman and guild vice president Maria Krunic, both Class of 2021, were among 21 who auditioned last year. This year 36 students came to the initial meeting; after six weeks of lessons (only requirement: the ability to read music), 22 auditioned on November 18 for six available slots.
"We've gotten better at advertising," Krunic says.
Petruzzelli saw a sign at the Student Activities Fair: "Want to learn to play the bells at Rockefeller?" Krunic read about the group on her class Facebook page, and then her house president, a guild member, encouraged her to join. Hoffman, in contrast, came to UChicago knowing she wanted to play the carillon after getting to know the carillonneur at her high school, Mercersburg Academy in Pennsylvania.
All three have backgrounds in piano. Playing the carillon, which Hoffman describes as "a physically cathartic instrument," isn't necessarily like playing the piano, but closer than anything else.
"I love how you have such a large dynamic range, and the physicality of it," Hoffman says, "especially with the lower bells. They're so heavy that you really have to work to put your body weight into it."
Outside of their scheduled concerts, guild members can rehearse on one of the three practice carillons in Rockefeller's basement, and they have regular lessons with Brink. Most end up playing 30 minutes to an hour, five or six days a week. Guild members also have bimonthly dinners together and take an annual road trip to carillons across the Midwest—they visited the one at the Mayo Clinic in 2018.
When they climb the 271 steps to the top of Rockefeller Chapel to play their solitary instrument, the student carillonneurs are aware their fellow guild members are listening. Knowing who plays when, Hoffman loves to hear other students gradually master a particular piece over a period of weeks.
"It's just this feeling of absolute support and joy," she says, "where I'm like, 'I know you're up there in that tower, even though no one can see you. I see you improving.'"
That Song Rings a Bell
There are no limits to what carillonneurs can play other than their imaginations (and occasionally their arm spans).
While many students choose classical pieces—especially the work of Ronald Barnes, who composed specifically for carillon—University carillonneur Joey Brink drew attention from Buzzfeed for playing Drake's "Hotline Bling" and has been known to play songs including Toto's "Africa" and, during the 2016 World Series, "Go Cubs Go." One student, now graduated, liked to play Aqua's "Barbie Girl."
"If it has a melody," says Maria Krunic, Class of 2021, "you can pretty much arrange it."
Carillonneur picks
Pachelbel's Canon "Light of the Seven" from Game of Thrones
The theme from the BBC's Pride and Prejudice
Notable requests
"Hedwig's Theme" from the Harry Potter films
"Mia and Sebastian's Theme" from La La Land
Resisted adaptation
The bells' sustained resonance can muddy melodies with intricate rhythms. One student tried to arrange the theme from the anime series Yuri on Ice but found there were "too many notes," said Elma Ling Hoffman, Class of 2021.
Adaptation goal
Krunic is working on a version of "Summertime" from George Gershwin's Porgy and Bess after hearing a guest carillonneur improvise it at Rockefeller.
Odd request
The Soviet national anthem*
*The request was made in jest, but Michael Petruzzelli, Class of 2019, played it anyway.