Electoral College
Institute of Politics executive director Darren Reisberg fleshes out Axelrod's vision.
Six months from the January 2013 launch, the Institute of Politics is still in the gestation period, but one man in particular has already begun fleshing out the finer points. I had the chance to meet with Darren Reisberg, executive director of the Institute of Politics, to get the skinny on this much anticipated, and much debated, new program. David Axelrod—senior Obama adviser for the 2012 campaign—was named the director of the institute. That means he's the big picture guy. This stirred a bit of controversy when it was first announced (keep reading for more on that). But the day-to-day man on the ground is Reisberg. Especially now when Axelrod is a bit busy orchestrating Obama's reelection bid, Reisberg is literally a team of one, doing just about everything except donning a yellow construction hat and putting up crossbeams in the institute's future home at 5707 S. Woodlawn. Which means, yes, he did have to carry floor tile samples across the Loop to go over them with Axelrod—whose schedule allows at least for the occasional interior decorating.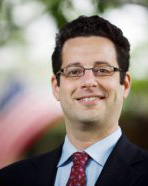 The news has trumpeted the institute's three components: visiting fellows, internships, and speakers. The first of those, the visiting fellows program, has remained the most opaque. As Reisberg explained, the fellows—eventually there will be six, but more likely three or four in the beginning—will be practitioners such as policy experts, journalists, elected officials, and former cabinet officials. During their yearlong term, they will be required not only to live on campus but ideally in the same building, so they can develop more cohesive relationships. The challenge for Reisberg is "trying to integrate them into the community of the University and the city so they're really experiencing something meaningful while they're here, and can then be ambassadors for the program moving forward." But what will they do here? For one, they will carry on their own work or research. Reisberg mentioned practicing political journalists or media personalities as potential fellows. A columnist, for example, could keep writing from Hyde Park; policy experts could use the University's research resources to add some oomph to their projects. Fellows will also host weekly study groups for students, sharing their experience and expertise in an intimate setting and giving students firsthand exposure to current policy and political work. "One of the benefits of having Axelrod as the program director," Reisberg explains, is that he will attract some very interesting fellows for the first term next January. After that, the hope is that the program will be competitive enough to expect hordes of fellowship applications. Reisberg will focus on cutting a wide cross section of political affiliation, race, ethnicity, gender, and age, with the understanding that "carbon copies are not really helpful for anyone." As for the students whom the institute intends to engage, Reisberg is quite clear: "We're focused on undergrads." But he also stresses that the institute will not exclude anybody—that means graduate students. In particular he "expects a great deal of interest and involvement from students in the Harris School," whether serving as mentors to undergraduates interested in politics and policy, or as representatives on the student advisory board. This student governance body is expected to be one of the key focal points for student involvement. While the exact function of this body has yet to be fully fleshed out, it will likely help develop programming for the institute's speaker series and will comprise primarily undergraduates and potentially liaisons from graduate programs. Reisberg has also already begun meeting with students and soliciting feedback through an online survey. The institute's three-story digs, currently under construction, are also expected to serve as a new stop on the student study-and-lounging circuit. The 5707 S. Woodlawn address will be home to the Institute's offices, workspaces for fellows and students, and multipurpose meeting room. The basement will offer a workspace for student organizations, particularly those that overlap with the institute's goals. Reisberg pictures "another space to study or hang out. We want it to be as much of a student gathering space as possible." There will even be flat-screen televisions for watching the nightly news, political debates, or maybe Aaron Sorkin's latest effort,
The Newsroom
. "I don't know whether or not students would frequently attend," Reisberg muses, referring to these informal gatherings. Cracking a smile he adds, "Maybe if we provide some food—that's the key." Here at the
Magazine
, letters began arriving as soon as the University announced that Axelrod would lead the new institute. While many are excited to have attracted such an influential politico, many others are skeptical that someone so deeply involved with the Democratic Party can lead a neutral institute. Reisberg acknowledges but downplays this worry: "I'm not sure how pervasive that is—but it's a concern." In addition to bringing in fellows from all different political affiliations, he hopes the student governance body will also provide well-balanced input. As he explains, "We want the student advisory council to meet at the beginning of each quarter, letting us know who they want to see speak—we will heed their advice. So we need to be sure that the student advisory group is representative of all groups on campus." Whether made of donkeys, elephants, or amoebas, the political environment in Hyde Park has inspired Reisberg. "Duke," his undergraduate school, "was a very apathetic environment for everything other than basketball. … I find the environment here to be much more active politically than was my experience with my class." Maybe it's because we need to compensate for the lack of our own Coach K, but this is the spirit the Institute of Politics intends to tap.
Updated 07.23.2012