Remember when ...
... President Hutchins made an appearance on campus in 1992? ... Acrotheatre bounced onto the UChicago scene ... Doc Films took a cruise—in the Reg? ... Sho Yano wasn't the youngest doc to graduate from UChicago?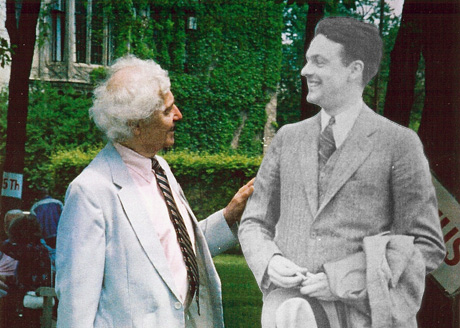 At Alumni Weekend 2012 John Morris, AB'37, celebrated his 75th reunion and toasted former UChicago president Robert Maynard Hutchins in a speech to the alumni emeriti. Among the photos illustrating his talk: Morris posing with a beaming (though two-dimensional) Hutchins at Morris's 55th reunion in 1992.
Bill Leicht, AB'58, SB'58, remembers how Acrotheatre, which flourished at UChicago in the 1940s and '50s and combined elements of gymnastics, ballet, and the circus, led to the creation of his martial-arts dojo. "Acrotheatre was my very first experience of how art and community fit together," he writes. In the above photo, Acrotheatre performers Nathaniel Risley, AB'51, and Twila Richmond, X'53, rehearse a seat bounce on the trampoline.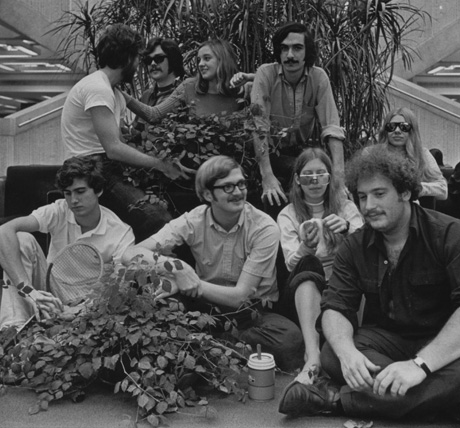 Doc Films members weren't all business, all the time. This early-1970s photo shows what Pamela Reichl Collebrusco, AB'72, AM'74, remembers as "our version of the club going on a cruise (see palm trees)"—in the Regenstein Library. Collebrusco is on the far right (with sunglasses); Pete Douglass, AB'70, MD'74, is second from the left on the top row; and next to him is Dorthea Juul, AB'72, PhD'89. "Maybe someone else will have more memories to add to the photo," says Collebrusco, "and more names for students in the photo."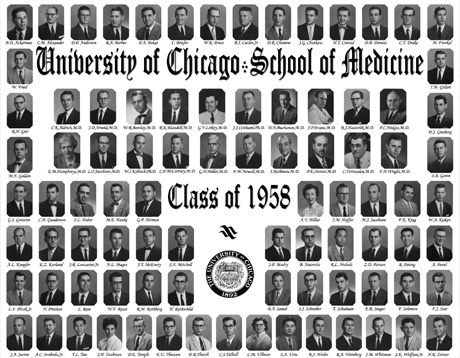 Until Sho Yano, PhD'09, MD'12, graduated from Pritzker School of Medicine this past June, Frederic Solomon, U-High'51, AB'54, SB'55, MD'58, was the youngest student ever awarded an MD from the University. Yano was 21 years and eight months old when he graduated; Solomon was 21 years and ten months.
Since then, Solomon, who lives outside of Washington, DC, has had "three careers": teaching medical students and doing research for 17 years at Howard University "at the time of the student civil-rights movement"; as chief of staffing at the Institute of Medicine of the National Academy of Sciences; and, starting in 1990, as a full-time child, adolescent, and adult psychiatrist. "And that's ending this month," he told the Magazine in June, when he planned to retire.
How did you know so young that you wanted to be a doctor?
My father was a dentist; I had an uncle who was a psychiatrist and another uncle who was a pharmacist. The joke is that I was supported in choosing any type of medicine or dentistry I wanted to go into.
How do you think graduating from medical school at 21 has affected your career?
My three careers are really very different from one another, and it may be that I had more flexibility because I always felt myself to be young and ready for another challenge. This retiring business—it's pretty hard to trade on precocity when you're 75 years old.
What advice do you have for Yano?
Take his time in deciding which clinical specialty to get trained in. Second piece of advice: choose child psychiatry.