Up in the air
From balloon sculptures to an avant-garde video game, the art of Willy Chyr, AB'09, is all about the journey.
Installation artist Willy Chyr, AB'09, has pulled some of his best ideas out of thin air—literally. Over the past five years, he has inflated thousands of balloons to build his signature sculptures, awe-inspiring mobiles that have hung from the ceilings of museums, science centers, and other spaces across North America. At 27, he's drawn international attention, including a six-month residency in Shanghai. But now, against the advice of nearly everyone he knows, Chyr is shifting his focus to a different project: video games, a medium that most people don't think of as art.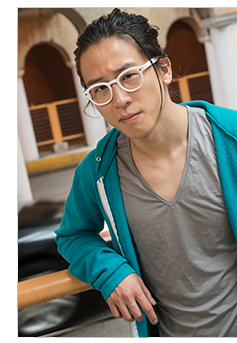 To understand where Chyr's going, it helps to know where he's coming from. He became an artist almost by accident, by way of the circus. A physics and economics major, he blew off steam as a juggler, unicyclist, and magician for Le Vorris & Vox, the University's student-run troupe. At a festival where they were performing, he started working as a balloon twister. "It was like $30 an hour," he recalls. "And as a student, for five hours, I thought that was a fortune." His subsequent experiments with balloons as sculpture led to two large-scale installations on campus, as well as a fashion show for Festival of the Arts.
Two days after Chyr graduated, the Museum of Science and Industry commissioned a work for a high-profile event in Millennium Park. (Someone there had seen photos of his work on the University's website.) That exposure quickly led to more invitations from local science centers and art venues, and in 2010 he secured his first residency, in Omaha, Nebraska.
Chyr's work had a wow factor that people remembered. By 2012 he had gained two national platforms. First, his balloon work appeared on the labels of four million bottles of Beck's beer. Around the same time, he conducted an online literary experiment called The Collabowriters, a crowdsourced novel that took shape as people submitted sentences of 140 characters or fewer and voted on which should come next.
The project emphasized process as much as product. Post-Collabowriters, Chyr began to reconsider his installation-building process, which had always required the support of a team. In the past, his volunteers had helped him execute preconceived designs modeled after specific creatures—a comb jelly, for instance. Now he wanted to give his teams more autonomy and see where the process led. He began teaching the volunteers how to make individual structures, then chaining those together intuitively. "Before I'd just look at a tree," he says, "and draw that tree exactly the way it is. But now it's like, wait, how does that tree grow and why does it grow that way?"
As the design of his sculptures became more organic and collaborative, his interest in the medium was reignited. "I had no idea what the installation was going to look like until it was done," Chyr says. "I was kind of in the audience's shoes, and the people that were helping me were in my shoes." His work as an artist changed from designing an object to creating a visual language. Working with teams to implement it was "a mess" that he loved. The same went for his conversations with his volunteers—say, "a lawyer who spent all afternoon twisting balloons."
In one stretch in 2012, Chyr and his teams finished eight balloon works in eight weeks. By the end of that run he felt he was approaching a dead end creatively. His most lucrative offers were coming from malls and other outfits with big marketing budgets—in other words, places that needed a decorator.
"If I do something like that, my career as an artist is just out the window," Chyr says. "The last thing I want to do is become a parody of my past success. I knew I needed to step back before I went too far in one direction."
His thoughts turned to video games. He already knew how to program, so he wouldn't have to spend years learning a new craft. By the end of 2012, Chyr had developed a prototype for what is his most ambitious art project to date: Relativity, a single-player puzzle game he plans to debut in 2016.
Relativity defies the conventions of mainstream video games. There are no points, no instructions, no lives, and no deaths. Part of the game is figuring out the rules as you go, which aren't necessarily intuitive; for one thing, in the world of the game, there are six fields of gravity. Chyr calls it a "game of counterfactual physics" that he hopes will give players a new perspective and an immersing experience. "You get ready for a movie, right? You get the popcorn. You dim the lights. I would love that same kind of approach when people sit down to play," he says.
The game also defies many of the conventions of the art world itself, which has only just begun to accept video games as a means of artistic expression. (The Museum of Modern Art in New York established its collection in 2012.) Chyr is excited by the possibilities of the medium. "It's on someone's computer, which is, if you think about it, a really intimate space," he says.
Chyr recognizes that some of his admirers in the art world might not be willing to follow him down the rabbit hole. To him, the risk is worth taking in the name of not letting himself feel stuck. He sees the game and the balloons as part of the same body of work and hopes "to recreate the visual awesomeness from the installations." After that? He says a return to balloons is likely—no doubt with a new twist.
Kim O'Connor, AM'02, is a freelance writer in Chicago. Her work has appeared in Slate, the Rumpus, the Awl, and other publications.