Chalk like an Egyptian
The museum's public outreach taps the littlest Egyptologists.
This article is part of the special feature "The OI at 100," which commemorates the centennial celebration of the Oriental Institute.
---
In the Oriental Institute basement, the next generation of Egyptologists is hard at work. They started the day with a tour of the museum's Egypt collection; now they are recreating one of the items they saw, an inscribed slab, or stela, of the nobles Mn and Riya, on several pieces of butcher paper taped to the floor.
The first order of business, explains OI youth and family programs coordinator Calgary Haines-Trautman, AB'17, the wrangler of today's group of nine junior archaeologists and their parents, is to create a grid on the paper, using essentially the same method the Egyptians would have used: covering a long piece of string in chalk, then snapping it across the paper to create a line.
Eloise, 7, treats this task with the seriousness it warrants. She carefully dips a piece of string in an etched vessel filled with pulverized blue chalk, then looks up at facilitator Catie Witt, AM'18. "Is this a real Egyptian jar?" she asks. (Though meant to look authentic, it's not; archaeologists will be relieved to know no ancient artifacts at the OI are being repurposed as chalk buckets for elementary schoolers.)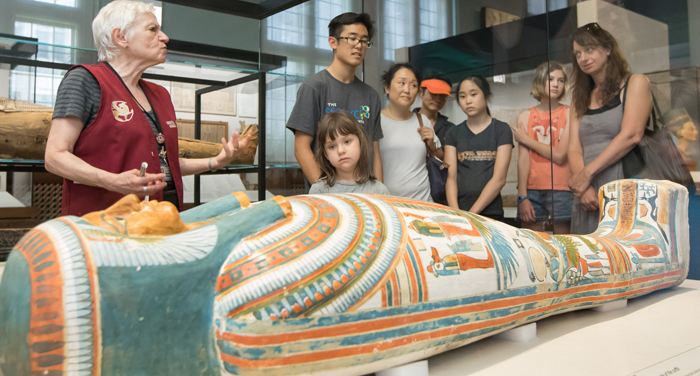 The children have more questions as they transition from grid creation to drawing: What color should this flower be? (Blue.) What food items do they see in the stela? (A pot of mint tea, a small red onion, ham.) Were there chickens in ancient Egypt? (Unclear. Dad pulls out his phone to investigate.)
The program, titled "One. Big. Egyptian. Mural." is part of the museum's effort to engage the public through kid-friendly offerings, including school tours and learn-while-playing activities. This one is heaven for Eloise, who is in a hot and heavy Egypt phase. Her mom, Melissa, has no idea where the fascination came from but is happy to encourage it.
After the event, Witt, a PhD student in Near Eastern languages and civilizations, says she gets why some of the kids are so excited to be here. After all, she's still in her Egypt phase too.