Rediscovering Bette Howland
How the work of a celebrated Chicago writer was lost and found again.
It was the cover that drew Brigid Hughes in.
The book, which she picked out of the bargain bin at Manhattan's Housing Works Books in 2015, had "this fabulous 1970s cover" with neon green lettering. On the back, a blurb from Saul Bellow, EX'39.
Hughes had never heard of the author, and it is her business to know authors. She was the second editor of the Paris Review, after George Plimpton; then she founded the literary magazine A Public Space.
"I'm sure you've had those moments," she says. "You open a page at random and there's a sentence or a paragraph that resonates very powerfully." The book's price: one dollar. Hughes bought it.
W-3 (Viking, 1974), the first book by Bette Howland, AB'55, is a lightly fictionalized memoir of her stay in the University of Chicago hospital's psychiatric ward, recovering from a suicide attempt. Hughes read the book quickly, though she found it harrowing: "There are a number of sentences where you want to pause and take them in and walk around thinking about them."
She wanted to know more about Howland. An internet search brought up nothing at first. More digging yielded an obituary for Howland's mother, which mentioned a grandson, Jacob, a philosophy professor at the University of Tulsa in Oklahoma. Bette Howland was his mother, Jacob confirmed, and she was still alive. But she was suffering from multiple sclerosis and dementia.
Later in 2015, with Jacob's help, A Public Space published a portfolio of Howland's work. It included two short stories (one, discovered in a Tulsa safe deposit box, published for the first time), an essay on heroines in American literature, and excerpts from postcards and letters sent by Bellow (also from the safe deposit box). Jacob told his mother all about it; she was "mildly pleased," he says.
In October 2017, two months before Howland's death, Hughes launched an imprint, A Public Space Books. Its first publication, Calm Sea and Prosperous Voyage (2019), includes a novella of the same title and 10 other short stories by Howland. Now articles and reviews are everywhere: the Paris Review, the New York Times, Harper's, Lithub, the Wall Street Journal.
But Howland's reviews were always good. A Commentary review of W-3 points out that, unlike other memoirists of mental illness, "she writes as if she were a participant-observer, a novelist-anthropologist in a strange, often perplexing new place." When her second book, Blue in Chicago (Harper & Row, 1978) was published, Studs Terkel, PhB'32, JD'34, invited her on his WFMT radio show. "Bette Howland is one of the most perceptive observers of a city, Chicago," he said, introducing his guest. "Her picture of the city is a haunting one, a poignant one." The New York Times described her third and final book, Things to Come and Go (Knopf, 1983), as "a quirky collection of three long stories by a writer of unusual talent, power and intelligence," just like "the brilliantly executed Blue in Chicago."
How did a well-reviewed writer with such a prestigious pedigree—an MFA from the University of Iowa in 1967, a Guggenheim Fellowship in 1978, a MacArthur Foundation "genius grant" in 1984—come to be so thoroughly forgotten?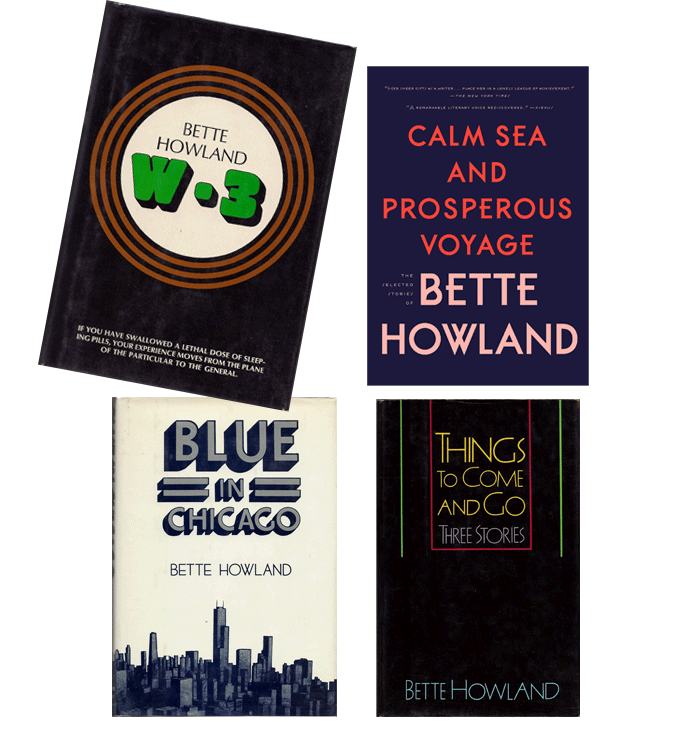 Author and critic Bill Savage, who teaches Chicago literature at Northwestern University, wrote his dissertation on how Nelson Algren was precanonical, canonical, and then decanonized. (Twenty years later, he's being canonized again.)
When Savage teaches canon formation, he starts by explaining the competing definitions. "There's the right-wing, conservative, Allan Bloom [PhB'49, AM'53, PhD'55], Saul Bellow definition," he says. "The canon is those timeless works that everyone agrees speak universal human truth. ... It is the canon, singular." But this notion is not historically accurate, he says: "Things move in and out of canonicity. Shakespeare was the equivalent of television. Twain was the equivalent of Game of Thrones—pop fiction."
The "left-wing idea," in contrast, claims "the canon is just a political process by which people in power make other people read things. That has truth to it too, but it's not 100 percent." (His own preferred definition: the canon is that list of books and/or writers that educated people "either have read, feel guilty about not having read, or can fake having read.")
When editors like Hughes seek to broaden the canon, they often look for "scenes," as Savage puts it: "who's sleeping with who, who's publishing each other's work, who's blurbing each other." Howland's relationship with Bellow encompassed all three.
Among Bellow's papers in the UChicago Library's Special Collections Research Center is a decades-long correspondence between the two. Howland sent Bellow numerous short stories, including at least one that to my knowledge has not been published anywhere. I immediately emailed Jacob to let him know.
"See, you are demonstrating how the canon process works," Savage says. "You're part of that process too, with the alumni magazine."
For a long time it had seemed to me that life was about to begin—real life. But there was always some obstacle in the way. … At last it had dawned on me that these obstacles were my life.—W-3
Bette Sotonoff was born in 1937—in January, of course, the bitterest month of the bitter Chicago winter—and grew up in Lawndale on the West Side. Her father was a factory worker, her mother a social worker. At 15 she enrolled at the University, earning a 12th-grade certificate in 1953 and taking the blandly named Core courses of the time: humanities, history, and so on.
For her final quarter, autumn 1955, her transcript lists five law classes: Elements of the Law, Contracts, Civil Procedure, Torts, and a tutorial. But rather than completing a law degree, she withdrew her registration in January 1956 and married Howard Howland, AB'52, who became a prominent neurobiologist. She was 19.
The couple had two sons, Frank (born in 1958) and Jacob (born in 1959). Around the same time, Bette Howland's first published stories began to appear: "Sam Katz" in the literary magazine Epoch, "Julia" in the Quarterly Review of Literature.
In July 1961 she attended a two-week literary conference at Wagner College on Staten Island, where Edward Albee taught drama, Robert Lowell poetry, and Saul Bellow fiction. Howland, then 24, and Bellow, 46, were immediately taken with each other. "Bette was easily the most accomplished of the young people who had signed up," Bellow wrote in a recommendation for her more than 30 years later. "Even then, before she had fully organized her talents, she was quite obviously the real thing."
In August Howland sent Bellow a submission to his literary magazine. "I've no great hopes that Noble Savage will take this, in spite of its commendable qualities and my fine connections," she wrote. The story is not with the letter in Bellow's papers, but presumably it was "Aronesti," published in Noble Savage in 1962, along with work by Nelson Algren and Arthur Miller.
When Howland was visiting her parents in Chicago that winter, Bellow phoned; he was spending a quarter as "Celebrity in Residence"—so named by the University's public relations office—in the English department. (Bellow had just married Susan Glassman, AM'73, wife number three of five, but she remained in New York.) "It was his alma mater; mine too; and one of the few places you really can go back to—maybe, in Chicago, the only place," Howland recalled in an unpublished scrap of memoir titled "Herzog's Bellow." He invited her to a small gathering with Algren and a group of visiting Russian writers. As glamorous as that sounds, the evening, in Howland's retelling, was awkward and tiresome.
By 1963 Howland was a divorcée—"that lurid word," she called it in W-3, "that benighted condition"—and had enrolled in the University of Iowa's Writers' Workshop, partly thanks to Bellow's recommendation. Howland completed her MFA in 1967. Her thesis, "The Iron Year," includes early versions of some of the stories published a decade later in Blue in Chicago.
In letters to Bellow from Iowa, she insisted that she was happy there, but an incident at the very end marred it. Her thesis had a minor error in formatting. A secretary refused to accept it, and she was not allowed to graduate with her class. Howland never forgot; she refused to let the school ever use her name.
By 1968 Howland was living in the same decrepit Uptown building as her grandmother, working part time at the branch library and editing manuscripts for the University of Chicago Press. It was not much to raise a family on. Jacob, whose darkly funny observations mirror his mother's, recalled in an essay that the three of them once collected six dollars in change from a puddle of blood in their building: "We needed the money."
Around this time, Howland was hospitalized. The unnamed narrator of W-3 (the name of the psychiatric ward) does not die, despite the bottle of sleeping pills she swallowed, because she immediately thinks better of it and calls the doctor, who alerts the police. In real life, Howland took the pills in Bellow's apartment. According to Bellow's biographer Zachary Leader, Bellow discovered her and probably hushed everything up.
But Howland rarely hushed anything. W-3 is an unsparing look at life in a psychiatric ward: the humiliations of institutional life, the peculiar behavior of the patients, the haplessness of the doctors and nurses, whose speech is usually rendered in all caps. "NOW YOU'RE MUCH TOO YOUNG, TOO PRETTY A GIRL, TO HAVE TRIED A THING LIKE THAT," she is told soon after she's admitted. "NOW THAT WON'T DO AT ALL." Her young sons are not allowed to visit. In one heartbreaking scene, her mother brings them by so she can wave to them from the window; they can hear their mother's voice calling but can't find her. "It was a terrible thing I had done to them," Howland writes. "And I felt like a ghost."
W-3 ends on an optimistic note: her sons return from her parents' home in Florida, she moves to a new apartment, she paints the walls late at night as the boys sleep. In reality Howland still wasn't well. Her sons begged their father to let them live with him and his new wife, who was pregnant with their first child; Frank and Jacob visited their mother during the summers.
She made every effort to make up for her absence, both sons recall, taking them to concerts, museums, and plays, and on trips abroad. "She loved us very much," says Jacob. "But having said that, her writing always came first."
It seems to me that there is something immoral—because inattentive—about reading when your body is in transit. And maybe I felt even then that I should be paying attention instead. But paying attention to what?—"Blue in Chicago," Blue in Chicago
In 1971, at Bellow's suggestion, Howland enrolled as a graduate student in the Committee on Social Thought, where he had recently become chair. During this period she published several short pieces in Commentary.
"Public Facilities—A Memoir" is set in the Borglum Branch (actually Bezazian) of the Chicago Public Library in Uptown, where she had worked part time. Howland writes mercilessly about its oddball librarians and shabby regulars: the elderly, the poor, the nobodies with nowhere else to go. (The story is "hilarious," says Bill Savage. "It should be samizdat-xeroxed and sent to every library branch in CPL.") Commentary published a long, furious letter from Bezazian's reference librarian: "Parts of her article were highly exaggerated and other parts were downright fictitious and malicious."
In 1974, the final year Howland was enrolled in the committee, W-3 came out. Her thesis, never completed, was on Henry James.
Howland's second book, Blue in Chicago, collected six short pieces, four previously published in Commentary. Readers, even professional ones, weren't sure what to make of Blue in Chicago: Was it a short story collection or not? Some publications reviewed it as fiction, others as nonfiction. "I certainly don't want it reviewed as fiction," Howland complained to Bellow. "For one thing, I went to a hell of a lot of trouble—no one will ever know how much—to work with the facts."
Throughout Blue in Chicago—as in her work in general—Howland's powers of observation are like military-grade weapons, deployed most often against her family. Her mother "seemed to talk only when her mouth was full and her cheek was bulging like a fist. As if she were chewing a quid of tobacco, and about to squirt." Uncle Rudy "had to be trundled through high school in a wheelbarrow." The house he shares with Aunt Roxy: "Unmade beds, unwashed cups, cigarette butts, dishes in the sink; it's like a frat house." There's more.
"I recognized everybody, and she just nails them," says son Jacob. What did her relatives think of these sharply drawn portraits? "Roxanne—that's my Aunt Jane. She loved it. She just was so thrilled. ... Her husband, not so much." What his grandparents thought, Jacob never knew. Although Howland wrote of her parents again and again, her relationship with them was strained to the point of breaking. She didn't speak to her father for years, "until she couldn't speak to him anymore, because he was in a coma, on his deathbed," says Jacob. "She expressed the love in her writing."
Writing from life was what Bellow was known for too, and in his novel More Die of Heartbreak (Morrow, 1987) it was Howland's turn. The character Dita Schwartz, based on Howland, is self-conscious about her acne scars, so she tries a new technique, dermabrasion, to smooth them. Bellow writes about her coarse skin and her gruesome recovery from the procedure in cruel detail.
How must Howland have felt? Her letter to Bellow offers few clues. "I'm longing to talk with you," she wrote. "Your book held me strangely; I dreamed of it every night. It was like seeing you or talking to you—& yet still in a kind of disguise." Their correspondence, and friendship, continued.
There is nothing here I would ever choose—and nothing I can ever part with.—"The Life You Gave Me," Things to Come and Go
In 1983 Howland published her third book, Things to Come and Go: Three Stories (Knopf). The following year she won a MacArthur Fellowship, thanks to the strong support of Bellow, who served as an evaluator. Yet in the last three decades of her life, with her children grown and financial pressures removed, she published no more books. It's not clear why.
Her biography on the MacArthur Foundation site states "she is at work on a monograph, Jacob: A Life, and a short novel, A Time for Kennedys." Neither of those works ever appeared.
In 1993 Howland accepted a three-year position teaching literature in the Committee on Social Thought. The CV she submitted includes two books described as "in progress": "The Landlady (Knopf, 1992)" and "Grisha Lapidus: My Life (Knopf, under contract)." Those books were never published either. (Her CV also lists her 10 years in the Chicago Public Schools while omitting her MFA from Iowa, although a terminal degree from a respected program would have made her hiring easier.)
Seeing his friend's career stalling, Bellow, as always, tried to help, submitting her work to his new agent and to the New Yorker: "You are not likely to have heard of her, although she is the author of several books of the highest quality, each of them a succès d'estime."
Howland continued to write and to publish literary criticism. Jacob suspects winning the MacArthur sapped her confidence; too much was expected from a certified genius. In 1999 she published her final piece of creative work, the novella "Calm Sea and Prosperous Voyage," in the literary magazine TriQuarterly. The journal's former editor told the New York Times: "She seemed doubtful of the worth of what she had done and of what she was doing, and she was reluctant to be published."
Howland's older son, Frank, blames her perfectionism. "She spent a lot of time trying to write things that didn't come out," he says, such as Grisha Lapidus. "She never completed that to her satisfaction."
The novel was based on an unpublished memoir by her grandfather's cousin. Born in Europe, he lived in Palestine, got caught up in the Russian Revolution and the Mexican Revolution—then moved to New York and led an entirely ordinary life. Frank has a 200-page typescript, plus a large sketch pad—14 by 17 inches—with 80 pages, front and back, written in pencil. "This is clearly something she hoped to publish after the MacArthur award."
By 2005 "cognitive decline begins to set in," says Frank. She had learned to use a computer but would get confused and lose her revisions. Howland was diagnosed with multiple sclerosis in 2010, and in 2014, while walking home from the grocery store, she was hit by a pickup truck, which worsened her dementia. As Jacob wrote at the time, "Her words scatter like vegetables bouncing on asphalt."
A year after the accident, the neon-green cover art of W-3 caught Brigid Hughes's eye.
Illness, old age, funerals, and death were constant themes in Howland's writing. An observer to the core, she seemed aware of her diminished capacities, Jacob says. One writer, A. N. Devers, insisted on trying to interview her; Jacob agreed to let her. "What does it feel like to be Bette Howland?" Devers asked.
"Bette Howland died a long time ago," she replied.
What would she have made of the furor over her rediscovered work? Jacob suspects she would be irritated by the focus on gender, a perpetual theme in reviews and articles. "I can hear her voice saying, 'I'm not just a woman writer, I'm a writer,'" he says. "She thought of herself as an American writer, and more specifically as a Chicago writer," working in the tradition of Theodore Dreiser, James T. Farrell, Richard Wright.
And yet she was a woman writer, writing from her own distinct perspective—as a daughter, as a mother—and that fact shifts the Chicago literature canon, which is still "a boys' club, a sausage fest," as Savage puts it. Its beginning is often traced to Carl Sandburg's poem "Chicago," Savage says, "where he actually personified the city as a working-class man." (Interestingly, the few women writers added to the canon in the more recent decades—Lorraine Hansberry, Gwendolyn Brooks, Sandra Cisneros—are all women of color.)
One mark of canonicity, of course, is the price of first editions. Wanting to buy Blue in Chicago, Savage searched online, but all the copies he found cost hundreds of dollars. Until this year, Howland's work had never been available in paperback.
Brigid Hughes keeps that bargain-bin copy of W-3 on her desk at A Public Space. The bright orange "$1.00" sticker is on the back, a few inches below Bellow's blurb: "I was much moved by W-3. ... No poses are struck and no vain gestures made in this brave and honorable book. Bette Howland is a real writer."
---
Read the short story "Power Failure" by Bette Howland.
Updated 11.15.2019 to correct Bette Howland's degrees and the photo credits. All family photos are courtesy Frank Howland.
Updated 01.08.2020 to note that the story quoted the former editor of TriQuarterly.