Spokes people
July's Critical Mass draws body-image solidarity—and nipples.
It's the last Friday of the month, about that time the whistle blows. Go home. Take off your heels. Loosen your tie. But why stop there?
Hundreds gathered seminude in Daley Plaza for last Friday's Underwear Mass, a body-image-themed incarnation of the monthly bicycle ride known worldwide as Critical Mass. Though top-button-buttoned publications like the New Yorker label Critical Mass a "political-protest ride," here at the Magazine we know it's more than that. Typically held the last Friday of each month, Critical Mass is a celebration of camaraderie and bicycling and all its benefits, from reducing pollution to promoting exercise. Though it is impossible to deny the antihierarchical and antiauthoritarian political views of many participants, anyone there will assure you that Critical Mass itself is not an organization nor does it have any organizational tenets. Conceived in San Francisco in 1992, it is now celebrated in cities all across the world. Chicago's monthly ride—or Mass—will celebrate its 15th anniversary this September.
Though in some cities activist groups organize themselves around the rides, Critical Mass itself is officially leaderless: it's really just a casual bike ride. But it does provide an opportunity for those in support of a certain cause to look for solidarity. At this month's Mass, some regulars encouraged other riders to strip down in support of gender equality in body image. Though all are free to ride where they choose, the proposed route passed a series of important sites in Chicago women's history. Shirtless men were encouraged to cover their nipples with tape. Unfortunately for passersby, many went tapeless.
Cyclists began gathering around the big Picasso sculpture around 5 p.m. They rode in on anything from a standard Schwinn to a homemade bike equipped with sidecar or trailer to a classic penny-farthing. As long as it is manually powered, it is welcomed enthusiastically.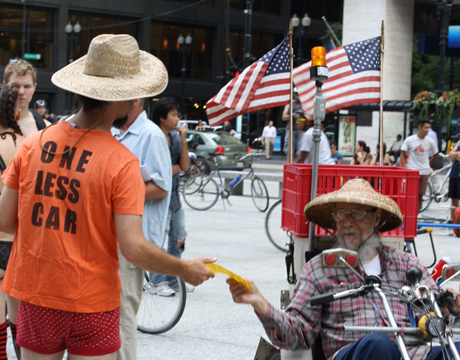 As more trickled in and the crowd slowly grew larger—the official start time of 5:30 was roundly ignored—the classic Critical Mass greeting of "Happy Friday" passed through hundreds of lips. Some sat in benches around the perimeter, chatting excitedly and nervously debating whether to join their bolder comrades already stripping down in the center of the plaza.
Much of the delay can be attributed to the ad hoc jazz band clad primarily in thongs and bunny ears that struck up a tune in the middle of the plaza. When the mood began to shift toward getting the show on the road, the bugle player let out an ironic "Charge!" call and the band packed up.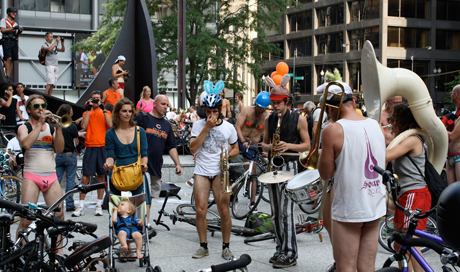 Hundreds of riders poured onto Dearborn from Daley Plaza. Some followed the map that had been distributed. Most just followed the riders in front of them. Experienced riders set up corks at the intersections—physically blocking cars from making turns until fellow riders have passed. Some cars tried desperately to get by; others enjoyed the show.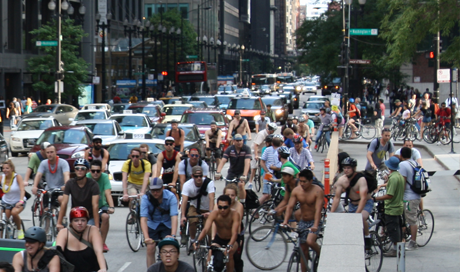 While the political significance of Critical Mass is open to a wide range of interpretations, this past Friday in Daley Plaza, for many, politics just wasn't the point. The spirit in the air was not one of protest but of celebration. The ride was an opportunity to hail in the weekend with hundreds of other Chicagoans from every walk of life—from Dan, the self-proclaimed "bike nut," to Rachel who was following her father's ten-year example—joining for a couple hours in a sprawling mass winding its way through Chicago's streets. Perhaps a pair of anonymous seminudes put it best: "It's just a good day to be outside in your underwear."