Uncharted waters
A UChicago student's venture into one night of a local reading series.
I'm taking a creative writing class this fall—my first ever—and I know I'll have to learn to be comfortable standing in front of a group of mostly strangers, being vulnerable. It helps to observe other writers reading: how they seem to cope with nerves; how they translate tone; how they engage, or, as is often the case, bore, audiences.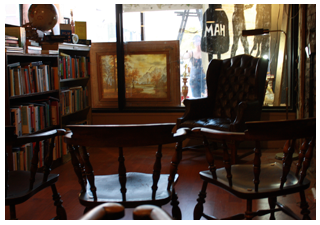 That's why, earlier this month, I decided to attend a reading. From the name of the reading series alone, its appeal was obvious: Dark of the Male, Light of the Female: Women Writing about Horrible Things. I'm a woman, I'm a writer, and, most importantly, I like horrible things (well, of the humorous type).
I tend to avoid readings. Somehow the seating at these events always manages to be exceptionally stiff, cramped, and hot. There are usually crackers and cheese, and an aperitif or two, none of which anyone is willing to touch for fear of looking like they only came for the snacks. I usually either obsess over the reader's nervousness, the pacing of their voice, the twitches and other habits of discomfort; or I look around, more absorbed in other audience members' absorption than what's coming out of the reader's mouth.
So I wasn't sure what to expect, from the readers or myself, as I stepped through the door of Uncharted Books, a cozy spot in Logan Square. A furry friend—Ramona was her name—greeted me, tail and tongue wagging eagerly. Charmingly disorganized rows and stacks of books lined the dimly lit brick-walled space—exactly what one would imagine in a favorite neighborhood bookstore, the kind you stop at just to stop in. Still, I felt the usual reservations creeping in. I took a seat amid the scatter of wooden chairs, ready to be showered with secondhand embarrassment.
The night's readers, as introduced by series host Meghan Lamb, a Chicago writer and editor, were Amanda Marbais; Jac Jemc; Cassandra Troyan, MFA'12; and Lamb herself. Jemc was the first one up, with a few chapters from her new novel, My Own Wife. Jemc's voice didn't sound sure. But she was reading about the possibilities and failure of memory, about doubt and disappointments in relationships, about paralysis. Does such a story demand self-assurance? "Horrible things," I quickly realized, really did mean horrible things, not hilariously embarrassing things.
Marbais read "Bottle Rockets" next, from a new collection of short stories, People Don't Really Love Each Other. It's a rather bleak look at relationships, like Jemc's, but this time in a more humorous way. Marbais delivered her lines with deadpan clarity, occasionally eliciting bursts of laughter from the audience.
Everyone took a break after "Bottle Rockets." A few wandered outside for a smoke, while I eyed the snack platter and ultimately resisted. Soon, Lamb began her own story, called "Bastille Day," whose narrator recounts the reunions of her extended family every July, particularly the revelation that one family member may have committed rape. "Every year I eat too much of something," said Lamb. "This year's theme is skin." At the story's climax, Lamb's storytelling pace quickened, her pitch rose. The muscles in my neck constricted as I listened.
Troyan was last, reading an introduction to "Blood Swamp." I'll have to admit that I essentially have no idea what this story was about. All I took away was a mess of blood, female flesh and bones, erotically charged cannibalism, and a swamp. "Buffalo Bill," I scratched into my notes. I squirmed anxiously in my seat, but Troyan seemed unfazed, in control. She ended with a simple, almost monotone "Thank you." The audience scattered quickly afterward, as though we'd all just participated in something uncomfortably intimate for strangers.
A month later, I have, for the most part, forgotten the details of the stories told and the horrible things called to light. The event remains mostly a stream of hyper-self-awareness in my mind, but in the gaps between my nerves, I remember their voices: Jemc's reflective hesitation, Marbais's dry wit, Lamb's emotional elasticity, Troyan's steely violence. Thinking of the fall, I wonder what my own voice will sound like.