Wow! Pow! Prizes!
Enter the world of comics—and win a book about how they're made.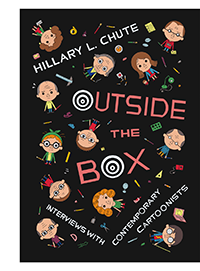 If you could choose a cartoonist to draw your life, who would it be? If you could leave your daily grind and step into a graphic narrative, where would your story be set?
Dash off an answer to those questions and leave it as a comment on this blog post by 5 p.m. (CDT) on Friday, August 15. Hillary L. Chute, author of Outside the Box: Interviews with Contemporary Cartoonists (University of Chicago Press, 2014), will pick a lucky winner to receive a signed copy of her book.
Chute, who studies comics as a literary form, is an associate professor of English at UChicago. In her book she dives deep into the world of cartooning with artists like Lynda Barry, Chris Ware, and Art Spiegelman. You can read an interview with Chute about the work and find out which cartoonist was her tweenage crush.
But before you do that, leave a comment with your entry. We'll do our best to offer some comic relief.
The winner will be announced Monday, August 18.
* * * * *
From the editors: And the winner is ... Anthony Ruth, AB'03, AM'07.
Here is his winning entry:
"I've often thought I'd like to write a comic about living with my retired greyhound. Then I quickly realize it would basically be Garfield, but with a dog and a gay man. So I guess my observed answer is Jim Davis, but my desired answer is something like a combo of Roz Chast for her hilarious depiction of anxiety, William Haefeli for his dry take on modern gay life, and Alison Bechdel for her unflinching self-reflection (and propensity to inspire Broadway musicals)."
Feedback from contest judge Hillary L. Chute:
"There are some good ones…. I love the scientist and the ants…. but I choose this one, an updated Garfield with an elegant explanation."
Thanks to everyone who entered.