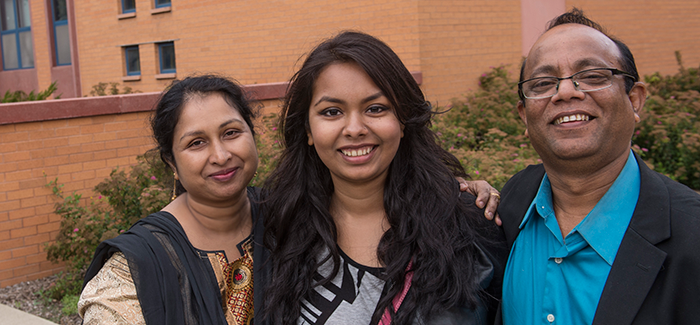 Access granted
A new College initiative reduces debt, simplifies the application process, and supports careers.
The University of Chicago is launching a comprehensive initiative to support students in all phases of their education and beyond graduation, including expanded opportunities for career development and elimination of all student loan requirements in undergraduate need-based financial aid packages.
The University also will enhance its Odyssey Scholarship program, bolstering aid and programming for low-income students through increased financial support, career guidance, personal mentorship, and community support, and continue its commitment to the city of Chicago through UChicago Promise.
A central element of the new commitment is No Barriers, an innovative program that will broaden access to the College and simplify the application and financial aid process. No Barriers will include the replacement of student loans with grants in all need-based financial aid packages. It will also eliminate application fees for families seeking financial aid and offer more than 100 free nationwide information sessions on the college application and financial aid process, a simplified financial aid process based primarily on the Free Application for Federal Student Aid (FAFSA), and new scholarships for underserved and underrepresented groups.
The No Barriers program complements the University's ongoing expansion of career advancement opportunities for all students, with targeted opportunities for students from low-income families. Such actions affirm the profound value of the educational experience in the College, said President Robert J. Zimmer.
"Students in the College benefit from the rare combination of a vibrant intellectual climate, a singularly empowering liberal arts education, and the practical guidance and experience to succeed in any career they choose," Zimmer said. "We want to ensure that students of high ability can aspire to join this community without financial worry, and with comprehensive support for their success both in the College and beyond graduation."
No Barriers is designed to demystify college access and aid, relieve debt, and empower families. Its initiatives will be phased in beginning with the Class of 2019, who will enter the College in the fall of 2015.
In addition to increasing need-based aid, No Barriers will increase National Merit Scholar awards from $2,000 to $4,000 per year for four years and offer new merit award opportunities for National Hispanic Recognition Scholars and National Achievement Scholars—programs designed for Hispanic and African American high school students. Scholarships also will be available for selected UChicago summer programs.
John W. Boyer, AM'69, PhD'75, dean of the College, said the new commitment would not be possible without the visionary efforts of thousands of alumni, parents, and friends who have supported financial aid, Career Advancement, and other College programs.
"Success at the College should not depend on where a student comes from or on family income, but on the quality of her or his ideas, and on a disciplined and imaginative dedication to learning," Boyer said. "No Barriers will enable students from all backgrounds to gain access to the Core and to the other educational traditions of the University of Chicago that have yielded so many creative and bold thinkers over the generations."
The University of Chicago Campaign, which launched on October 29, will provide crucial support for all of the program components.
The Odyssey Scholarships were created in 2008 as a pioneering effort to reduce or eliminate loans for students from families with limited incomes, with support from an anonymous gift made by a College alumnus. The Odyssey program also will expand to include more support, ensuring that low-income students benefit fully from the College's extensive opportunities.
"The Odyssey Scholarship was truly a blessing," says Safiya Johnson, an Odyssey Scholar who graduated in June 2014. "It gave me freedoms I knew I could not have if I had to work while in school. Thanks to the Odyssey Scholarships, I was able to not only graduate from the University of Chicago with a college degree but also with very little debt."
Students from the city of Chicago will continue to benefit from UChicago Promise, a program created in 2012 that helps Chicago students pursue a path to college regardless of where they attend. The program provides application workshops for students and high school counselors and mentoring programs to help students apply to the colleges of their choice.
UChicago Promise also will continue the University's extensive efforts to prepare Chicago Public Schools students for success in the colleges of their choice, including the Upward Bound program for South Side high school students and the Collegiate Scholars program, aimed at helping talented CPS students gain admission and succeed at highly selective colleges around the nation.