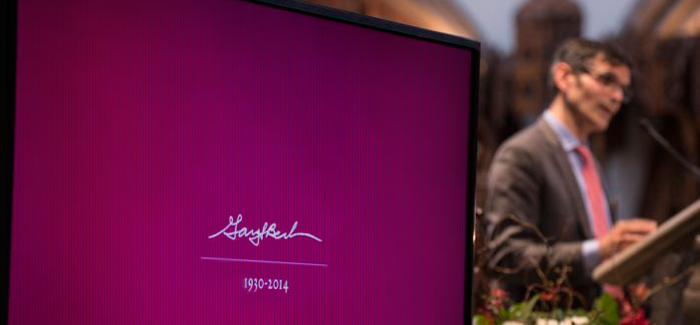 Remembering Gary Becker
Colleagues, friends, and family celebrate the economist's work and life.
Before
James Heckman
's October 31 keynote address on the impact of the work of
Gary Becker
, AM'53, PhD'55, guests packed into a buzzing Mandel Hall. The University's 
celebration
 of Becker's life and work, which drew colleagues, former students, and admirers from around the world, had begun the previous day with a conference at the
Becker Friedman Institute
in the newly opened
Saieh Hall for Economics
. On Friday the minutes before Heckman spoke afforded, for many, an opportunity to find those they hadn't run into yet, hug, catch up. The crowd felt like an extended family, and in a sense it was. Indeed, said Heckman when 
he took the podium
, for one measure of Becker's impact, his listeners could "just look around at each other." The sheer quality of the audience, he noted, signified much about Becker's legacy. Other measures were Becker's many honors, including the
1992 economics Nobel Memorial Prize
; the glowing accolades of his own teachers, including Jacob Viner and
Milton Friedman
, AM'33; and how extensively cited his work has been. But the best measure of the work, Heckman said, was the standard Becker himself judged it against: "How well it helps us understand the world and how well we can help improve it." In discussing how Becker's scholarship met that standard, Heckman focused on the "three pillars" of his colleague's intellectual legacy—human capital, the economics of the family, and the economics of tastes, preferences, and habits. When he wrapped up, Heckman clearly had more that he would have liked to say. In preparing the talk, he confessed, he had been "almost overwhelmed" by the magnitude of Becker's contributions. More would be said a few hours later in Rockefeller Memorial Chapel. The atmosphere, in contrast with Mandel Hall's, was hushed as family, friends, and colleagues streamed in out of the day's fickle weather. Welcoming guests and setting the tone for a memorial service that would again and again link Becker's personal and intellectual legacies, University president
Robert J. Zimmer
spoke of feeling the economist's loss in two ways: first as a friend, then as someone who represented "what the University of Chicago aspires to be." That ideal included Becker's "total intellectual fearlessness that gave his extraordinary abilities and insights the freedom and the room to do something that others would not imagine nor have the emotional fortitude to carry out." Such fearlessness, Zimmer said, "is in reality less common, even in a great university, than one would hope, but is necessary for the University of Chicago or any university in order to realize our finest aspirations." Three of Becker's family members shared their memories, beginning with his daughter Judy Becker, LAB'73. "Many great men are not great family men," she said, "but my father was the best father anyone could ask for," a regular guy in his love of sports and mystery novels. Becker's grandson Henry Harboe, LAB'11, called him "the perfect grandfather" and "my biggest inspiration," while revealing that his grandfather's jokes were "both terrible and frequent." Becker's stepson, Cyrus Claffey, LAB'82, MBA'96, said his enduring lesson from Becker was the importance of character, "the one immutable feature we always have control over." For Chicago Booth professor
Kevin M. Murphy
, PhD'86, an abiding interest in people was the common thread that bound Becker's personal and intellectual impact. In his personal relationships, "everyone viewed him as focused on them," Murphy said. And in his work, "he kept applying economics to problems that mattered—mattered to people, not economists." Statistics professor Steven M. Stigler, LAB'59, remembered how Becker's work was greeted with "indifference or hostility" in the 1960s and '70s, but the economist "persevered in the knowledge he was right." Stanford economist Edward P. Lazear, a colleague of Becker's when he taught at Chicago Booth, closed the service with remarks that expressed the sorrow of Becker's loss and the joy of having known him. "We share with family an unbearable feeling of emptiness," he said. Becker was "the type of person who comes along only a few times each century, so our loss feels great." He was, Lazear continued, "a dreamer who turned dreams into reality" and "taught us above all to reach for the stars both personally and professionally. As we follow his example, we will owe much to Gary, who remains our beacon." Those words marked the end of the memorial service, just the beginning of remembering a transformative thinker.
Videos
Keynote address by James Heckman and remarks by Robert J. Zimmer, president of the University of Chicago, and Lars Peter Hansen, the David Rockefeller Distinguished Service Professor in Economics, Statistics, and the College. James Heckman is the Henry Schultz Distinguished Service Professor in Economics and the College.
In a panel moderated by Steve Levitt, William M. Landes, Casey Mulligan, and Sam Peltzman reflect on Becker's legacy of applying microeconomic principles toward better understanding of the motivations driving criminal behavior.
In a panel moderated by Lars Peter Hansen, Edward Glaeser; Claudia Goldin, AM'69, PhD'72; and Robert Lucas Jr., AB'59, PhD'64, reflect on how Becker's work to understand the development of human capital shaped the research agenda in that vein for decades to come.