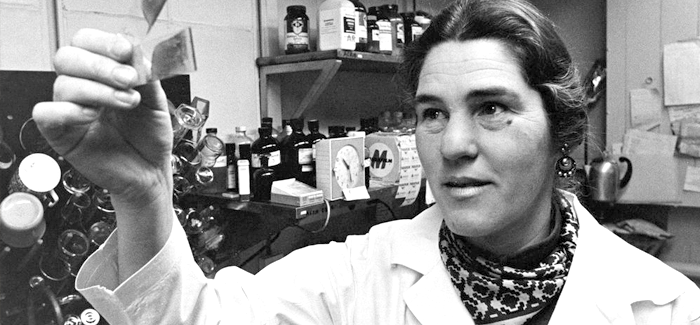 University obituaries
Recent trustee, faculty, staff, and alumni obituaries.
Trustees
A lifelong resident of Chicago's South Side with deep ties to the University, including as a life member of the Medical Center Board of Trustees, Lindy Bergman, U-High'35, AB'39, died January 18 in Chicago. She was 96. Bergman enriched the life of her native city and former school through six decades of dedication and generous financial commitment to the arts, education, and medical care. After losing her eyesight in later years, she became a tireless advocate for the blind. She and her husband, Edwin A. Bergman, AB'39, former chair of the University Board of Trustees, were avid art collectors whose family art collection is now part of the Art Institute of Chicago's permanent collection. At the University she established the Bergman Gallery, home to the Renaissance Society, and donated artwork for the hallways of the University of Chicago medical center. Endowing the University's Lindy Bergman Distinguished Service Professorship and the Edwin A. Bergman Scholarship in the College, she also funded the Bergman Family Eye Center. Her honors from the University of Chicago include the University of Chicago Medal and the Alumni Association's Public Service Award. Bergman's husband died in 1986. She is survived by two daughters, including Betsy Rosenfield, U-High'70, and her husband, University trustee Andrew Rosenfield, JD'78; son Robert Bergman, U-High'67; seven grandchildren, including Zachary Rosenfield, JD'10, Henry Bergman, U-High'11, and Law School student Edwin Rosenfield; and six great-grandchildren.
Faculty and Staff
J. Terry Ernest, MD'61, PhD'67, the Cynthia Chow professor emeritus and former chair of ophthalmology and visual science, died December 26 in Chicago. He was 78. An expert on retinal treatments and glaucoma, Ernest led a team that performed the first experimental cell transplantation to treat age-related macular degeneration, which influenced future treatment of the disease. In 1970, after three years in the Army Medical Corps, Ernest joined the UChicago ophthalmology and visual science faculty, where he taught until 1977. He returned in 1985 as chair, a role he held for 19 years. Also a pioneer in medical ethics, Ernest retired as professor emeritus in 2011. Named one of Time magazine's Heroes of Medicine in 1997, he was also honored by the National Institutes of Health and the American Academy of Ophthalmology. Survivors include a daughter and three granddaughters.
Herbert C. Friedmann, PhD'58, of Chicago, associate professor of biochemistry and molecular biology, died January 13. He was 86. Escaping Nazi Germany, Friedmann moved to India, where he earned an undergraduate degree and worked in biochemistry labs at the University of Madras before moving to Chicago in 1954 to begin doctoral studies at the University. An authority on bacterial enzymes, the biosynthesis of vitamin B12, and the history of biology, Friedmann taught at UChicago for almost 50 years. In 1978 he received the Llewellyn John and Harriet Manchester Quantrell Award for Excellence in Undergraduate Teaching. Survivors include his wife, Joan; daughter Elisabeth Pryor, U-High'80; and two grandchildren, Amalia Pryor, AM'11, and Eric Pryor, U-High'13.
Marlene Richman, of Chicago, a retired counselor for Career Advising and Planning Services (now UChicago Career Advancement), died January 7. She was 75. Richman worked at the University for 36 years, also serving as resident master of Burton-Judson with her husband, Harold A. Richman, AM'61, PhD'69, the Hermon Dunlap Smith professor emeritus and former dean at the School of Social Service Administration. An annual award named in her honor recognizes UChicago staff members' service to students. She is survived by her sons, Andrew Richman, U-High'86, and Robert Richman, U-High'88; a brother; and four grandchildren.
Janet (Davison) Rowley, U-High'42, PhB'45, SB'46, MD'48, the Blum-Riese distinguished service professor of medicine, molecular genetics and cell biology, and human genetics, died December 17 in Chicago. She was 88. Rowley was the first scientist to establish the genetic basis of cancer, identifying a genetic process called translocation. Her discovery led to targeted drug treatment for leukemia and laid the foundation for the field of cancer genetics. Joining UChicago in 1962, Rowley devoted the following decades to her chromosome research, becoming distinguished service professor by 1984. She served on federal advisory boards including the National Cancer Advisory Board under President Jimmy Carter and the President's Council on Bioethics under President George W. Bush. Rowley's many awards and honors include the Lasker Award, the National Medal of Science, the Presidential Medal of Freedom, and the UChicago Alumni Association's Alumni Medal and Norman Maclean Faculty Award. She is survived by three sons, including geophysical sciences professor David Rowley and Roger H. D. Rowley, U-High'81, and five grandchildren, including Jason Rowley, U-High'08, and Gia Rowley, U-High'12. Her husband, Donald Rowley, SB'45, SM'50, MD'50, professor emeritus in pathology and the Committee on Immunology, died in 2013. Another son, Donald Rowley Jr., U-High'69, died in 1983.
Paul Sally Jr., mathematics professor and director of undergraduate studies in mathematics, died December 30 in Chicago. He was 80. Joining UChicago in 1965, Sally pioneered outreach programs for elementary and secondary math teachers and students, including the University of Chicago School Mathematics Project and Seminars for Endorsement of Science and Mathematics Educators (SESAME); taught in UChicago's Urban Teacher Education Program; and cofounded the Young Scholars Program. Sally held several residencies at the Institute for Advanced Study in Princeton, NJ, and received many awards for his teaching, including the Llewellyn John and Harriet Manchester Quantrell Award for Excellence in Undergraduate Teaching, the University of Chicago Provost's Teaching Award, and the American Mathematical Society Award for Distinguished Teaching. Type I diabetes had afflicted Sally since he was a teenager, resulting in the loss of both legs and one eye. Students affectionately nicknamed him the "Math Pirate" for the black eye patch he wore. Survivors include his wife, Judith (Donovan) Sally, PhD'71; three sons, including David Francis Sally, PhD'95; a brother; a sister; and eight grandchildren, including Benjamin Sally, AB'09, and Rachel Sally, '17.
Harry Schoenberg, professor emeritus of surgery and urology and former chair of urology, died November 19 in Sedona, AZ. He was 86. After teaching at the University of Pennsylvania and St. Louis University, Schoenberg joined the Pritzker School of Medicine faculty as urology chair, serving from 1976 to 1993. In retirement he was a board member of the Sedona Medical Center, Verde Valley School, and Chamber Music Sedona. Schoenberg is survived by his wife, Lelia West Schoenberg; a daughter; two sons; two stepdaughters; and 14 grandchildren.
Francis H. Straus II, MD'57, SM'64, professor emeritus of pathology, died January 8 in Mackinac Island, MI. He was 81. Straus spent his entire medical career at the University of Chicago, training many of the nation's leading surgical pathologists. The coauthor of Hypoparathyroidism (Grune and Stratton, 1973) and Essentials of Surgical Pathology (Little, Brown, and Co., 1974), author of a dozen book chapters, and a contributor to nearly 100 research papers, Straus made major contributions to the understanding of thyroid pathology and other endocrine and urologic disorders. A teacher and clinician, Straus was named by students as one of UChicago Medicine's 20 best teachers on 15 occasions in the 1970s and '80s. With his wife, Lorna Straus, U-High'49, X'53, SM'60, PhD'62, he developed and cotaught a course on mammalian anatomy and physiology in the College. Straus is survived by his wife; their four children, including Helen Straus, U-High'80, AB'84, MD'90, Christopher Straus, U-High'84, AB'88, MD'92, an associate professor of radiology at the University, and Michael Straus, U-High'88; and two grandchildren.
1920s
Roma (Clift) Montgomery, AM'29, of Lawton, OK, died November 28. She was 108. A Lawton resident since 1931, Montgomery helped found or lead local organizations including the Lawton Community Theater, Comanche County Red Cross, and the Shakespeare Club. Survivors include two daughters, three grandchildren, and seven great-grandchildren.
1930s
Dena (Polacheck) Epstein, AB'37, a music librarian, died November 14 in Chicago. She was 96. Assistant music librarian at UChicago from 1964 to 1986, Epstein documented the history of black American music through Reconstruction in Sinful Tunes and Spirituals: Black Folk Music to the Civil War (University of Illinois Press, 1977). Her work established the banjo's West African origin and became the subject of a 2013 documentary film, The Librarian and the Banjo. Epstein also edited her mother's memoir, I Came a Stranger: The Story of a Hull-House Girl (University of Illinois Press, 1989). The past president of the Music Library Association, Epstein received the MLA Citation and the Chicago Folklore Prize, awarded jointly by the American Folklore Society and the University of Chicago. She is survived by daughter Suzanne L. Epstein, U-High'68; a son; two grandsons; and one great-grandson.
1940s
Thelma (Iselman) Hayes, AB'40, died May 31, 2012, in Oceanside, CA. She was 94. Hayes was an administrative assistant before helping her husband set up and run his geriatric internal medicine practice in Carlsbad, CA. In 1983 Hayes founded the National Alliance on Mental Illness (NAMI) North Coastal San Diego County, serving as its president for many years. Long active in organizations including the Buena Vista Lagoon Foundation Board and the League of Women Voters, Hayes was named a Carlsbad Citizen of the Year in 1994 and received the UChicago Alumni Association's Public Service Award in 1996.
Egbert Frederick "Tex" Schietinger, AB'40, AM'48, PhD'53, died September 1 in Washington, DC. He was 94. A WW II Army Signal Corps veteran, Schietinger was director of research at the Southern Regional Education Board, where he initiated the SREB-State Data Exchange and wrote six editions of the periodic Fact Book on Higher Education in the South (Southern Regional Education Board). Survivors include two daughters, a son, four grandchildren, and a great-granddaughter.
Ruth (Greenlee) Davis, AB'45, AM'47, died December 26 in Madison, WI. She was 90. For many years, Davis coordinated the activities of the faculty-staff dining club at Beloit College, where her husband, Harry R. Davis, AM'49, PhD'51, taught, and was active in local organizations including the Rock County Democratic Party. Survivors include her husband, a daughter, two sons, three grandchildren, and four great-grandchildren.
William C. Davidon, SB'47, SM'50, PhD'54, died November 8 in Highlands Ranch, CO. He was 86. A Navy veteran, Davidon headed the Chicago section of the Federation of American Scientists and codeveloped the Davidon-Fletcher-Powell formula. He then taught physics and mathematics at Haverford College for 30 years. A peace activist and opponent of nuclear weapons, Davidon was a leader of the National Committee for a Sane Nuclear Policy. He is survived by two daughters, two sons, a stepdaughter, two stepsons, and eight grandchildren.
Donald H. Bates, SB'48, SM'51, died October 6 in Park Ridge, IL. He was 87. A WW II Navy veteran, Bates worked at Fermilab and Argonne National Laboratory. He studied the geology of the moon and also helped develop biomedical engineering departments at several Chicago-area hospitals. He is survived by his wife, Mary Alice; two brothers, including Vincent Bates, MBA'62; and a grandson.
John W. Rogers Sr., JD'48, a Chicago lawyer and judge, died January 21. He was 95. A member of the Tuskegee Airmen during WW II, Rogers was one of approximately 300 Tuskegee Airmen honored in 2007 for their valor with a Congressional Gold Medal. Attending the Law School on the GI Bill, Rogers met and married Jewel Stradford Lafontant, JD'46, the Law School's first black alumna. They divorced in 1961. After several decades in private practice and with Earl L. Neal & Associates, in 1977 Rogers was named a juvenile court judge in Illinois, where he served for 21 years. In 2012 the University of Chicago Law School honored Rogers and Lafontant (who died in 1997) by naming its dean of admissions office for the couple. Rogers is survived by his wife, Gwendolyn D. Rogers, AM'53; son John W. Rogers Jr., U-High'76, a University trustee; and granddaughter Victoria Rogers, U-High'08.
1950s
Ian G. Barbour, PhD'50, a scholar of science and religion, died December 24 in Minneapolis. He was 90. Barbour was a pioneer in promoting discourse between religion and science. In 1955 he was hired to teach physics and religion at Carleton College, retiring in 1986. The first chair of Carleton's religion department, he created several interdisciplinary programs. The author of 16 books, including Issues in Science and Religion (Prentice Hall, 1966) and Religion in an Age of Science (Harper and Row, 1990), Barbour received the Templeton Prize for a lifetime of work that helped expand the field of theology. He is survived by two daughters; two sons, including John D. Barbour, AM'75, PhD'81; a brother; three grandchildren; and a great-grandson.
Don A. Mills, AB'51, of Philadelphia, died November 15. He was 89. Mills was a family physician for more than 40 years, and worked at Holy Redeemer Hospital in Meadowbrook, PA. He retired at age 83. Survivors include his wife, Evelyn; four children; and six grandchildren.
Althea J. (Greenwald) Horner, SB'52, died December 24 in Sierra Madre, CA. She was 87. A clinical psychologist, Horner had a private practice for 40 years. She also taught at the University of California, Los Angeles, and was supervising psychologist at Beth Israel Medical Center in New York. Horner published nine books including Being and Loving (Schocken Books, 1978) and Object Relations and the Developing Ego in Therapy (Jason Aronson, 1979). She is survived by two daughters, including Martha J. Hartley, AB'70; two sons; ten grandchildren; and three great-grandchildren.
Carl Albert Westberg Jr., U-High'44, PhD'50, MBA'55, of Placentia, CA, died December 18. He was 85. An accountant, photographer, and computer enthusiast, Westberg worked for Hunt-Wesson Foods. Survivors include his wife, Winifred; three sons; seven grandchildren; and two great-grandchildren.
Jack J. Honomichl, AM'56, of Barrington, IL, died December 8. He was 85. A Navy veteran, Honomichl was a pioneer in the field of market research. Honomichl started his career in the Chicago Tribune's marketing/advertising research department. After working on research panels at firms including Dun & Bradstreet, he started his own firm, Marketing Aid Center, in the late 1970s. Credited with helping to define the market research industry, Honomichl was an Advertising Age columnist for 18 years and founded the trade newsletter Inside Research. His "Honomichl Top 50" ranked market research firms in the United States. Honomichl was inducted into the Market Research Council's Hall of Fame in 2002 and received the 2011 Lifetime Achievement Award from the Council of American Survey Research Organizations. He is survived by three daughters, including Beth (Honomichl) Cole, MBA'85; a son; and eight grandchildren.
Shirley (Weinstein) Kaplan, AM'56, died December 5 in Wilmette, IL. She was 83. From 1970 to 1996, Kaplan was a psychiatric social worker at the Josselyn Center in Northfield, IL. Survivors include her husband, William Kaplan, AM'57; two daughters; a brother; and three grandchildren.
Robert A. Silverman, SM'56, of St. Louis, died April 6, 2013. He was 80. Silverman was a chemist at Central Farmers Fertilizer Company in Chicago (now CF Industries in Deerfield) and a field test supervisor at Brucker and Associates in St. Louis. A photographer and amateur recording engineer, he donated photos of animals to the St. Louis Zoo. He is survived by his wife, June (Dunn) Silverman, X'60; a daughter; a brother; a sister; and three grandchildren.
Sheldon Wolfe, MD'56, died August 17 in Berkeley, CA. He was 82. Wolfe practiced psychoanalysis and psychiatry in San Francisco and Berkeley until his 2006 retirement. He was a member of the San Francisco Institute for Psychoanalysis and an associate clinical professor of psychiatry at the University of California, San Francisco. Wolfe also sang in the Berkeley Community Chorus. Survivors include his wife, Nancy; two daughters; two sons; a sister; and ten grandchildren.
Richard P. Hartung, U-High'53, AB'58, of Janesville, WI, died October 30. He was 75. As director of the Rock County Historical Society for 25 years, Hartung helped develop the society's archives, opened a museum of Rock County history, and worked to increase community awareness about historic preservation. Under his supervision, the society was one of the first recipients of certification from the American Association of Museums, and Hartung was named to the Rock County Hall of Fame in 2006. In retirement, he consulted on private National Register nominations. Survivors include his wife, Ilah (Bjorklund) Hartung, BFA'60; two sons; four grandchildren; and two great-grandchildren.
1960s
Morris Finder, AM'49, PhD'60, of Pittsburgh, died November 11. He was 96. A WW II veteran, Finder spent 21 years as an English education professor at the University at Albany, State University of New York. Retiring in 1987, he later published a book about his former professor at UChicago Ralph W. Tyler, PhD'27, called Educating America: How Ralph W. Tyler Taught America to Teach (Praeger, 2004). Survivors include his wife, Natalie Finder, AB'41, AM'46; two daughters; three sons; and five grandchildren.
Michael D. Richter, SB'60, died October 21 in Glenview, IL. He was 74. Richter spent his early career at MIT Labs, where he helped design microcomputer applications in the Apollo guidance systems, earning him a Presidential Medal in 1969. After a brief stint designing software at Commodore Corporation, he joined TRW Corporation's aerospace division in Los Angeles. A heart infection in his 40s prompted Richter to start a second career in opera preservation. In addition to founding two websites for opera enthusiasts, in the 1980s he began to preserve rare vintage opera recordings to clarify the sound. In 2009 he transferred his collection of thousands of recordings to a distributor to prepare them for public release.
Walter Oi, PhD'61, an economist, died December 24 in Brighton, NY. He was 84. During WW II, Oi spent three years in Japanese American internment camps, where he first showed signs of a degenerative eye disease that left him blind by his late 20s. In 1967—the same year he joined the University of Rochester economics faculty, where he would serve for 41 years—Oi published two influential papers on the costs of conscription and the real cost of a volunteer military. His analysis helped convince President Richard Nixon and Congress to end the military draft, and two years later he was appointed senior staff economist to the President's Commission on an All-Volunteer Armed Force. An expert on applied economic theory and labor markets, Oi also served as vice chair of the President's Commission on Employment of People with Disabilities, was a consultant for the Department of Defense and the National Commission on State and Workmen's Compensation Laws, and received the Secretary of Defense Medal for Outstanding Public Service. Survivors include his wife, Marjorie Robbins; two daughters; a sister; and three grandchildren.
Mike Michaels, X'63, a musician by profession and avocation, of Guilford, CT, died November 5. He was 72. For 35 years Michaels recorded and created scores for entertainment and advertising. Michaels helped organize the first University of Chicago Folk Festival in 1961, now an annual three-day festival in its 54th year. He became a blues and jazz harmonica player, collaborating with local musicians and performing in schools and libraries. Michaels also published his writing and photography in music magazines and journals. Survivors include two sons, a brother, a stepsister, and three grandchildren.
William S. Bice, MBA'65, died October 29 in Petersburg, VA. He was 85. An artillery and ordnance officer in the US Army for 29 years, Bice served two tours of duty in Vietnam, as well as tours in Korea and Germany. Moving to Petersburg in 1973, he was the officer in charge of the logistics division of Combined Arms Support Command and retired with the rank of colonel. He then joined the business school faculty of Virginia State University and, after earning his PhD, joined the faculty of Virginia Commonwealth University School of Business. In retirement, he taught information systems to active duty personnel at Fort Lee (VA). He is survived by his wife, Joan; a daughter; a son; four stepdaughters; two stepsons; eight grandchildren; nine step-grandchildren; and one great-grandson.
J. Robert Effinger Jr., MBA'67, of Chicago, died December 19. He was 79. A banking executive in Chicago and New York City, Effinger later founded a church software company, Omega C.G. Limited; he sold the company in 1996. In retirement, Effinger volunteered as a youth advocate for foster children with his wife, Kathy, and served on the board of directors for Goodcity. He is survived by his wife, four daughters, and eight grandchildren.
1970s
Gerald Lee Schertz, MD'71, of Troutville, VA, died November 29 from injuries in a pedestrian accident. He was 67. An oncologist, Schertz practiced medicine in the Roanoke Valley for more than 35 years. He was a senior partner with Blue Ridge Cancer Care, the area's first oncologic partnership. He is survived by his wife, Denise; a daughter; a son; two sisters; and two grandchildren.
Richard Calica, AM'73, of Highland Park, IL, died of cancer December 22. He was 67. After more than 30 years as the executive director of the Juvenile Protective Association, Calica became director of the Illinois Department of Children and Family Services in 2011. He also served on the faculties of the Institute for Clinical Social Work and the Loyola University Chicago School of Social Work. Survivors include his wife, Judith Calica, AM'74; a son; two brothers, including Arnold Calica, SM'61, MD'75; and a grandson.
Christine Winton Jones, AB'74, an economist, died of leukemia May 11 in Portland, OR. She was 60. After serving in the Peace Corps in eastern Congo, Jones earned a PhD from Harvard, studying the economics of women's work in Cameroon. As an economist for the World Bank, she focused first on Africa and then on Eastern Europe and the former Soviet Union. Jones moved to Sisters, OR, in 2003, where she chaired the local school board, volunteering in classrooms and advocating for better schools; in 2012 she received the Sisters Citizen of the Year Award. She is survived by her husband, Chuck; two sons; her mother; a brother; and a sister.
James D. Zalewa, JD'74, an intellectual property attorney, died of cardiac problems November 19 in Fort Lauderdale, FL. He was 66. Zalewa was a partner at the now-defunct boutique law firm Liss before joining Leydig, Voit & Mayer in 1990. He retired after approximately two decades at the firm. Zalewa also served as president of the board of St. Mary's Services adoption agency. Survivors include his wife, Cheryl Smalling; a daughter; and a sister.
Erin (Glynn) Kato, MBA'78, of Chicago, died December 26. She was 62. After working as a systems consultant at Harris Bank for many years, Kato worked in the counseling office at Northside College Preparatory High School. Survivors include her husband, Robert; a son, Michael Glynn Kato, AM'13; three brothers; and two sisters.