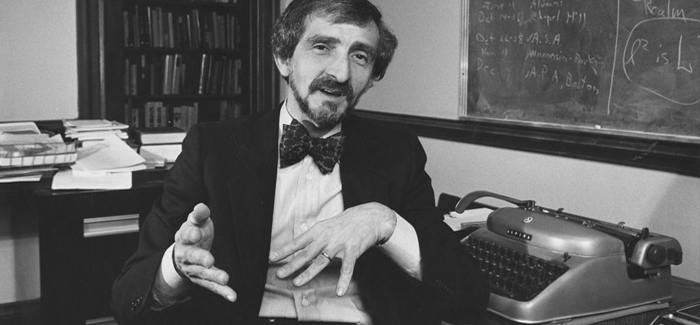 University obituaries
Recent faculty, staff, and alumni obituaries.
Faculty and Staff
George Anastaplo, AB'48, JD'51, PhD'64, a Graham School lecturer for nearly six decades, died February 14 in Chicago. He was 88. A WW II veteran, Anastaplo was denied admission to the Illinois Bar after he refused to answer whether he was a Communist Party member. Defending his First Amendment rights before the US Supreme Court, he lost 5–4 but prompted Justice Hugo Black to declare in his dissenting opinion, "We must not be afraid to be free." Author of books on political science, philosophy, religion, and literature, Anastaplo won the Graham School's inaugural Excellence in Teaching Award and its 2012 Distinguished Service Award. He also taught at Dominican University and the Loyola University School of Law. Survivors include his wife, Sara (Prince) Anastaplo, AM'49; three daughters, Helen Scharbach Newlin, U-High'67, JD'75, CER'02, Miriam Irene Redleaf, U-High'73, MD'87, and Theodora McShan Anastaplo, U-High'81, AM'88; a son, George Malcolm Davidson Anastaplo, U-High'71; and eight grandchildren, including Rebecca Scharbach Wollenberg, U-High'96, AB'02, Lucinda Anastaplo Scharbach, U-High'98, AB'02, Peter Scharbach, U-High'01, Isaac Redleaf, U-High'04, Zenebesh Redleaf, U-High'06, Sahai Alganesh Redleaf, U-High'07, and Hanna Redleaf, U-High'09 .
Ted Cohen, AB'62, professor in philosophy, the Committee on Art and Design, and the Committee on General Studies in the Humanities, died March 14 in Chicago. He was 74. A longtime moderator of the annual Latke-Hamantash Debate, Cohen taught at the University for more than 50 years, tackling subjects as diverse as metaphor, baseball, and formal logic. Known for his wit, the 1983 Quantrell Award for Excellence in Undergraduate Teaching winner examined humor in his 1999 book, Jokes: Philosophical Thoughts on Joking Matters. Recipient of a 1991 Pushcart Prize for literature published by small presses, he also served as president of the American Philosophical Association and the American Society for Aesthetics. Survivors include his wife, Andy Austin Cohen; his daughter, Shoshannah Cohen, U-High'85, AM'91, PhD'98; his son, Amos Cohen, U-High'88; brother Stephen Cohen, AM'70, PhD'74; and a grandson.
Gregory L. Hillhouse, professor of chemistry, died of cancer March 6 in Chicago. He was 59. Recipient of the American Chemical Society's 2013 National Award in Organometallic Chemistry, Hillhouse joined UChicago in 1983. Among his contributions, he disproved the long-standing idea that so-called late transition metals like nickel could not create multiple bonds with elements like nitrogen, a finding that shed light on processes such as rocket fuel combustion. Known for mentoring students, Hillhouse won the 1997 Quantrell Award for Excellence in Undergraduate Teaching and a 2011 Norman Maclean Faculty Award. Survivors include a cousin.
Rodger Wade Pielet, former assistant professor and clinical associate in the Department of Surgery, died of a stroke in Chicago January 18. He was 52. He served on the faculty for more than a decade while running private practices in Chicago and Miami. Recognized for innovations in cosmetic and aesthetic surgery, Pielet volunteered as part of Northwest Medical Teams, performing reconstructive surgery in remote Mexican villages for adults and children with congenital deformities. Survivors include his partner, Christopher Roy; his mother; two brothers; and a sister.
Sidney Schulman, SB'44, MD'46, the Ellen C. Manning professor emeritus of neurology, died January 31 in Chicago. He was 90. An expert on the thalamus, Schulman studied the influence of neurological disorders on this part of the brain. He joined the UChicago faculty in 1951, rising to professor and neurology section chief. Past president of the Central Society for Neurological Research and the Chicago Neurological Society, he was known for his undergraduate course Neurology and Kant's Theory of Knowledge. Teaching for more than a decade after his official retirement in 1993, he won a 1997 Norman Maclean Faculty Award. Survivors include daughter Patricia Schulman, U-High'69; two sons, including Samuel Schulman, U-High'67; and eight grandchildren, including Lucy Biederman, U-High'99, and Samuel Biederman, U'High'01. His wife, Mary (Diamond) Schulman, AB'44, AM'47, died in 2011.
1940s
James R. Wray, SB'44, SM'48, a geographer, died January 5 in Silver Spring, MD. He was 90. Wray worked for the Census Bureau and National Outdoor Advertising Bureau before joining the US Geological Survey's National Mapping Division in 1968. As a senior scientist, he was an early adopter of computer-based mapping tools. Survivors include his wife, Virginia; three daughters; a son; a stepson; and six grandchildren.
J. Robert Meyners, DB'47, of Eureka, MO, died October 5. He was 91. Meyners taught at Claremont Men's College and Cornell College in Iowa before becoming professor of theology and urban culture at the Chicago Theological Seminary in 1965. He later joined the Masters and Johnson Institute, where he rose to clinical director before retiring in 1987. Survivors include his wife and two daughters.
Richard W. Boone, PhB'48, AM'59, died February 26 in Santa Barbara, CA. He was 86. A WW II veteran, Boone served in the Office of Economic Opportunity and helped lead President Lyndon B. Johnson's War on Poverty by establishing programs such as Head Start and Upward Bound. In 1965 he became executive director of the Citizens' Crusade Against Poverty and later joined the Field Foundation. A policy adviser until his death, Boone cofounded the Center on Budget and Policy Priorities in Washington, DC. Survivors include his wife, Chloris; a daughter; four sons; and six grandchildren.
Herbert Jesse Murray Jr., DB'49, of West Hartford, CT, died February 14. He was 89. Ordained as a Baptist minister in 1949, Murray held pastoral positions around the country. He retired in 1987 as associate executive minister of American Baptist Churches of New York, Area IV. Murray served as national president of the Roger Williams Fellowship and state president of the West Virginia Baptist Ministers. Survivors include his wife, Marjorie; three sons; and five grandchildren.
Robert E. McCabe, AM'48, AM'52, died November 10 in Grosse Pointe, MI. A WW II Navy veteran, McCabe was a champion of Detroit. As CEO of Detroit Renaissance (now Business Leaders for Michigan) from 1971 to 1992, McCabe helped revitalize Detroit housing, businesses, and public spaces; he also helped create the Detroit Jazz Festival, the Detroit Grand Prix, and the Detroit-Windsor Freedom Festival. Survivors include two sons.
1950s
William Wallace Burton, MBA'50, of Ben Lomond, CA, died March 3. He was 89. A WW II veteran, Burton served in the Civil Engineering Corps reserves for 20 years following the war, retiring as lieutenant commander. During his time at the University, Burton lived at International House, where he proposed to his wife, Ann Wright Burton, AB'51. In 1951 they moved to the Bay Area, where Burton worked as a civil engineer, designing freeways. After serving as superintendent for Atlantic Richfield Co., he left the corporate world to direct the Sequoia Center in Ben Lomond, where he spent a decade. He then became involved in volunteer activities including teaching English with his wife in Beijing and community projects in California. In 2013 Burton was voted San Lorenzo Valley's Man of the Year. Survivors include his wife, a daughter, three sons, and three grandchildren.
William J. McMillan, AM'50, of Pompano Beach, FL, died February 7. He was 84. A Korean War veteran, he joined Fort Lauderdale's Pine Crest School as a teacher and rose to headmaster and president. During his 43-year tenure there, McMillan led a significant campus expansion, increased student diversity, and was president of the Southern Association of Independent Schools. The author of Private School Management (1977), he sat on the board of Florida Coast Bank and Midlantic Bank/Florida. Survivors include his wife, Ruth Elizabeth; a daughter; three stepsons; and a brother.
Richard V. Lechowich, AB'52, SM'55, a food scientist, died November 8 in Gainesville, FL. He was 80. Lechowich taught at the University of Michigan and Virginia Tech, where he led the food science and technology department. He later held leadership positions at Kraft and the Illinois Institute of Technology's National Center for Food Safety and Technology. Retired in Gainesville, he continued to consult for national corporations. Survivors include his wife, Isabel Wolf; two daughters; three sons; eight grandchildren; and a great-granddaughter.
Clifford Clark, AM'50, PhD'53, an educator, died January 31 in Detroit. He was 88. A WW II veteran, Clark joined Binghamton University as vice president for academic affairs, rising to president in 1975. He cofounded the school's Thomas J. Watson School of Engineering and Applied Science, broadened its fellowship program for minority students, and expanded the nursing school. He stepped down in 1990, teaching in the economics department until 2000. Survivors include his wife, Linda Beale; a daughter; and a son.
Jean (Burchett) Morley, AM'53, of Chicago, died January 6. She was 88. Morley, a Chicago Board of Education teacher, spent her career at Dore Elementary School and volunteered with the Infant Welfare Society. Survivors include a daughter and two brothers. Her husband, James D. Morley, AM'53, died in 1997.
David D. Peterson, MBA'54, of Wilmette, IL, died January 30. He was 82. After working as an investment banker, Peterson was appointed president and CEO of metals company Fansteel and then served as chairman and CEO of equipment manufacturer Sciaky Bros. Inc. He retired in 1996 as CEO of investment fund Baker, Fentress & Company. Survivors include a daughter, two sons, and ten grandchildren.
Robert G. Rasmussen, MBA'54, of Solvang, CA, died January 11. He was 85. A veteran who served in Korea and Japan, he was a financial planner for Union Oil, Douglas Aircraft, and Bunker Ramo before running Rasmussen Gifts for 35 years. Rasmussen was a member of the Danish Brotherhood and the Solvang Lutheran Home Board. Survivors include his wife, Margaret; four sons; and five grandchildren.
Joseph Sapena, AM'54, of San Jose, CA, died December 7. He was 92. A WW II Navy veteran, Sapena taught social studies for more than 20 years before becoming an entrepreneur. He enjoyed travel and sailing. He is survived by family and friends.
Ballard Lavadie Jewell, MBA'56, of Richmond, VA, died December 27. He was 91. A Korean War veteran and Purple Heart recipient, he worked at the C&O Railroad, retiring in the early '80s. Jewell was also a member of the American Telegraph & Morse Code Club. Survivors include two brothers and a sister.
Anatol H. "Harry" Oleynick, MD'56, a neurologist, died February 19 in Baltimore. He was 83. After serving in the Army Medical Corps and rising to captain, Oleynick opened a private practice and served on the staff of the University of Maryland St. Joseph Medical Center. A clinical associate professor of neurology at the University of Maryland Medical School for 50 years, he consulted for the Social Security Administration Disability Program and the Veterans Administration. Survivors include his wife, Laurel; two sons; and four grandchildren.
Marcus Amram Jacobson, MD'57, a clinical psychiatrist, died January 9 in Washington, DC. He was 89. After living in hiding in Belgium during WW II, Jacobson immigrated to the United States with his family and received a Rutgers University fellowship. An avid traveler, he coauthored Hospitalization and Discharge of the Mentally Ill (1968). Survivors include his wife, Evelyne; three children, including Lyn Beer, U-High'69; a brother, Manfred R. Jacobson, AB'60, AM'66, PhD'72; and six grandchildren.
Roy Osburn Waters, AM'57, a psychiatric social worker, died February 2 in Grand Forks, ND. He was 87. A WW II and Korean War veteran, he was program director at NW Mental Health Center in Crookston, MN, for 21 years, as well as a board member of Tri County Corrections and the American Legion. Survivors include his wife, Frances Pauline Waters, X'56; a daughter; a son; a sister; and three grandchildren.
Harold Lyle Autrey, MBA'58, died February 17 in Midland, MI. He was 87. A three-war veteran, Autrey began his career as a Navy signalman in WW II and then joined the Air Force, rising to lieutenant colonel. A hospital administrator, he retired as chief executive of Princeton's Perry Memorial Hospital in 1987. Autrey and his wife, Margaret, then did service work in Thailand, Brazil, and Nepal through International Executive Service Corps. Survivors include his wife, three children, a sister, and seven grandchildren.
Rose Marie Chioni, AM'58, a nursing educator, died February 6 in Charlottesville, VA. She was 81. Chioni taught at Wayne State University and the University of Pittsburgh before becoming dean at the University of Virginia School of Nursing, where she helped establish a doctoral nursing program. A charter fellow of the American Academy of Nursing, she served as president of the American Association of Colleges of Nursing and the Virginia State Board of Nursing. Survivors include her niece and nephew.
Jerome E. Carlin, AM'51, PhD'59, a social activist, died January 7 in Berkeley, CA. He was 86. Author of Lawyers on Their Own (1962) and Lawyer Ethics (1966), Carlin directed the San Francisco Neighborhood Legal Assistance Foundation. He later had a second career as a painter, with work appearing at the Art Institute of Chicago and the Metropolitan Museum of Art. Carlin cofounded Bay Area Lawyers for the Arts and Bay Area Artists for Nuclear Sanity. Survivors include his wife, Joy (Grodzins) Carlin, U-High'47, AB'51; a daughter; two sons; and four granddaughters.
Joseph Sax, JD'59, died March 9 in San Francisco. He was 78. Sax pioneered US environmental law, writing the seminal legal doctrine that defines natural resources, such as the air and oceans, as a public trust so that citizens can sue to defend against private encroachment. The doctrine has been adopted in hundreds of federal and state legal decisions. Recipient of the Alumni Association's 1987 Professional Achievement Award and a 2007 Blue Planet Prize, widely considered the Nobel Prize for environmental science, Sax taught law at the University of Colorado, the University of Michigan, and the University of California, Berkeley. Survivors include three daughters and four granddaughters.
1960s
Walter "Wally" Jankowski, SB'62, died January 28 in Helena, MT. He was 73. Jankowski taught chemistry at Carroll College before directing Montana's and Minnesota's water quality labs. After earning a computer science degree, he returned to Montana as a state analyst. He later joined Braddock, Dunn & McDonald (now part of Northrop Grumman) as an analyst, retiring in 2006. Survivors include his wife, Sandra; a daughter; two sons; a brother; a sister; and five grandchildren.
Ron Dorfman, AB'63, a journalist, died February 10 in Chicago. He was 73. Dorfman wrote for Chicago's American, Chicago Magazine, and labor publications before cofounding the Chicago Journalism Review, a media criticism journal. A gay rights activist, he wed his longtime partner, Ken Ilio, in December, making them the first male couple to legally marry in Illinois. He is survived by his husband.
H. Russell Kay, AB'65, died December 23 in Worcester, MA. He was 71. Kay worked with the Peace Corps on community development and public health projects in Brazil before joining Worcester Polytechnic Institute. He was a contributing writer to Computerworld Magazine and Byte and a longtime leader of the Unitarian Universalist Church of Worcester. Survivors include a son and two sisters. His wife, Harriet (Gorov) Kay, AB'63, died in 2005.
Abdul J. Alwan, PhD'67, a business professor, died September 26 in Brookfield, WI. He was 87. Alwan taught business statistics, mathematics, and operations management at DePaul University's College of Commerce for 32 years. He wrote four books on quantitative business methods. Survivors include his son, Layth Cordell Alwan, AB'82, MBA'85, PhD'89, and three grandchildren.
Marc Lehrer, AB'67 (Class of 1966), of Nevada City, CA, died January 25. He was 69. A specialist in medical hypnosis, he ran a private practice and taught biofeedback and hypnosis at the Esalen Institute and throughout Europe. He also contributed to The Prenatal Classroom (1992), about how to interact with your child in utero. Survivors include his wife, Chris; two daughters; and a sister.
1970s
Lawrence Neff Stout, AB'70, a mathematician, died of lung cancer October 19, 2012, in Normal, IL. He was 64. Stout was a full professor at Illinois Wesleyan University, where he taught mathematics for 34 years. Recipient of the James Dougan Award for Faculty Governance, he wrote a linear algebra textbook and studied category theory. A fiddler, Stout cofounded the folk group Flatland Consort, led the Bloomington-Normal Quaker Meeting, and advocated to abolish Illinois's death penalty. Survivors include his wife, Susan Meredith Burt; two sons; his mother; a sister; and a grandson.
Bernard Winograd, AB'70, of Monroe, CT, died March 1. He was 63. Starting his career in 1977 as executive assistant to former secretary of the US Treasury W. Michael Blumenthal, Winograd then held corporate posts at Bendix Corporation and Taubman Investment Company, where he rose to president. In 1992 he became executive vice president and CFO of Taubman Centers, where he was a key architect of Taubman's initial public offering. He later joined Prudential Financial, serving as CEO of Prudential Real Estate Investors before becoming executive vice president and COO for all of Prudential's US businesses. Retiring in 2011 to focus on philanthropic causes, Winograd was a member of the University's Visiting Committee on the College and Student Activities and a board member of community development organization Local Initiative Support Corporation. Survivors include his wife, Carol; a daughter; a son; and a brother.
Jacques le Sourd, AB'71, died February 5 in Preston, England. He was 64. A theater critic for the Journal News for 34 years, le Sourd wrote syndicated reviews that appeared in nearly 100 US newspapers. He was past president of the New York Drama Critics' Circle and worked with the Clive Barnes Foundation to support young actors and dancers. Le Sourd later broadcast reviews on CBS radio and made television appearances on WNET's Theater Talk. Survivors include a sister.
Robert Rankin, AM'68, PhD'72, of Tonganoxie, KS, died February 24. He was 75. A linguistics professor and specialist in the Kaw American Indian language, Rankin helped preserve the language when only four surviving speakers remained by recording and digitizing 28 tapes of the Great Plains tribe's tongue. He taught at the University of Kansas for 36 years. He is survived by his wife, Carolyn.
Waud Hocking Kracke, AM'66, PhD'73, died December 31 in Chicago. He was 74. An anthropology professor at the University of Illinois at Chicago, Kracke studied Brazil's indigenous Parintintin tribe, whose rights, culture, and land he helped preserve. Author of Force and Persuasion: Leadership in an Amazonian Society (1979), Kracke also cofounded the Chicago Circle of the Freudian School of Quebec, which focuses on treating young adults suffering from acute psychosis. Survivors include his wife, Lucia; son Peter Kracke, U-High'01; three stepchildren; sister Ernesta Kraczkiewicz, U-High'59; and two step-grandchildren.
Geoffrey Randolph "GR" Webster, MBA'78, died of cancer January 6 in Grasse, France. He was 68. A Vietnam veteran, Webster received 31 air medals, including the Bronze Star and the Purple Heart. He later rose to CEO of Givaudan Fragrances and was named to the Fragrance Foundation's Hall of Fame. Webster also published the Miniature Aircraft Quarterly, a magazine for fellow toy airplane collectors, and studied painting at Paris's École des Beaux Arts. Survivors include his wife, Agnes; a daughter; two sons; his mother; his stepfather; a brother; two sisters; and two stepsisters.
Robert Alfred Fuller, MBA'79, died February 3 in Geneva, IL. He was 75. Fuller spent his career in heavy equipment manufacturing and served as president of White Farm Equipment. Survivors include his wife, Gail Hayes; two daughters; a son; a brother; and seven grandchildren.
Dean Clinton Kowalchyk, AB'79, of Tallahassee, FL, died February 15. He was 57. Kowalchyk was the Florida state government's senior assistant attorney general and a teacher at Thomasville Road Baptist Church. Survivors include two daughters, a son, two sisters, and a half sister.
1980s
Courtland Edward Newman Jr., MBA'80, of Naples, FL, died February 13. He was 69. A hospital administrator, Newman worked in Oak Forest (IL) Hospital's rehabilitation unit for nearly 30 years before retiring in 2009. He volunteered at Hinsdale United Methodist Church and the Lions Club of Bonita Springs, FL. Survivors include his wife, Janice; a daughter; a son; a brother; a sister; and three grandchildren.
Donald Wayne Tyree, AM'64, PhD'80, died January 25 in Beaverton, OR. He was 75. A Victorian literature specialist, Tyree joined Portland State University's English faculty in 1970. Author of several articles on Victorian poetry, he was also a lifelong salesman, selling bibles, encyclopedias, automobiles, and real estate. Survivors include three sons, a sister, and four grandchildren.
Linda (Shell) Bergmann, AM'73, PhD'83, of West Lafayette, IN, died January 11. She was 63. An English professor and writing specialist, Bergmann directed Writing Across the Curriculum programs at the Illinois Institute of Technology and the University of Missouri–Rolla before leading the Purdue University Writing Lab. The author of Academic Research and Writing (2010), she received a $1.5 million grant from the Bill and Melinda Gates Foundation in 2011 to create an online writing tool for high schoolers. Survivors include her husband, Bernard Bergmann III, SM'78, PhD'80, and a son, Bernard Bergmann IV, U-High'02.
Peter Lawrence Mente, AB'83, of Raleigh, NC, died January 20. He was 52. A specialist in rehabilitative engineering, Mente was an associate professor at North Carolina State University, where he was a founding faculty member of the university's joint biomedical engineering department with the University of North Carolina at Chapel Hill. Author of publications on cells and tissue loading, he won the school's 2007 Outstanding Teaching Award and a 2008 Alumni Distinguished Undergraduate Professor Award. Survivors include his mother, two brothers, and four sisters.
2000s
Melaney Lizabeth (Parker) Rayburn, AB'08, of Marfa, TX, died unexpectedly August 8. She was 27. A longtime volunteer in domestic violence shelters, Rayburn served two years in the Peace Corps after graduating with an honors degree in sociology. She later moved to Marfa and joined the Presidio County Health Services Office. Rayburn had planned to pursue graduate studies in statistical research for health services. Survivors include her husband, John; her parents; a brother; and three grandparents.
2010s
Nicholas Barnes, '15, died in February in Chicago. He was 20. A Germanic studies and history double major and skilled debater, Barnes spent his second year abroad in Vienna and then studied in Germany during the summer of 2013 on a Foreign Language Acquisition Grant. He had planned to return to Germany this summer to conduct research for his BA thesis. Survivors include his parents, a stepfather, a sister, a stepbrother, and his grandmother.