Leading questions
Former University president Hanna Holborn Gray on Marion Talbot, the first and last dean of women.
One day, back when Hanna Holborn Gray was president of the University of Chicago, she found a battered book in her office. "I found its title unattractive," Gray said in a lecture at the Center for the Study of Gender and Sexuality last month. "More than Lore, indeed."
Gray, the first and so far only woman president of the University, served from 1978 to 1993. A Renaissance historian, she is now the Harry Pratt Judson Distinguished Service Professor Emerita—a title she also finds unattractive. "Professor emeritus," she insisted during the question-and-answer session, which was as much about her as the book. "Professor is a masculine noun. That's just good Latin."
More than Lore: Reminiscences of Marion Talbot, originally published in 1936, was reissued by the University of Chicago Press last fall, at Gray's suggestion. She also wrote the introduction. The book, about the University's earliest days, includes such chapters as "Social Life and Mrs. Grundy," "The Weaker Sex," and "The King of France" (about President William Rainey Harper's plan to educate men and women separately during their first two years in the College).
When Gray came to the University in 1960, Marion Talbot was the only woman whose portrait hung in Hutchinson Commons. "Now all this time later, there are just two women's portraits," Gray noted.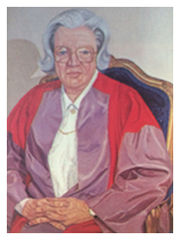 "My own is wired to the wall for security, having been twice kidnapped. And returned," she said. "Unfortunately."
Talbot, who held degrees from Boston University and the Massachusetts Institute of Technology, was one of the University's first faculty members. Brought in at the insistence of Alice Freeman Palmer, dean (of women) in the graduate schools, Talbot was initially the dean (of women) in the senior colleges. In 1899 she became the first dean of women for the entire University, responsible for the "academic, domestic, and social life" of all women students. She served as the University's first and last dean of women, Gray explained. The position was abolished after Talbot's retirement in 1925.
Talbot's faculty appointment was in the Department of Social Science, which became Sociology. "She thought sanitary science"—which took a scientific approach to cooking, cleaning, and other domestic tasks—"would take its place with other social sciences," Gray said.
After years of badgering President Harper, Talbot was finally granted a department of her own, household management. This later became home economics.
Talbot and other women of her generation thought they were creating an interdisciplinary scientific department where women would "learn about all kinds of things and bear considerable responsibility," Gray said. These educated women would become "the scientific administrator of a household, aided by new technologies like the gas stove, the electric range, the telephone."
Home economics at the University of Chicago. (University of Chicago Photographic Archive, apf4-01961, Special Collections Research Center, University of Chicago Library)
Although Talbot had spent decades advocating for coeducation, "what is so ironic is this created a separate space for women," said Gray. "It was a department and an academic field that was a woman's department and a woman's field."
Talbot's books included The Education of Women (1910), House Sanitation: A Manual for Housekeepers (1919), and, with Sophonisba Breckinridge, PhM 1897, PhD 1903, The Modern Household (1910).
"I have to tell you, they are deadly," Gray said. "I do not recommend that you read her book on household sanitation." She paused for emphasis. "No." The University abolished home economics in 1956.
Four years later, Gray arrived at the University with her husband, legal scholar Charles Gray (1928–2011). She taught one section of Western Civ. In 1961 she was offered an assistant professorship. "I was astonished," she said. "There were supposed to be nepotism rules."
Compared to Harvard, where Gray had earned her PhD and then taught, "the University of Chicago seemed like a truly liberating place," she said. "People seemed pretty relaxed around women colleagues." There was no library reserved exclusively for men. She was allowed to walk in the front door of the Quadrangle Club.
"I was so grateful to have a job that I would do anything that I was asked. I taught classes I probably shouldn't have taught. I was a utility outfielder," Gray said. "And I'm still very grateful to the University of Chicago."
Gray left the University in 1972 to become a dean at Northwestern and later provost and acting president at Yale. When she returned to UChicago as president in 1978, "not much had changed," as far as women faculty members. "In 1992, 16 percent of faculty members were women," she said. "Now it's about 25 percent."
Gray in the president's office. (University of Chicago Photographic Archive, apf1-06526, Special Collections Research Center, University of Chicago Library)
During the Q&A that followed her talk, someone asked the question that probably everyone wanted to ask: What was it like to be the first woman president at UChicago?
A few "silly things" happened, Gray said. The University Club of New York sent her a letter welcoming her to membership. But when she tried to enter the building the doorman stopped her cold. "Irritants that went away over time, not to be taken seriously," Gray said.
"As the old saw goes, when a woman makes a hard decision, she's tough. When a man does it, he's decisive. That's always there. Pay no attention to it."
Updated 1.05.2016 to clarify Alice Freeman Palmer's role as dean (of women) in the graduate schools.
Join The Discussion
Log in with Disqus to automatically enter your contact information.