Beyond the horizon
Logan enlivens a familiar genre in its new exhibit.
What is landscape? It may seem like a simple question with an equally simple answer: A quaint picture of the countryside. An image of land meeting sky. That was the question curator Zachary Cahill, MFA'07, asked himself before embarking on the exhibit Lands End, which opened January 9 at the Reva and David Logan Center for the Arts.
Lands End, which was cocurated by Katherine Harvath, MFA'13, doesn't settle on familiar ideas of landscape. Instead its 13 artists—working in such media as painting, video, photography, and collage—seek to complicate landscape's possible definitions.
In his curator's note, Cahill (background with Harvath) writes, "My understanding of what landscape might be has grown and more and more questions have piled up." The exhibit also examines, for example, humans' interaction with the earth—both what the land does to us and what we do to it.
One show highlight is Claire Pentecost's mobile of coal miners' canary cages, which house sculptures made from petroleum coke, an oil-refining byproduct and high emitter of greenhouse gases. Inside one cage: a live canary. According to Cahill, the mobile "suggests that our consumption of natural resources is placing us in harm's way."
The exhibit's most traditional landscape—that land + sky formula—is also one of its most political. Hans Haacke's mountain-filled photograph, West Bank: Valley Near Abu Dis, shows the security wall between Israel and Palestine.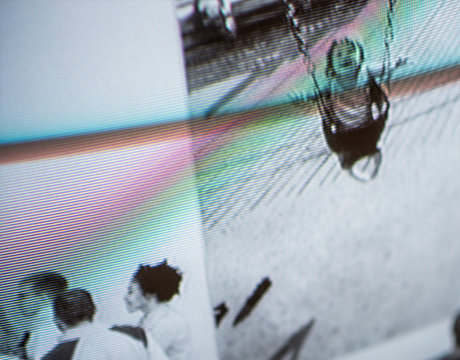 Other highlights include Theresa Ganz's arresting photographic collage of a cave; Andreas Siqueland's bright, wall-spanning painting; and Oliver Lutz's painting and video installation. In the latter, Lutz uses closed-circuit television to reveal an image hidden (above, detail) within a canvas covered in black infrared paint.
Lands End may not provide a clear answer to Cahill's initial question. Instead, what is offered is a broad range, the possibilities spanning out wide and open.
The exhibition is on view until March 15.