Building success
Sorting success from failure in the recent cultural-project building boom.
In the past two decades, hundreds of arts facilities have been planned nationwide. This boom caught the attention of researchers at the Cultural Policy Center, an initiative of the Harris School of Public Policy Studies and NORC. Their study looks at how projects succeed—and fail.
Using data on building permits issued from 1994 to 2008, center associate Joanna Woronkowicz, PhD'11, and collaborators randomly chose 56 projects of four types for in-depth study: theaters, museums, resident performing arts centers (which offer stable bases for arts groups), and nonresident performing arts centers (which rent space to groups). They interviewed leaders and read financial data and news stories on the projects.
The researchers identified key factors for success: motivation, leadership, planning and building processes, and outcomes. Then they plotted project types on a grid that breaks each factor into two defining characteristics. The closer to the center, the more the characteristic mattered to projects of that type.
Most theaters thrived on well-developed programming and heavily drew on constituency feedback. Museums benefited from strong leadership, but their boards were often seen as meddling with leaders' plans. Resident performing arts centers were often motivated by a need for new space (e.g., with better acoustics) and encountered the most complications, due to competing interests of resident companies.
Standardized guidelines would be "neither helpful nor accurate," says Woronkowicz, but she advises project managers to give special attention to the characteristics identified.
Infographic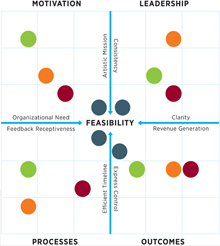 Key factors for successful arts facilities, graphed.