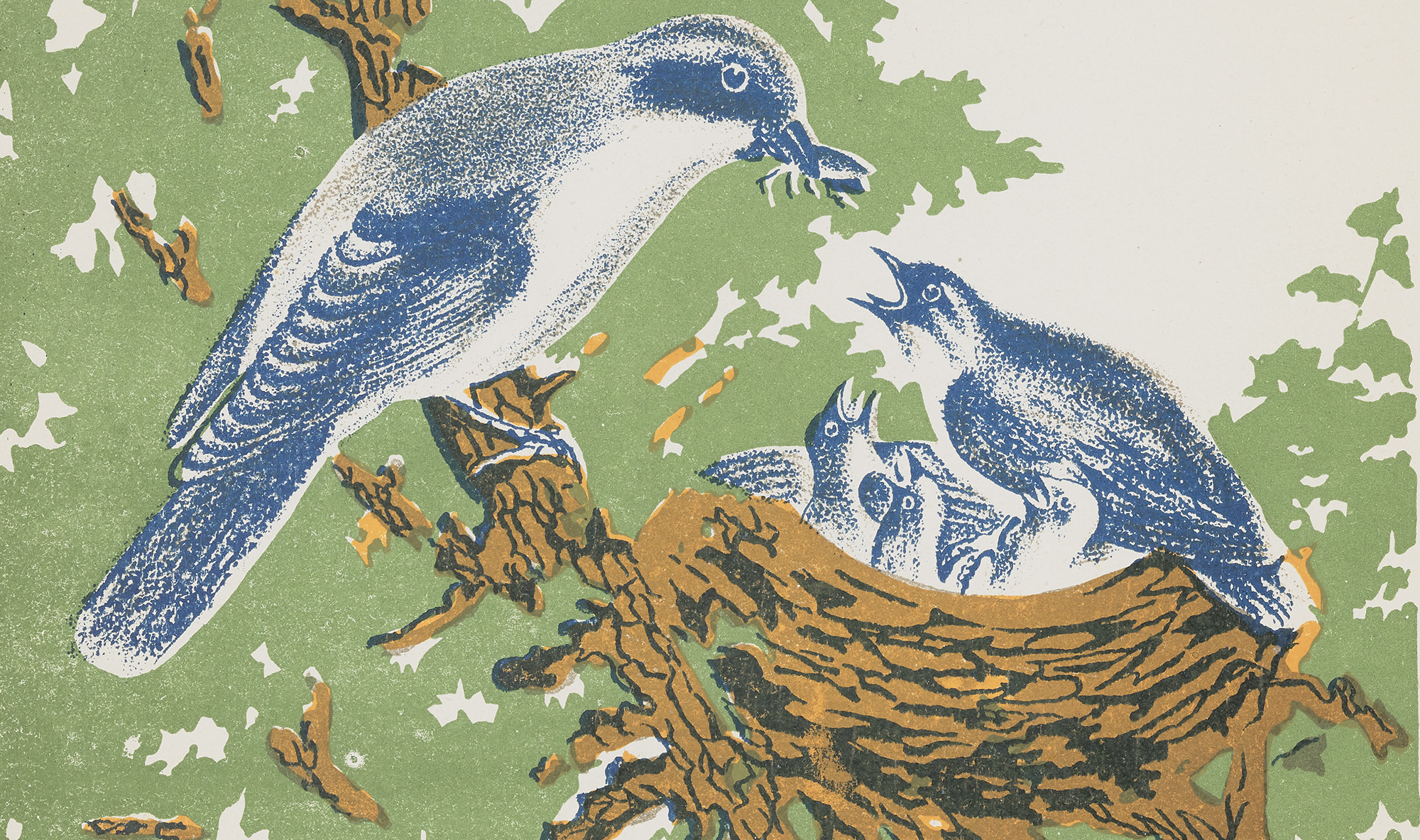 A little bird told me
How a Twitter conversation led to a new trilingual children's book.
The translation of "The Chirruping Cuckoo" began with a tweet.
Jessica Kirzane, assistant instructional professor in Yiddish, had discovered a charming children's book in the Hanna Holborn Gray Special Collections Research Center. "The Chirruping Cuckoo," by Yuriy Budiak with illustrations by Ya. Leus, was originally published in Ukrainian as Zozulia-Rehodzulia. Its author, at various times a shepherd, sailor, pharmacist, soldier, civil servant, and teacher, was associated with the peasant literary group Pluh (Plow). Soon after the book's publication in the 1920s, it was translated into Yiddish by Yoysef Ravin and published with the same illustrations.
A rhyming picture book, "The Chirruping Cuckoo" takes the bird to task for her questionable parenting: the cuckoo lays eggs in other birds' nests, leaving her hatchlings to be raised by sometimes comically smaller birds.
Kirzane showed the Yiddish version of the book to her Modern Jewish Civilization class during a trip to Special Collections last Winter Quarter. The cheerful, whimsical drawings are particularly striking, she says, because "Ukrainian Jewish history is a pretty gruesome thing in this period." During the Russian Civil War, Jewish communities in Ukraine were systematically destroyed.
After class, Kirzane shared the cover on Twitter: "A poignant picture book," she wrote. When Jordan Finkin, a friend who is the rare book librarian at Hebrew Union College, saw Kirzane's tweet, he emailed her about a children's book by the same author among its holdings: Bushl der Vanderer ("The Wandering Crane").
Just a few days before this exchange, Russia had invaded Ukraine. Kirzane and Finkin decided to translate the two bird stories and publish them in one volume as a fundraiser for the HIAS, a refugee resettlement agency.
The new book Toward Hopeful Skies (Naydus Press, 2022) is trilingual—English, Yiddish, and Ukrainian. Kirzane translated the cuckoo story; Finkin translated the crane story. (A third translator, Oksana Shcherba, translated the Yiddish version of the cuckoo story back into Ukrainian, since a Ukrainian version was not easily available.)
Kirzane is well known as a translator of Yiddish literature, but she had never translated children's poetry. When translating Yiddish poetry written for adults, she doesn't usually keep the rhyme scheme. But here, "I leaned into the rhyme."
In places, that emphasis brings a fascinating shift in meaning. Translated literally, one couplet reads, "All you do is sing and get on people's nerves / You've sworn off your children." Kirzane's version features a sight rhyme: "All you do is chirp and bother / You don't care to be a mother."
The different sounds, when read aloud, are "jarring," says Kirzane, just like the cuckoo "doesn't quite fit as a mother." And changing the emphasis from "children" to "mother" is significant: "Rather than just leaving her children behind, the bird is leaving behind her whole identity."
The Yiddish title, Di Kukavke Tshvitsheravke, presented a different challenge. Kukavke is easy: "cuckoo." She translated tshvitsheravke as "chirruping," replacing the Yiddish rhyme with English alliteration, while preserving some of the onomatopoeia of the original. The original, she says, is a playful, rhyming neologism: "something like 'silly little girl-thing that twitters.'"
---
Read about Kirzane's translation process in "Rhymes with Tshvitsheravke."
---
11.09.2022: Updated to change the name of the organization receiving donations from the sale of the book to HIAS.