Master class
An evening of Brazilian song debuts the Logan Center penthouse.
Nine stories above the Midway, a gull steamed eastward toward the curving shoreline. Two Brazilians filled a room with bossa nova and, for a few minutes, Chicago felt like Rio de Janeiro.
Equal parts recital, lecture, and musical tribute, A canção no Brasil (Song in Brazil) marked an auspicious beginning for the Performance Penthouse of the new Reva and David Logan Center for the Arts. The April 17 event featured Tinker visiting professor José Miguel Wisnik, who led an appreciative audience on a masterful tour of Brazilian popular song.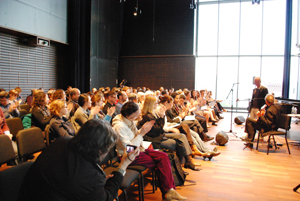 A composer, musician, and professor of literature at the University of São Paulo, Wisnik moved from original compositions to samplings of ragtime and maxixe to songs by contemporary greats Chico Buarque and Caetano Veloso. He bounced amiably between singing, explaining Brazil's rich song traditions, and playing examples on the piano.
The lecture explored the close relationship between literary and musical expression in Brazil, the permeability between erudite and popular forms, and—among other digressions—how the music from Black Orpheus gave us Barack Obama. (The 1959 film was a favorite of Obama's mother, and in Dreams from My Father he theorizes that its exotic depiction of black Brazil paved the way for her to fall in love with an African man.) Arthur Nestrovski, artistic director of the São Paulo Symphony Orchestra, provided guitar accompaniment and occasional footnotes to Wisnik's talk.
To the delight of native speakers, the entire evening unfolded in Brazilian Portuguese, though UChicago history professor Dain Borges made heroic attempts to translate and synthesize. And as twilight fell, Wisnik talked less and let the music take over. "As canções falam por si mesmas," he explained: the songs speak for themselves.
Listen to Wisnik sing "A Felicidade" (Felicity).
Updated 04.26.2012
Audio
Tinker visiting professor José Miguel Wisnik performs "A felicidade" (Felicity) accompanied on guitar by Arthur Nestrovski, who also explains the composition. (Recorded by Elizabeth Station)