Moving pictures
Peter Selz, AM'49, PhD'54, looks back on a life in modern art through the works that most inspired him.
Peter Selz, AM'49, PhD'54, thinks of himself as an outsider. His entire career as an art historian, he told an interviewer in 2011, "has consisted of looking at art that I think is excellent—whether German expressionism then or Morris Graves now—that deserves to be seen and is on the periphery."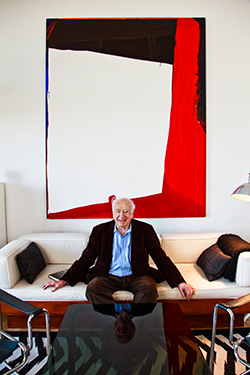 Intuition and emotion have guided Selz, but he allows, at age 93, that luck and personal relationships also shaped his career. In the 2012 biography Peter Selz: Sketches of a Life in Art (University of California Press), Paul J. Karlstrom chronicles the serendipitous encounters and calculated risks that led Selz to prominence as a modern-art curator and critic.
From his boyhood in Weimar Germany to his retirement as emeritus professor of art history at the University of California, Berkeley, Selz has taken what his biographer calls a "direct and unselfconscious joy in looking" at art. He has organized dozens of exhibitions, some of the most notable at the Museum of Modern Art (MoMA) and the Berkeley Art Museum in the 1960s and '70s, but two as recently as this past year. He has written more than 50 books and catalogs on topics from German expressionist painting to social and political art in California.
Selz formed friendships with many of the artists he showed and studied, including painters Mark Rothko and Sam Francis, sculptor Eduardo Chillida, and artists he met as a graduate student in Chicago. As a scholar, he pioneered the approach of looking at art in its social and political context but refused to follow the dictates of contemporary theory. Consequently, some of Selz's academic colleagues disparaged his "object oriented and artist focused" approach to art history, writes Karlstrom: "He feels his decisions about art and is guided by those feelings at least as much as by the mind."
Over time, Selz has developed a working definition that explains his attraction to certain artists and their work. "Good art is a visual metaphor for significant human experience," he says. That standard leads him to embrace artists who address the human condition and touch on political themes directly and those who reveal personal engagement and intensity through abstraction.
This past spring, Selz sent a short typewritten letter to the Magazine announcing—in the third person—the publication of his biography. "Selz at 93 is still curating exhibitions and writing," he noted. We were intrigued and reached out to Selz to learn more about the art that has moved him.  
Old masters
Growing up in Munich, Selz visited museums with his grandfather, art dealer Julius Drey. Around age 12, he remembers, "I decided to do my first exhibition." On his bedroom wall he arranged postcards of paintings by Rembrandt and El Greco that he'd seen in the Alte Pinakothek museum, and a reproduction of Matthias Grünewald's Isenheim altarpiece. "I found they had a great deal of intimate soul," he says of the three painters. "Basically, that was the kind of art that stayed with me as I moved into the modern period."
First moderns
Anti-Semitic laws prohibited Selz from attending high school and university in Germany. He continued his art education informally: in 1934 he and another 15-year-old friend rode their bicycles across the Alps to see art in Venice and Verona. A year later, at a Munich police station, Selz viewed a collection of confiscated paintings by artists—Wassily Kandinsky, Paul Klee, Max Beckmann—whom the Nazis would condemn as "degenerate" in the 1937 exhibition Entartete Kunst. "I was certainly moved by what I saw and I thought this was pretty good art," he recalls. It was Selz's first exposure to German expressionism, a movement he would later describe as requiring "deep personal involvement on the part of both artist and viewer."
Art in America
At 17 Selz escaped Nazi Germany, sailing from Bremen to New York City alone in 1936. His parents and brother joined him in America three years later; meanwhile, he kept his hopes for an art career alive while working in a brewery owned by relatives. When Selz learned that a distant cousin, the photographer Alfred Stieglitz, had a gallery on Madison Avenue, he promptly went to introduce himself.
The gallery had two rooms, Selz recalls—an exhibition space and a bedroom. Stieglitz suffered from heart disease and "was lying in bed all the time, under the sheets, fully dressed. When somewwbody came in he would come out and talk about the artist whom he was showing." Stieglitz became a mentor to Selz, opening his eyes to Georgia O'Keeffe, Arthur Dove, and the vivid watercolors of John Marin. But "the painting that impressed me the most in those days, which is no surprise, was Picasso's Guernica." Selz got his first look at the dramatic, mural-sized canvas—which depicts the bombing of a small Basque town—in a private gallery. "You had to pay a small fee to see it, with the money going to the Spanish Republic." Later, when Guernica moved to MoMA and Selz was a curator there, "every chance I had, I would walk down and see it in the gallery."
Chicago years
After the Second World War, Selz attended the University of Chicago on the GI Bill. He studied art history with professor Ulrich Middeldorf, who encouraged him to write a dissertation on the German expressionist movement, and Joshua C. Taylor. "Modern art was something that wasn't even taught," says Selz. By 1954, he had satisfied the requirements for his PhD with a 600-page treatise—including scores of pictures carefully glued in the back—examining the ideas and work of Kandinsky, Beckmann, Emil Nolde, and other early 20th-century artists. Based partly on interviews with artists and critics, the study broke with formalism and situated art in a social, political, and theoretical framework—an unusual approach at the time. Selz's dissertation became a field-defining book, German Expressionist Painting, which is still in print.
Quel homage
Selz took risks as a curator. In 1960 he embraced Swiss artist Jean Tinguely's idea to create, for a MoMA show, "a little machine … conceived, like Chinese fireworks, in total anarchy and freedom." Tinguely built a towering mechanical sculpture called Homage to New York that was designed to burst into flames in the museum's outdoor sculpture garden while 250 invited guests looked on. The installation did not fully self-destruct, but viewers, including MoMA directors René d'Harnoncourt and Alfred Barr, reacted with shock and disapproval. Selz feared for his job until the next day, when a New York Times reviewer praised the effort as bold and philosophical: "Tinguely makes fools of machines, while the rest of mankind supinely permits machines to make fools of them."
The human figure
"I've always stayed away from art that was fashionable, because that didn't interest me," says Selz. While he admired, lectured, and wrote about abstract expressionism, "the first show I did at the Museum of Modern Art was called New Images of Man—and that was at a time when figurative painting was almost taboo in America." The 1959 exhibition featured works by Jean Dubuffet, Alberto Giacometti, Francis Bacon, Willem de Kooning, and other postwar artists showing the human figure as solitary and anxious. Selz asked theologian Paul Tillich to write a preface for the catalog. He invited three "outsider" artists whom he'd befriended in Chicago—painter Leon Golub, AB'42, and sculptors H. C. Westermann and Cosmo Campoli—to contribute pieces to the show.
Bring on the funk
In the mid-1960s, Selz moved west to become a professor of art and founding director of the Berkeley Art Museum (BAM) at the University of California. There, he helped build a collection that reached across the centuries, from an oil sketch by Rubens to major abstract paintings by Hans Hofmann. He curated the nation's first kinetic sculpture exhibition and a show by bohemian California artists called Funk. Pop artists such as Roy Lichtenstein and Andy Warhol failed to impress Selz at the time. Good art, he told the Magazine in 1967, "has something new and important to say; it makes a new visual statement. I really don't think that enlarging a comic strip or painting a soup can accomplishes this." From retirement in 2007, Selz helped BAM acquire Fernando Botero's Abu Ghraib series, praising the overtly political paintings as the "Guernica of our time."
Public witness
Selz served as project director for Christo and Jeanne-Claude's Running Fence, an outdoor installation that stretched an ephemeral fabric barrier across 24 miles of northern California hills in 1976. "It was just marvelous working with them, [seeing] the energy they had, and how they realized exactly what they wanted to do," says Selz, who befriended the artists and often visited them in New York. Public and environmental works such as their Wrapped Reichstag in Berlin and The Gates in Central Park have "an enormous impact," Selz believes. "Millions of people witnessed the art."
Far from retiring
In Berkeley, Selz dedicated himself to writing, teaching, and curating shows—a set of activities he continues in his 90s. His modernist home in the Berkeley Hills holds such treasures as a Beckmann self-portrait and the giant abstract painting Iris, a gift from Sam Francis (see photo of Selz above). "It's just the glory of color, really, that I see in his painting," Selz says of his friend. Among contemporary artists he praises Anselm Kiefer, Patrick Graham, and the South African William Kentridge, whose prints, drawings, animated films, and theatrical designs often tackle political subjects. "He does it all as a master," says Selz, who went to see a 2009 San Francisco exhibition by the artist five times. "Every time I see Kentridge I'm very, very moved."   Read more about Selz's career and Chicago connections in the fall issue of Tableau, the magazine of the Division of the Humanities.