A day at the Alumni New Venture Challenge
Maroon entrepreneurs pitched ready-to-drink toddler formula, language instruction apps, rentable microspaces, and more.
There's a new New Venture Challenge on the block. The Edward L. Kaplan, MBA'71, New Venture Challenge, established in 1996, has been around long enough to launch several household names, such as Grubhub and the payment processing company Braintree, and to generate offshoots, including the College New Venture Challenge for undergraduates and the Social New Venture Challenge for firms with a social mission. This year saw the debut of the Polsky Center for Entrepreneurship and Innovation's Alumni New Venture Challenge, open to graduates of any UChicago school or division. On May 2 eight teams gathered at the Gleacher Center in downtown Chicago for a day of Shark Tank–style presentations: a 10-minute pitch followed by 13 minutes of grilling from the judges.
The judges
Stephen Beitler, EX'78
Managing Director, Dunrath Capital
Larry Berlin, AB'89, MBA'94
CFO, Freedom Fries
Waverly Deutsch
Clinical Professor of Entrepreneurship, Chicago Booth
Susan Hapak, MBA'89
President, Current Technologies
Jason Heltzer, MBA'02
Partner, Origin Ventures
Amelia Maccoun Morris, MBA'86
Director, Investments Group, Brandes Investment Partners
Lonnie Moulder Jr., MBA'97
Founding General Partner, Tellus BioVentures
RoseMary Safranek, AB'80, MBA'88
Chief Investment Officer, Ninepeaks Capital Management
Michael Small, MBA'81
Cofounder and CEO, K4 Mobility
Samir Sood, MBA'01
Founder, All Things Business, and Chief Believer, Venture Highway
Mark Tebbe
Adjunct Professor of Entrepreneurship, Chicago Booth
Immanuel Thangaraj, AB'92, MBA'93
Managing Director, Essex Woodlands Health Ventures
Kevin Willer, MBA'10
Partner, Chicago Ventures
The finalists
Madeline Lauf, AB'12
Begin
Christopher Gay, MBA'08, and Dawn Gay
Care Advisors
Phaly Pichota, MBA'09, and Michael Siwinski, MBA'09
Cibus Health
Chase VanSteenburg, MBA'12,and Max Wong
Den Living
Monica Chang He, AB'06, and Akinbiyi Lalude
Duunokid
John Cole; Tushar Pandey, MBA'17; and Joseph Peterson
SimBioSys
Santanu Dasgupta, IMBA'04, and Cristina Guijarro-Cazorla, PhD'09
Taplingua
Jeff Nelson, SB'15, and John Nelson, MBA'12
Vroom Delivery
---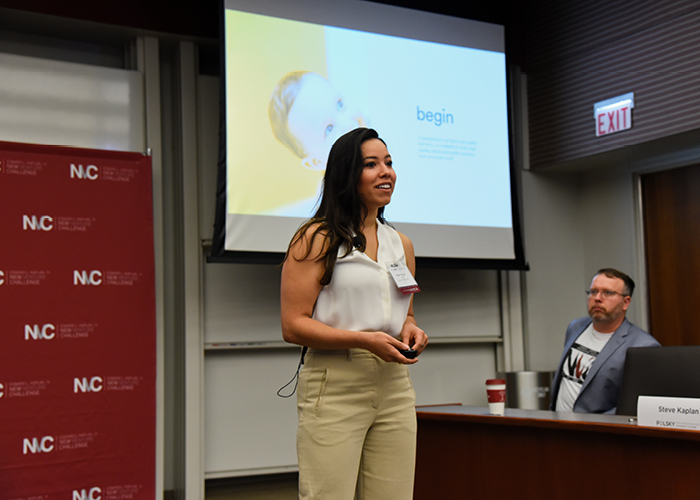 10:40 a.m.
The morning session begins, appropriately, with Begin, a subscription service offering organic ready-to-drink infant and toddler formula. Cofounder Madeline Lauf, AB'12, points out that many competitors' products contain corn syrup. "Corn syrup! It's 2019!" she says.
11:05 a.m.
Cibus Health also focuses on nutrition, matching customers with meals that fit their doctor-prescribed nutrition plans through a Grubhub-esque platform. "We are a marketplace solution … at a cost-effective price point," declares Phaly Pichota, MBA'09.
11:30 a.m.
Next up: Tushar Pandey, MBA'17, of SimBioSys, which has developed a way to model how a particular patient's cancer will respond to different treatment options. The team receives special scrutiny from judges who know the biomedical industry well; judge Lonnie Moulder Jr., MBA'97, suggests the team allocate more funding for clinical trials.
1:05 p.m.
The child-focused language learning company Duunokid is based in China, where many families want their children to learn foreign languages such as English and French. Duuno offers short, frequent lessons with native speakers over video chat. The process is designed to mimic the way tots learn their native language through conversation with parents and caregivers.
In the Q&A period, Michael Small, MBA'81, asks the founders what they'd do with a million-dollar investment. Is this a hint? Cofounders Monica Chang He, AB'06, and Akinbiyi Lalude say they'd expand to other markets.
1:30 p.m.
"Enrolling in Medicaid is a mess," says Christopher Gay, MBA'08. His company, Care Advisors, aims to automate the cumbersome process. With patient permission, hospitals provide lists of people who are Medicaid eligible or whose Medicaid coverage is at risk of lapsing. Care Advisors' software searches through databases and gathers the information needed to complete the Medicaid enrollment form.
The company has already partnered with several health care providers—and found fans and advocates in hospital social workers, whose workloads are instantly reduced by the service Care Advisors provides.
"Social workers are the secret weapon," Gay says.
1:55 p.m.
Another language-focused company, Taplingua, takes the stage. Santanu Dasgupta, IMBA'04, begins with a scenario: Imagine you're a business traveler arriving in your hotel room after a long flight. You realize you need an outlet adapter to charge your phone—but you can't communicate with the hotel employee at the front desk.
Enter Taplingua, which provides job-specific language instruction to hotel employees in an easy-to-use app. It's not just beneficial to travelers, Dasgupta says. It helps hotel employees, who are often underpaid or come from marginalized populations, learn a valuable job skill.
A judge asks about threats to the hotel industry—does Airbnb endanger their company? Dasgupta parries: if there were enough demand, the company could create a course tailored to the language needs of Airbnb hosts.
2:30 p.m.
Chase VanSteenburg, MBA'12, of Den Living kicks things off after a quick coffee break. His cofounder, Max Wong—the "Jony Ive of microspaces," VanSteenburg jokes—has designed, essentially, a furnished bedroom in a box. All landlords or tenants have to do is assemble it, plug it in, and voilà, they've got another private, rentable space in their apartment.
The judges seem puzzled but intrigued. "I would love to put one of my kids in a pod," Kevin Willer, MBA'10, muses. Immanuel Thangaraj, AB'92, MBA'93, suggests VanSteenburg show examples from other countries where microspaces are popular.
2:55 p.m.
Brothers Jeff Nelson, SB'15, and John Nelson, MBA'12, created Vroom Delivery to solve a problem for their dad, who owns several convenience stores in El Paso, Texas, and wanted a delivery option for his customers. Their product is designed especially for small to midsize chains like his.
During the Q&A, Waverly Deutsch questions some of the company's financial projections. Moulder nods receptively as Jeff argues that competitors like Uber Eats won't expand to rural areas. "This is a product for underserved markets," he says.
3:20 p.m.
As the judges deliberate, the finalists and audience head upstairs to sip wine and speculate about who will win. They don't have to wait long: in less than 30 minutes, the judges have made their decision. Staff members arrive with four oversized checks to hand out.
It's a good day for language instruction companies: Duunokid walks away with $30,000 and second place, while Taplingua takes third and $15,000. Brotherly endeavor Vroom Delivery ties for third, ensuring the hasty arrival of slushies and chips to homes everywhere. The big winner? Health care coverage: Care Advisors takes first place and a check for $65,000.