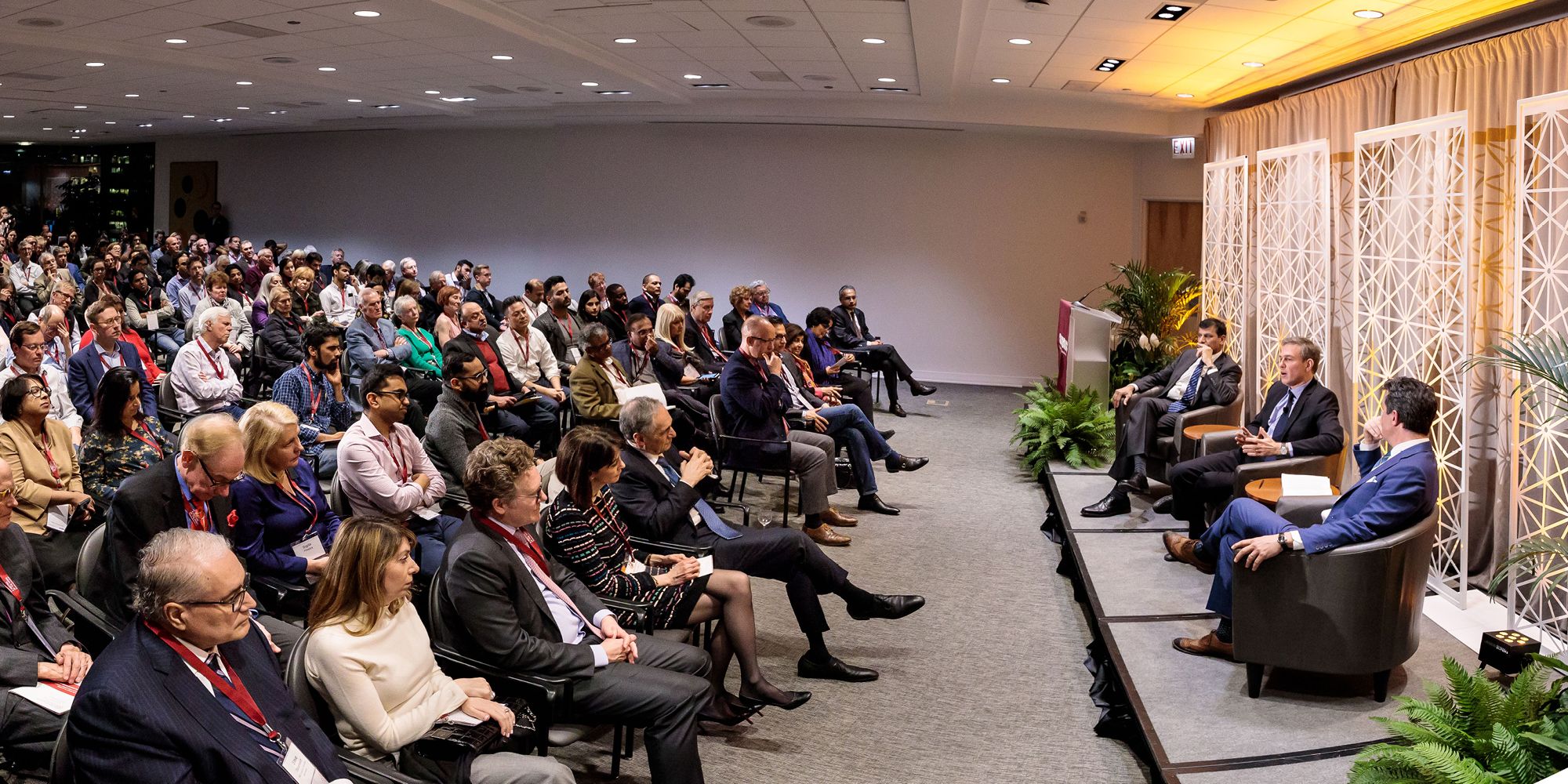 It's the economy, undisputed
Raghuram Rajan, William Howell, and Bret Stephens, AB'95, debated the nuances of contemporary populism.
Are democracy, populism, and capitalism compatible? This was the question put to a panel at the inaugural event in the series A Meeting of the Minds: Business and the Human, sponsored by the University of Chicago Booth School of Business and the Stevanovich Institute on the Formation of Knowledge in April. By the evening's end, moderator Bret Stephens, AB'95, of the New York Times had brought out one clear point of agreement between panelists William Howell and Raghuram Rajan: the harsh effects of modern globalized capitalism fuel populism, which in turn corrodes democracy. Preserving government by the people means addressing people's economic needs.
Howell, the Sydney Stein Professor in American Politics, kicked off the discussion by describing "populism" as a misnomer. Populists do not lodge critiques on behalf of people in general—not even the downtrodden in general—but on behalf of a specific cultural or racial group that they identify with the true national heritage. In the United States, he said, the populist demands justice for "true Americans."
When Rajan, the Katherine Dusak Miller Distinguished Service Professor of Finance, argued that Howell was describing right-wing populism specifically, Howell acknowledged the existence of a left-wing version that is less nativist and more concerned with poverty. However, he countered that all brands of populism are prone to becoming antidemocratic by attacking such institutions as a free press, an independent judiciary, and the legitimacy of an opposition party.
The panelists agreed that the causes of populism are economic. Recent decades have brought deep structural changes to society, such as massive global population movements, the large-scale automation of jobs, and increased income and wealth inequality. Even as the economy grows, wealth accumulates in geographical pockets, with gains accruing mostly to those with specific training and backgrounds. The failure of states to reckon with these challenges has given rise to populist politics—or anti-politics—as a form of weaponized grievance.
If Howell and Rajan agreed on the diagnosis, they had different prescriptions. Howell's proposal, which he developed prior to the 2016 election of Donald J. Trump, is a stronger US presidency. "Have you had any reason to rethink your thesis?" asked Stephens wryly, to an outburst of audience laughter. Howell stuck to his guns, arguing that strong presidential leadership—as opposed to the disparate, parochial interests of Congress and the courts—is required for coherent and responsive national policy.
Rajan's vision is more bottom-up: we need to strengthen communities, which are the "third pillar" of society in addition to markets and the state—an argument fleshed out in his recent book The Third Pillar (Penguin Random House, 2019). "What we need is a strict principle of subsidiarity, which means, push down decisions to the lowest level at which they can be handled," Rajan said. As an example of what not to do, he cited French president Emmanuel Macron's unpopular top-down decision to reduce the national speed limit, which drew protests from rural lower-income citizens who drive long distances for work.
Stephens pressed a cultural angle on the issue of populism, identifying a certain class of professional elites—including, he suggested, the event's panelists and MBA-heavy audience—with a figure called "Davos Man." Moderate populists resent Davos Man, Stephens suggested, because his affinities lie with his fellow elites in financial capitals like Singapore and London, not with his own country, and because of his departure from traditional positions on faith and morality. As Stephens remarked pointedly, "Probably very few of the children of the people in this room are going to serve in the Army or the Navy."
Howell immediately pivoted back to economics, suggesting that the failure of people like those in the room to fight hard enough for a progressive tax code is the more important issue. And Rajan responded by challenging the assumption that military service is the only legitimate service. "There are so many ways of serving your nation," he said, citing growing interest in social entrepreneurship among business school students.
While capitalism was in some ways the villain of the evening, it was a lovable villain, one that you can't stay mad at for long. No one—apart from one audience member who cited Karl Marx—suggested that the system might be going away any time soon. According to Rajan, this is for the best. "Capitalism and democracy go together," he said. "It's very hard to imagine a socialist state which is democratic. I challenge you to name one—and don't say Sweden."
Rajan seemed to be saying that generous social spending doesn't make a country socialist. That's a matter of definition, and both socialism and capitalism went undefined by the panelists. They appeared to agree, however, that you don't get a functional democracy without widespread economic security and that the classical core tenets of capitalism—free markets and private control of production—are not sufficient to guarantee that security. Until we figure this out, populists will be here to remind us that something isn't right.