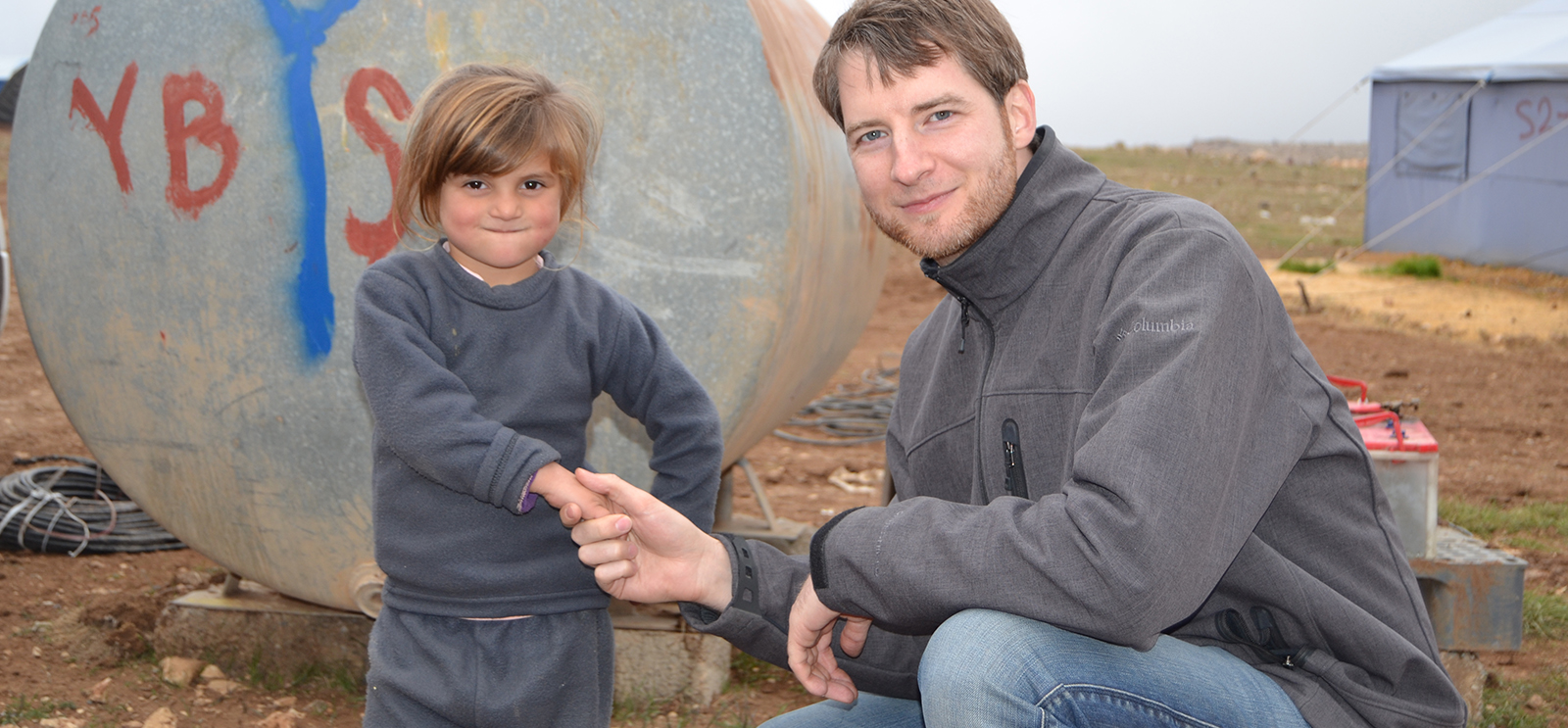 In the fray
Grad student Matthew Barber takes a hiatus from his studies to help a people under threat from the Islamic State.
In the summer of 2014, Matthew Barber, a PhD student in the Department of Near Eastern Languages and Civilizations (NELC), found a way to stand up for one of the world's most vulnerable minority groups. While doing research on the Yazidi people, a Kurdish-speaking ethno-religious minority in northern Iraq and Turkey, Barber was not far from the Yazidi homeland of Sinjar when the region was captured and ethnically cleansed by jihadists belonging to the Islamic State group, also known as ISIS or ISIL, on August 3. As one of the few Westerners with deep knowledge of the Yazidi people, their religion, and their culture, Barber became the Yazidis' conduit to the Western media and has helped increase awareness of the jihadists' kidnapping and enslavement of Yazidi women and girls. He is taking a year off from his studies to work as executive director for Yazda, an advocacy organization for the Yazidi people based in Dohuk, Kurdistan.
Barber talked to the Magazine via Skype about his current work on behalf of the Yazidi people and the social responsibility that comes with an academic career. The interview has been edited and adapted.
---
How did you first become interested in the Yazidis?
As an undergraduate at Portland State University I took a class called Ethnic and Religious Minorities in the Islamic World. I was fascinated to discover that a religion with primarily indigenous, non-Abrahamic roots has survived in the Middle East. In 2010, after graduating college, I was studying Arabic and teaching English in Syria. I backpacked into northern Iraq and met Yazidis for the first time, visited some of their holy places, and began to speak to some of their leaders about social issues facing their community. From that visit came some of my later research, which involved looking at how Iraqi legal systems affect women's issues and issues for minorities, particularly those concerning the Yazidis.
Yazda's efforts include political advocacy, direct aid, and cultural documentation and preservation. Which of these are the most meaningful to you?
We have a genocide documentation project that will write the historical record about what has happened to the Yazidis—their attempted extermination and the sexual enslavement campaign that IS jihadists levied against the Yazidi women. This is very important for me as a scholar.
Probably the most important project for me personally is our effort to support and promote the recovery of Yazidi women and girls who are survivors of sexual enslavement and have escaped or have been rescued and returned to their families in the Kurdistan region.
I am also working with the religious leadership of the Yazidi community to start some projects that will help preserve Yazidi religion and culture. The Yazidi religion is vulnerable because it is an oral tradition rather than one based on written scriptural texts. These campaigns of genocide disrupt the traditional mechanisms by which that oral knowledge was transmitted to younger generations, and during the Saddam years Yazidi religious freedoms were often suppressed.
Your knowledge of the Yazidis puts you in a position to help. Other scholars might not get so involved.
The most important kind of training I've ever received—that's empowered me to do what I'm doing now—was two years of counseling training with a local grassroots organization in Oregon in my early 20s. It helped me understand trauma, grief, addiction, sexual abuse, and the different kinds of emotional issues that people contend with, and what it means to develop the internal capacity to sit with people in their suffering and help them heal. That strengthened my character as an individual, and prepared me for the leadership role that I'm taking on now.
Do you intend to stay in academia?
I do. I love teaching and I love writing. And I love the role of a public intellectual who gives back to society. I believe academics have an obligation to do this, considering the rich privilege we have in acquiring our education and pursuing knowledge.
What can people do to help?
They can support grassroots organizations like Yazda that are working on the ground here, serving vulnerable people, displaced people, survivors of enslavement. They can also help raise awareness of the Yazidi community, which was largely unknown even in academia prior to this crisis.
We want to engage universities to sponsor displaced Yazidi college students to study in the United States. And professionals with specialized skills could be of use if they would like to come and join Yazda for temporary periods of time. There's a need for education specialists, specifically people in mental health professions who have clinical experience providing therapy for survivors of rape, gender-based violence, and trauma generally.
Additionally, the Yazidis need strong political advocates who will take on the harmful local policies that put their future at risk; this includes ensuring that Sinjar is rebuilt so that Yazidis can return to their homeland. After a year and a half in camps for the displaced, Yazidis are fleeing to Europe in increasingly high numbers. It's vital to create hope that a future for this minority still exists in Iraq.