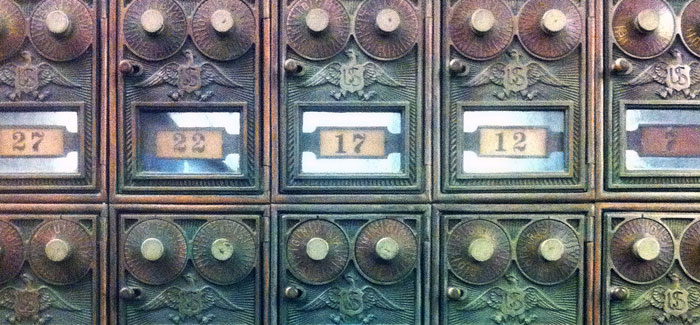 Readers sound off
Readers react to the previous issue's cover image (with a bullseye), raise matters of race and scholarly evidence, pine for Milton Friedman's influence in response to the financial crisis, rev their critical engines over advertising, and more.
True GRITS
I find the Letters section the best part of your magazine, and I always read it first. In your Jan–Feb/14 issue, reader Kelly Kleiman, AB'75, JD'79, complains that students from rural areas and inner cities cannot compete with those from the rich suburbs for admission to the top schools. A possible remedy may be the University's 1960s Grass Roots Illinois Talent Search program, described in Muriel Beadle's These Ruins Are Inhabited (Robert Hale Ltd., 1963). In this program, recruiters went to the rural areas and inner cities to talk with the students, the promising ones were encouraged to apply, and their applications were tagged to receive special consideration like alumni children. These GRITS kids did just as well as those from the rich suburbs by their junior and senior years, after an initial period of catching up during their freshman and sophomore years. After all, a top 2 percent IQ is the same whether the kid is from Winnetka or Washington, Illinois (flattened by a recent tornado).
As an aside, it is interesting to note that UChicago recruited George Beadle from Caltech in 1960 to be its new president, and now Caltech has recruited Thomas Rosenbaum from Chicago to be its new president.
Gerald Fong, SM'61 El Monte, California
The big reveal
I was struck by the resemblance of your undated photo of an unnamed U of C student (Jan–Feb/14). I believe the photo is of my mother, Natalie Merriam Johnson, PhB'33. I am including photos of her at a somewhat older age to show the resemblance. If this is her photo, it would be the second time she appeared in a University publication. In 1958 a three-generation Chicago family appeared, my grandmother (Harriet Estabrook Merriam, PhB'08), my mother, graduating a quarter century later, and me, Keith Roberts Johnson, AB'58, a half century later, there on campus for my graduation.
The attached photo of the couple includes Natalie's husband, Leslie Emil Johnson, X'33, who worked in the physics department and went on to become an Argonne Lab Pioneer during WW II.
Keith Johnson, AB'58, AM'64 Evanston, Illinois
In the game
I enjoyed "Game Changers" (Jan–Feb/14). As a graduate of the Divinity School and as the chief executive officer of the South African Football Association, I would have loved to contribute to the conversation.
We are presently undertaking the largest youth development through football program in our history, with the goal of creating sustainable winning national teams.
Robin Petersen, PhD'95 Johannesburg, South Africa
In defense of race
Despite abundant evidence to the contrary, Russell Tuttle ("Only Human," Jan–Feb/14) asserts that "race does not exist." Nevertheless, among the true believers in the dogma that race is a social construct or a fiction, there has never been an adequate explanation why human population groups (or races, which are, in the words of the late Vincent Sarich, "fuzzy sets"), separated for tens of thousands of years without interbreeding and subjected to widely varying environmental conditions and pressures, should not have developed significant differences through the processes of natural and sexual selection.
Those who, in the cause of a misguided genetic egalitarianism, dismiss the idea of race as a biological reality would do well to consider the arguments of New York Times science writer Nicholas Wade, either in Before the Dawn (Penguin, 2006) or in A Troublesome Inheritance (Penguin), forthcoming this May.
Jonathan Ekman, AM'81 Long Beach, California
Evidence, please
I just finished reading the article about anthropology professor Russell Tuttle, and I confess to being confused. The article asserts that, as the editor in chief of the International Journal of Primatologyfrom 1988 to 2010, Tuttle "stood at the barricades, trying to prevent misused language and exaggerated interpretations from inflating facts." The article quotes the professor in several ways encouraging his students and others to strive for critical thinking and the scientific underpinning of ideas. However, the article also contains several quotes from Tuttle indicating that he has reached strong conclusions regarding the differences between humans and other animals, without also providing evidence to substantiate his conclusions. This apparent contradiction, at least as presented in the article, leaves me wondering if the book provides the evidence in support of Tuttle's bold conclusions that was not provided in the article.
For example, the Magazine article summarizes one of the major conclusions of Tuttle's new book,Apes and Human Evolution (Harvard University Press, 2014), that symbolic language unique to the human species allows us to share ideas and beliefs as the basis of our culture. Tuttle contrasts human abilities with apes when he states, "No one has shown that chimpanzees in nature have pervasive shared symbolically mediated ideas, beliefs, and values."
Unfortunately, the Magazine article fails to provide any evidence indicating that morality, symbolically mediated beliefs, and values are absent from apes or other animals and their social lives.
Similarly, the article quotes Tuttle as stating that humans have culturally prescribed limits on behavior and the cognitive capacity to recognize the effects of their actions on others. This implies that he believes apes and other animals do not have prescribed limits on their behavior or the ability to understand the effects of their actions on others. Again, no evidence is presented in the article supporting this conclusion, or Tuttle's statement that only humans are capable of "thinking, knowing, perceiving, or feeling what others are thinking, knowing, perceiving, or feeling."
Tuttle also says in the article that only humans have kinship and long-lasting love relationships. Again, no evidence is presented to support this conclusion.
I have to agree with professor Tuttle's statement in his book that "Questions of human evolution and our place among the organisms are excellent challenges to one's ability to think critically." I hope, for the sake of science and the professor's students, that the evidence underlying Tuttle's conclusions are elucidated and substantiated more in the book than they are in the Magazine article.
Jeff Bloom, AM'86 Alexandria, Virginia
Miltonic wisdom
As an economist, I would like to draw attention to "After the Disaster" (UChicago Journal, Jan–Feb/14), which discusses the financial crisis of 2008 and its duration. It features the opinions of Henry Paulson; David Axelrod, AB'76; Austen Goolsbee; and other participants who purportedly represent the Democratic and Republican programs prominent during the past five years. Paulson now chairs the Paulson Institute, "an independent think tank housed at the University." In 2007 he was appointed by George W. Bush to be Treasury secretary. He remarked at the conference that "one of the things I'm most grateful for is that Republicans and Democrats came together to avert disaster." Goolsbee, who chaired the Council of Economic Advisers under President Obama, thought the stimulus spending program, including the TARP spending and quantitative easing programs initiated by the Treasury and Federal Reserve, were essential, effective, and needed to be continued. According to the story, none of the 18 speakers disagreed or criticized the spending programs as such.
I, and I think many other economists who received their economic training at Chicago, thoroughly disagree with the views of the event's speakers on both sides. We think longingly of what Milton Friedman, AM'33, would have said to this panel: He would have condemned the accelerated spending policy objectively, scientifically, and very positively. He would have argued that the problem was not spending deficiencies in the private sector to be countered by government spending that had no constitutional authority nor economic evidence to support it. Rather he would have argued, as I do here, that the government should have backed off, spent less, reduced taxes on the private sector, and abolished incentive-killing regulations on private enterprise. He might also have argued that all the government spending programs, including the Federal Reserve's tsunami of bank credit creation, constituted a negative multiplier effect on the private sector. He would have deplored further policies in that direction and argued for government policies that would encourage private incentives in the real sector of the economy.
What we are witnessing now is the proof of that spending pudding: a weak and unpromising "recovery" that reflects a stagnant economy, and one that has little promise of any real growth in the future. Mr. Paulson began the program with the remark, "None of us ever want[s] to have our nation go through another crisis like the 2008 crisis." Of course we don't. But as Friedman might have stated the case, the "cure" of government spending since 2008 has been worse than the disease of earlier government spending and has featured the wrong analytic approach to the problems of the time. So what are our chances of avoiding repetition of such an event when both political views of the issue are so clearly wrong?
Where are you, Milton, when we need you most?
Richard Timberlake, PhD'59 Bogart, Georgia
Paradise stalled
I enjoyed "Vision of Health" (UChicago Journal, Jan–Feb/14), which discussed William Nickell and his long experience in Sochi, Russia. It reminded me of a visit to Yalta, Ukraine, that my wife and I made while aboard the old Island Princess in October 1995. Located on the Crimean Peninsula about 300 miles west of Sochi, Yalta also enjoys a mild climate. It too has yearlong southern exposure to the sun with protective topography to the north that keeps out cold winter winds. As expected, we visited the room where Roosevelt, Churchill, and Stalin held their conference in February 1945. All the furniture from that time was still in the meeting room. But we also saw some things in Yalta that were news to us. Churches were undergoing major fixing up and redecorating, needed after 78 years of neglect since the Bolshevik Revolution of 1917. They were becoming beautiful buildings again.
Also, like Sochi, Yalta had numerous sanitoriums for different trade unions and political groups. However, many of these had an interesting feature. Namely, it appeared they were intending to expand and had built reinforced concrete skeletons for these improvements. By the time of our visit, those additions were just sitting there, unfinished, standing out like a sore thumb. We assumed that these additions were halted due to the collapse of the Soviet Union in 1991. I suspect their decline may have started like the decline of those in Sochi as described in the story. A couple of days later, we visited Varna, Bulgaria. Some unfinished office buildings there were being worked on. I am sure they are long finished by now.
James A. Lessly, PhB'50 O'Fallon, Missouri
Educational value
When I started at UChicago in 1956, the tuition was $690 for the year. My father, a high school teacher, was not sure he could afford it. But then I received a half-tuition scholarship. Great universities are more expensive now than they were then, but it is not tuition that pays for them. The University could pay for all its undergraduates who maintain good standing. But that would hardly put a dent in the deprivations of poverty, as you know.
I have taught philosophy at York College, CUNY, since 1969. Although tuition ceased to be free not long after I began, it is pretty inexpensive compared to private institutions, such as the University of Chicago, which can take credit for providing inexpensive higher ed to the not so rich by having educated me and many others who went on to teach at CUNY and elsewhere.
Howard Ruttenberg, AB'60, PhD'73 New York City
A closer look
When an image is worth more than words, please make the image large enough to see. For the note on Christopher Dingwall's (AM'06) research on racial imagery ("Slow Dance," Jan–Feb/14) I had to take out a magnifying glass to see "stark racist caricatures" on the first sheet music cover for "The Darktown Strutters' Ball." I hope readers will be encouraged to do the same. With the magnifying glass in hand I did not find the second cover "neutral." Its dancers are not caricatures, but except for their light grey skin they also do not seem to be different from whites at all. On offer in the pair of 1917 images: racist stereotypes on the one hand, or the rigid codes of assimilation.
David Curley, AB'68, AM'73, PhD'80 Bellingham, Washington We appreciate the suggestion and encourage readers to view the images larger online.—Ed.
And the beat goes on
It certainly brought back memories seeing Campbell McGrath, AB'84, in the Q&A at the back of the Winter 2014 issue of the Core ("Eliot v. Whitman: Who's to Blame?"). I remember Campbell as the lead singer and drummer (one snare drum, one drumstick) of the Men from the Manly Planet, who used to play in the basement of Alpha Delta Phi back in the early '80s. They actually had quite a cult following, probably because they were unyielding in their dedication to never rehearse (at least that was the legend—I'm sure Campbell could verify). I wonder if the MacArthur folks knew about that?
David Kiefer, AB'85 Norcross, Georgia
Going up?
I have just finished reading, with great pleasure, the letters, articles, notes, et al., in the Jan–Feb/14 issue. In "The Informed Life," Edward Tenner, AM'67, PhD'72, quotes Edwin Diamond's paraphrase of Tom Lehrer's "Wernher von Braun." I did not hear Mr. Lehrer myself, but my mother did, and—whenever she could make an occasion to do so—would chant: "Just so it goes up, who cares where it comes down? That's not my depahtment, says Vernher von Braun."
The rather plodding printed variant conveys Mr. Lehrer's sense, but I feel that Mama's version must be nearer his original rhythm and insouciance.
Julia White Rogers, AM'47 Reston, Virginia It is indeed nearer. In a video available on YouTube's Tom Lehrer Wisdom Channel, Lehrer sings, "Once the rockets are up, who cares where they come down?"—Ed.
Brush with fame
I attended the University from 1967 to 1974, receiving an AM and PhD in history in 1969 and 1973 ("A Little Bite of the Fame Machine," the Core, Winter 2014). I was waiting outside medieval history professor Karl Morrison's office on the third floor of the Social Science Research Building when Saul Bellow (X'39) walked into his office next to Morrison's. He glanced at me but initially said nothing. A few seconds later he opened his door and asked if I was waiting for him. I said no, and he said "Good" and shut his door again.
After finishing my dissertation I was invited to lunch at the faculty club by professor Arnaldo Momigliano. Joining us were visiting professor Franco Venturi and a UChicago scholar of Welsh, whose four-letter last name escapes me. When the professor of Welsh found I was of Welsh descent, he became excited and asked if I could speak Welsh. I said no, and he was quite disappointed.
Robert Edbrooke, AM'69, PhD'73 Cambridge, Massachusetts
Funny page
I clipped every single Grant Snider cartoon that appeared in the Kansas City Star when he was here studying dentistry. Thanks for adding him to the Core. I always thought his humor was very U of C.
Vern Barnet, X'70 Kansas City, Missouri
Friend of a feline
I just read the article about Rachel Wiseman, AB'12, and her organization in the Core ("Non-crazy Cat Lady," Winter 2014). I graduated from UChicago in 1994, and in 1992 I was presented with a little kitten that the local eight-year-old boy I babysat for found in a Hyde Park alley. She was tiny, hungry, and scraggly, but I took her in. I named her Chloe, and she lived with me for 19 and a half years through six states, nine apartments, and one house, welcoming roommates, a husband, two babies, and two dogs into her life. Her grandmother was a veterinarian, and we talked often about how she was the luckiest cat in Chicago. I am so moved and happy that Wiseman's organization is giving other cats a life as good as Chloe's turned out. Thank you.
Carrie Essex, AB'94 Norfolk, Massachusetts
Not ready for prime time
The flyer reproduced in the Jan–Feb/14 Letters section reminded me of another event on the day of the football protest. The University administration staged a tug-of-war across Botany Pond to convince the media that UChicago students were normal. To add insult to injury, around the same time, a folk music concert was being taped on campus. Students were removed from the front rows of the audience and replaced with extras because the telecasters decided that the U of C students were way too scruffy. At 75, my wife still considers me scruffy!
John Agria, PhD'66 Tempe, Arizona
Continental bias
In re "Administrivia" (the Core, Winter 2014): The Class of 2017 has not a single student from either Alaska or Hawaii? Even if that's true, it doesn't justify dropping two states from the map of the USA. (Just ask our POTUS, the ex-UChicago faculty member and Kenwood homeowner.) Hawaii has been the 50th state for over 50 years, Alaska the 49th for longer than that. Aloha!
John Sevick Kailua-Kona, Hawaii We apologize for the omission. The Class of 2017 includes one student from Alaska and one student from Hawaii.—Ed.
Truth in advertising?
As I sat with my morning coffee my eyes went to the University of Chicago Magazine on the coffee table. The back page advertisement boldly announced: "The key to an extraordinary life is quite literally a key" to an automobile. As my mind tends to quibble, I had to immediately insert "automobile" in place of "life." I somewhat wondered if any who read our magazine believe that an automobile provides the key to an extraordinary life.
Next my mind went to whimsy as I wondered if the editorial board had standards for accepting advertisements. Isn't it more than a bit preposterous for an ad to state that an automobile was the key to an extraordinary life? Is this offering really "truth in advertising"? Hmmmm.
Next my mind turned serious, which is its most natural mode. Keys to an extraordinary life: greater intelligence; a very good education; a strongly felt purpose for creativity; loving and sensitively compassionate family and friends; born into a good place, at a good time in history; healthy and energetic genes; and ... Well, it seems that it is a U of C trait to not be able to stop thinking. As this whimsy ends let me sincerely thank you for a most provocative and stimulating advertisement. Only in the U of C Mag!
Robert W. Jais, DB'65 Oakbrook Terrace, Illinois
Correcting the record
There is a factual error in "Student Aid" in the Core (Winter 2014): The University of Chicago First Responder Corps was founded in 2007 to respond to medical emergencies within the UCPD patrol area, not to provide first aid at campus events or train students in first aid, as the article erroneously states. The impetus was the shooting death of graduate student Amadou Cisse, SM'02, PhD'07, in 2007. The plan initially was to operate as a student-run ambulance service, but this idea was replaced with the idea of responding on bicycles to garner more support from the administration. The bicycle proposal was then replaced with a campus event stand-by model, which ultimately failed, initially, for the reasons cited in the article.
There were several alumni involved in the initial start-up in 2007 who would recognize this as a significant error that downplays the significance of their endeavor at the time. Otherwise, this was an excellent article that explained a highly technical student organization rather well.
Jonathan Warczak, AB'12, AM'12 Schenectady, New York
Congratulations to President Zimmer on his selection as president of the Board of Trustees of the Marine Biological Laboratory (MBL) in Woods Hole, Massachusetts (For the Record, Jan–Feb/14). It's a lovely place to be in the summer.
To the University of Chicago Magazine, not so much. While, as you report, this may be a reestablishment of historic ties to the MBL, they don't "date to the Woods Hole, Massachusetts, founding in 1888." As you should know, the University wasn't around in 1888.
The MBL's first scientific director was Charles O. Whitman, then director of the Allis Lake Laboratory in Milwaukee. Whitman had been the first American to do research at Anton Dohrn's Stazione Zoologica at Naples (still in existence) and had recently (1887) founded the Journal of Morphology.
In 1889 Whitman was appointed professor of animal morphology and head of the biology department at the newly opened all-graduate Clark University. During his three years there, biology faculty and students migrated to the MBL each summer. Only with Whitman's appointment as head of the department of zoology at Chicago in 1892 would the University's connection with MBL begin—in the summer of 1893, five years after the date of your claim. President Harper also recruited 14 Clark faculty members, including A. A. Michelson, to staff his newer university's scientific departments. In the lore of American higher education, this has been mythologized as the "Harper Raid."
William A. Koelsch, PhD'66 San Diego We regret the errors. For more about Whitman, see the University of Chicago Library's web exhibition Charles Otis Whitman: His Science, His Special Birds, and the Marine Biological Laboratory.—Ed. The University of Chicago Magazine welcomes letters about its contents or about the life of the University. Letters for publication must be signed and may be edited for space, clarity, and civility. To provide a range of views and voices, we encourage letter writers to limit themselves to 300 words or fewer. Write: Editor, The University of Chicago Magazine, 5235 South Harper Court, Suite 500, Chicago, IL 60615. Or e-mail: uchicago-magazine@uchicago.edu.