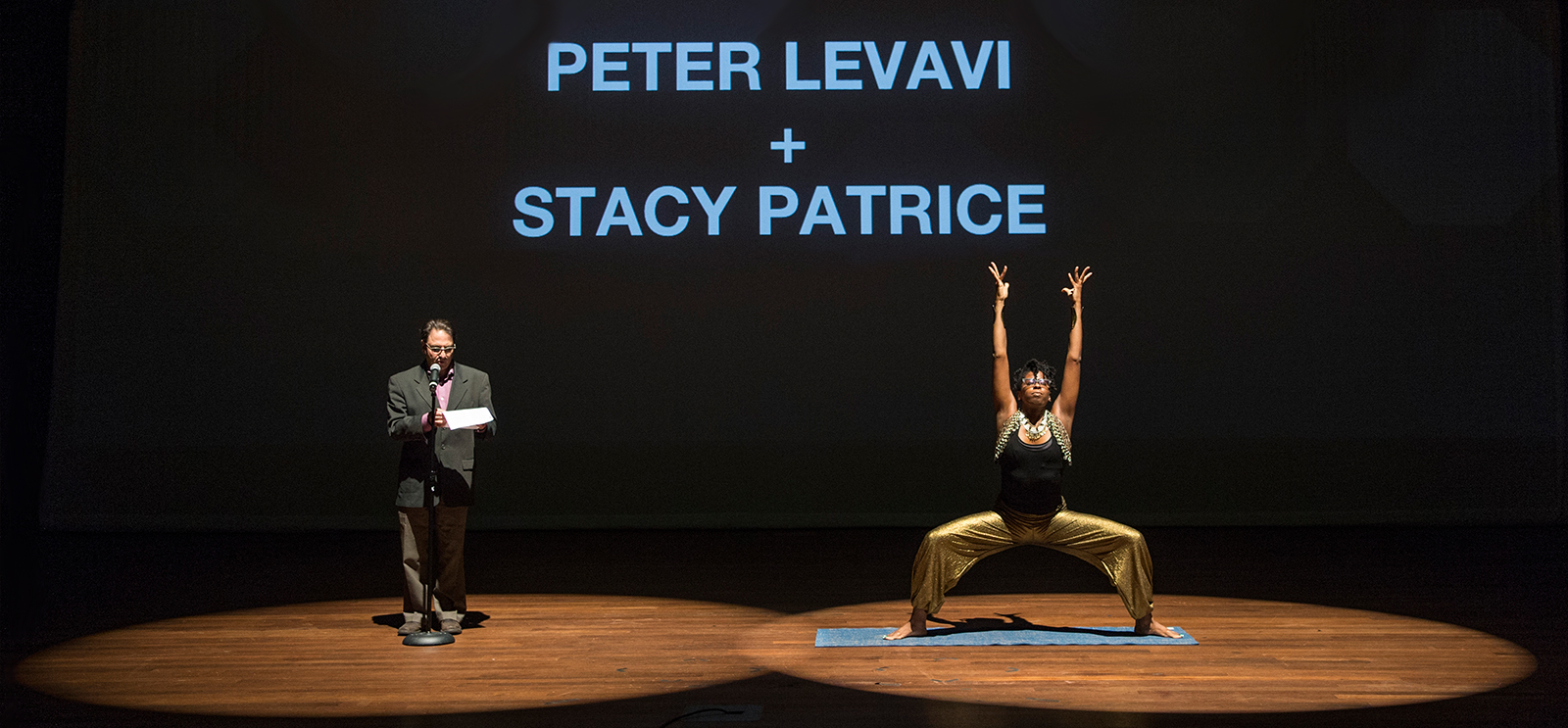 Discussing development
Members of local, UChicago communities gather for performances and conversation surrounding the Place Lab's proposed process of ethical redevelopment.
"What would a day look like where we were trying to get people hot for policy?" That was the rhetorical question artist
Theaster Gates
posed to
Institute of Politics
executive director
Steve Edwards
at the June 23
Public Convening on Ethical Redevelopment
. The community forum featured artistic performances, academic lectures, and audience discussion about a new vision for fair, principled urban development in Chicago. (Edwards joked that Gates had stumbled on the new motto for
Chicago Harris
: "Hot for Policy.") In addition to his own artistic practice, Gates is the director of the University's
Arts + Public Life initiative
. Both efforts aim to nurture and expand art—and conversations about art and its place in the public sphere—in Chicago and beyond. He is also leading the University's efforts to develop an Arts Block in the
Washington Park community
. In part, the concept of ethical redevelopment has its roots in Gates's childhood experience of seeing buildings demolished in his East Garfield Park neighborhood. "It becomes difficult when you feel like you're not in the conversation for change," Gates said. Ethical redevelopment was designed as an antidote to these feelings of exclusion: a blueprint for thinking about how neighborhoods can be involved and influential in their own development. Right now it consists of nine principles that are equal parts exhortation and reflection, designed to serve as a corrective to traditional methods of urban development. The principle of "pedagogical moments" asks people to "consider the steps in each project that are instructive," while the principle of "place over time" muses that "a sense of place cannot be developed overnight." Much like the reimagined process of community development the principles call for, the process of crafting them is supposed to be a collaborative venture. So Gates and the Place Lab invited artists to the convening to interpret the principles. The performances included a speech by former
Chicago Defender
reporter Ethan Michaeli, AB'89; a collaboration between soul singer Coultrain and experimental producer Takuya Nakamura; and a number of spoken word poems. Real estate developer Peter Levavi read a paper about the "intricate dance" of financing affordable housing developments, while Stacy Patrice, a Chicago-based yoga teacher, intertwined her limbs in her own intricate dance, complementing Levavi's words with her movements. In the program's second act, five academics and community organizers—sometimes the line was blurred—spoke about the role of factors from art to economics in ensuring ethical redevelopment takes place.
Cathy Cohen
, the David and Mary Winton Green Professor of Political Science, used an interview with the basketball player LeBron James to illustrate the ethos behind the organizing strategies of activist group
BYP100
, most famous for its demonstrations against police brutality after the release of the Laquan McDonald shooting video, and other organizations like it. Drawing on James's comments about the support and love he received from his hometown of Akron, Ohio, because of his athletic ability, Cohen argued that a similar sort of "radical love" should be extended to all
members of marginalized communities. "His feelings of being supported and loved are what activists are looking for within the black, feminist, and queer tradition," said Cohen. "How many people in Chicago believe their city loves and cares for them?" The event ended with questions from the audience—composed of a mix of South Side residents and UChicago students—for Gates and Edwards, and a lively debate between audience members over the sustainability of capitalism. (The prevailing mood was, to put it mildly, skeptical.) Audience member Maya Camilla Baumann appreciated the convening as an attempt to bring together community voices and institutional power. "The stage provided a space in which people of color artistically and academically presented their ideals on redevelopment and other important themes," said Baumann, a rising third-year in the College. "I look forward to the smaller, more discussion-based events Place Lab intends to hold." Gates ended by emphasizing the need for action to ensure inclusion in present and future development, and noting his own feelings of urgency. "I really think I'm an introvert," he said. "I just don't have the luxury for that."
Video
A look at the nine principles of ethical redevelopment, as formulated by Theaster Gates and the Place Lab team.