Snapshots
Photos from the archives and readers like you.
Marx and angles
Anglers of all stripes leave behind workaday toils—scholarly or otherwise—to cast about at a 1950s fishing perch near the University of Chicago. The pursuit of panfish and heftier game like largemouth bass is a time-honored pastime that continues to draw South Siders from different walks of life. (Photography Mildred LaDue Mead, UChicago Photographic Archive, apf2-09842, University of Chicago Library)
Luminous details
Light and shadow catch 58th Street as the afternoon sun hits Rockefeller Memorial Chapel. If you spent summers in Hyde Park during your student years, what activities kept you near campus and what sights and sounds do you remember? This year, as pandemic restrictions ease and horizons brighten, what are you doing to make good on the promise of summer? Write in with an update to your class correspondent or send a note to the Magazine, c/o Alumni News Editor, at uchicago-magazine@uchicago.edu. (Photography by Alan M. Fern, AB'50, AM'54, PhD'60, UChicago Photographic Archive, apf2-04004, University of Chicago Library)
Computer time
Dennis O'Leary, SB'62, remembers working on the MANIAC III as part of his coursework in applied mathematics. Beginning in 1961, the Mathematical Analyzer Numerical Integrator and Computer Model III (left) was housed at UChicago's then-new Computation Center (right), situated just west of Ellis Avenue between 56th and 57th Streets (near the site of what's now the William Eckhardt Research Center and an expanded Accelerator Building). Designed by Nicholas Metropolis, SB'36, PhD'41, who had developed MANIAC I and II at Los Alamos National Laboratory before returning to UChicago as the first director of its Institute for Computer Research, MANIAC III launched the University into the age of large-scale digital computation. Today the namesake MANIAC Lab carries on the work of computing and analytics at the Enrico Fermi Institute. Did you work at the Computation Center or rent computer time elsewhere on campus? Send your stories to uchicago-magazine@uchicago.edu. (Photo courtesy Los Alamos National Laboratory (left); UChicago Photographic Archive, apf2-01927, University of Chicago Library)
Ace advice
During summer break, coach Christopher Scott leads a tennis class for University of Chicago staff members. A Harlem Globetrotter in the late 1940s, Scott switched from basketball to tennis after a knee injury and was ranked seventh nationally as a player by the American Tennis Association when he became head coach of the UChicago men's varsity tennis team in 1970. Coming to that role after a stint in the College admissions office, he was among the first Black tennis coaches at the university level. Scott, who died in 1989, also gave tennis lessons for the Chicago Park District and worked with local athletic clubs. If you remember Coach Scott from your Hyde Park days, send us a note at uchicago-magazine@uchicago.edu. (Photography by Lloyd Eldon Saunders, UChicago Photographic Archive, apf1-11772, University of Chicago Library)
East by Midwest
Jane Lee Moy and her husband opened Far East Kitchen at 53rd Street and Hyde Park Boulevard in 1969. Known for a menu featuring Cantonese, Szechwan, and Mandarin dishes and a bar serving tiki-style cocktails, Far East earned the Maroon's praise ("the best Chinese food in Hyde Park," said the paper in 1982) and the devotion of some notable clientele: a special table was reserved for Chicago mayor Harold Washington. In the mid-1980s Far East moved west on 53rd to the spot now occupied by Chant. Do you have memories of visiting Far East Kitchen before it closed in 2007? Write to us at uchicago-magazine@uchicago.edu. (Copyright 2021 The Chicago Maroon. All rights reserved. Reprinted with permission.)
Front and center
Generations of scholars and bibliophiles have found the latest and greatest publications in their fields of interest by browsing the Seminary Co-op Bookstore's iconic front-of-store display. "I can trust that if it's not on the front table at the Co-op, it's probably not worth reading," UChicago philosophy scholar Robert Pippin once remarked. Founded in 1961 by 17 students (and possibly professors) who wanted to secure course books at wholesale prices, the Co-op spent its first 50 years in the basement of the Chicago Theological Seminary (now Saieh Hall), where this patron has come to explore the labyrinthine shelves. Located since 2012 in the former seminary residence hall next door to Robie House, the Co-op moved to online sales during the COVID-19 pandemic but reopened for in-person browsing on June 12. In honor of the bookstore's 60th anniversary on October 17, tell us about your favorite Co-op finds at uchicago-magazine@uchicago.edu. (Copyright 2021 The Chicago Maroon. All rights reserved. Reprinted with permission.)
Cycling through history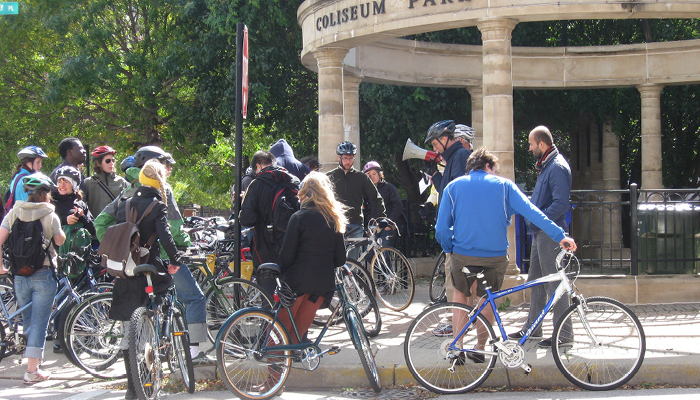 Students and faculty stop to explore Coliseum Park at Wabash Avenue and 14th Place on the fourth annual South Side History Bike Tour in 2011. Led by dean of the College John Boyer, AM'69, PhD'75 (third from right), political science professor John Mark Hansen (with megaphone), and sociology professor Terry Nichols Clark (not pictured), the tour that year started from Bartlett Quadrangle and continued through Washington Park, Douglas, Bronzeville, the Near South Side, the Near West Side, Bridgeport, and Back of the Yards before returning to Hyde Park—a trip of approximately 20 miles. At this Near South Side stop, Hansen explained the political importance of the third Chicago Coliseum, which stood opposite the park named in its honor: the Republican Party held its nominating conventions at the Coliseum from 1904 to 1920, as did the breakaway Progressive Party in 1912. The annual bike tour has been a signature event of the Chicago Studies Program since 2008. A companion event, the Southeast Chicago History Bike Tour, took cyclists as far south as Calumet Park in May this year. (Photo courtesy the College—Chicago Studies)
---
Have photos from your UChicago days? The Magazine may be able to share them in Alumni News and a future Snapshots. Send high-resolution scans and your memories of what the pictures are about to uchicago-magazine@uchicago.edu.