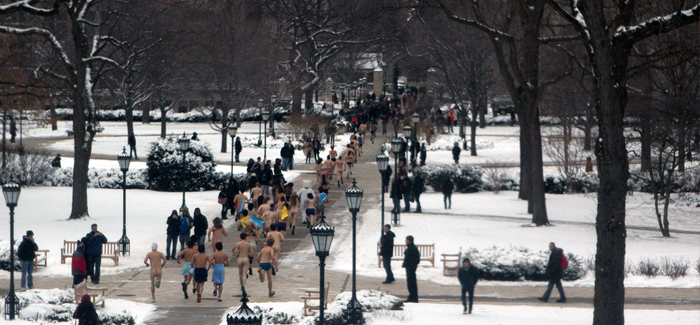 Cool runnings
UChicago's four-time reigning Polar Bear Run winner talks strategy and seminudity.
Kuviasungnerk/Kangeiko—UChicago's favorite weeklong winter festival since 1983—is a study in testing boundaries. Hundreds of students flock to Henry Crown for 6 a.m. calisthenics, workshops with student martial arts and dance groups, and—if they make every session—a long-sleeved T-shirt memorializing that for one week they were morning people.
Kuvia ends each year with the Polar Bear Run, a clothing-discouraged sprint from the steps of Harper Memorial Library through Hull Gate. Roughly half the runners go full nude, with the remainder in skivvies or bizarre costumes; Kuvia's bear mascot always participates. The fastest guy and gal get a T-shirt each to cover up.
The Polar Bear Run is about as far from optimal racing conditions as it gets, with a crowded start line, ice covering the quad, and subfreezing temperatures, but undergraduate Heather Yee, '14, has beaten every girl across the finish line four years running. A bio major, aspiring surgeon, and marathon runner, Yee first came out of curiosity and came back for the "darn comfy T-shirts," she says. In an interview with the Magazine, edited and adapted below, Yee talked about her reign of polar terror.
Getting to the start line
So everyone undresses in Harper, and there's just clothes all over the place; there are naked people running around. All of a sudden it starts smelling like naked people, this strange, bodily, earthy smell. It starts turning into a kind of frenzy as everyone starts getting colder and people start coming out of their classes and being like, what's going on?
And then the person tells you, oh, five minutes till starting, and by that time it's freezing. Everybody's trying to get to the front of the door. And then one minute till starting, everybody lines up. Usually the people who really really want to win it are right in the front, everyone else who's running just for fun or chilling naked is behind. And then someone gets in front of Harper, and you tense up and get in your racing stance.

(Photo courtesy Heather Yee, '14)
Dressed to impress
I go down to just a regular bra and underwear. I like to pick out a nice, matching pair, not too risqué. It's not uncomfortable, it's like wearing a bathing suit, basically. That's the least amount of clothing that I'm comfortable wearing around random strangers.
How to win
You have to start in the front at the starting line, otherwise you're going to spend most of your time just trying to get out of Harper. You have to not be afraid to push a little bit, and you have to push back when other people push you. But mostly you just have to keep in mind that it's a sprint and it's going to be short, so you might as well just run all out. At some point you start getting tired, somewhere around the middle circle on the quad. When I get tired, I start thinking, 'What girl is behind me?' And I can't tell, because I'm racing forward and I don't turn around. I just keep running and keep my eyes on Hull Gate.

(Photography by Derek Tsang, '15)
Bring a friend
You have to get a good friend to hold your clothing, otherwise you're going to be standing at the end freezing. My first year, I told my friend Joy if she held my clothing, then she could draw whatever she wanted on my skin. She ended up pointing two arrows to my boobs and another to my butt and writing, "Property of Joy Mao."
Seeing things
You just have to hope that the people that you see naked aren't the people in your classes, because then you're going to have X-ray vision the rest of the quarter.
Are the naked posteriors distracting?
Only if they're passing me.
Join The Discussion
Log in with Disqus to automatically enter your contact information.